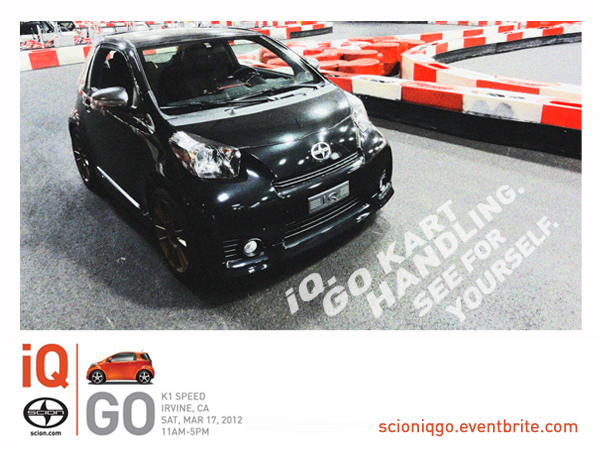 Well, hey there! Meet the Scion iQ – the World's Smallest Four-Seater. The Scion iQ is big ideas concentrated – but also, its got some moves. In fact, we say the Scion iQ has "go-kart handling". Really. You can see for yourself at an exclusive ride and drive event at K1 Speed, Irvine, CA on March 17, 2012.
Come have some FREE go-kart fun – race the K1 indoor go karts! – and check out the iQ. In fact, take it for a spin on our Ride and Drive course in the parking lot. You can even score an iQ ride-along on the indoor go-kart track!
As a member of the Scion brand, the iQ is also about personalization. Customize the iQ to fit your style from the many customization possibilities directly from Scion, or through our Scion OPTOMIZE program partners.
With all Scion models, you can also expect class-setting styling, performance, value, fuel efficiency, driving dynamics, and safety features. And as a marque of Toyota, all Scion vehicles are built with legendary world-class Toyota quality and reliability.
Check it out for yourself, and tell a friend. Just fill out the information requested on the registration page you'll have a chance to be one of the first people in the country to get behind the wheel of the 2012 Scion iQ.
Thanks for stopping by! Click here to view the Scion iQ event photo gallery
K1 Speed gets an exclusive look at GReddy's Scion FR-S Drift Car. Boasting 600-horsepower, this real-wheel drive sports coupe will be showcased at this years FORMULA DRIFT SERIES. The FR-S race car is the result of a collaboration between Scion Racing and GReddy, a long time racing partner of Toyota. Piloting the race car for the Scion Racing team will be veteran drifter Ken Gushi.
Big thanks to Brian at GReddy for the tour.
K1 Speed located in San Bernardino California, hosted a classic car show put on in part by the Inland Empire Car Club Council this past Sunday. The show was a great success with over 100 classic cars, hot rods and muscle cars in attendance for fellow auto enthusiasts to enjoy. DJ Mark Barnett kept the music going all day, and the addition of multiple food and merchandise vendors kept the day flowing nicely at our Ontario location. All proceeds and donations made by attendees throughout the day went to the IECCC, which were donating food to the needy.
Want to bring your car club into K1 Speed for you own race day, contact one of the managers at your nearest K1 Speed location and see how your club can benefit from hosting an event with K1 Speed.
If you havent checked it out yet, there are only a couple of Sundays left in 2010 that will be hosting Cruise night with the California Cruizers car club. Going on the third Sunday of every month at K1 Speed in Torrance California. Car enthusiasts are invited to come enjoy and afternoon of custom late model cars and trucks on display from various car clubs including the California Cruizers car club. Roll in is at 3pm and will end at 9pm.
Next date to come and check out the cars, or even bring your own custom car to put on display is October 17th. You can keep up with the schedule on the California Cruizers website as well.
K1 Speed in Torrance, California hosted "Cruize Night" last week sponsored in part by the California Cruizers Car Club. A large mix of low-riders, customs, mini-trucks and sport trucks along with a various mix of others from other car clubs are the local area. Enthusiasts enjoyed an afternoon of showing off their rides along with the fun of racing our indoor electric karts on our unique concrete surfaced, technical race track.
Once a month Cruize night will be held on the 3rd Sunday of each month. The show in the parking lot is open to all enthusiasts and everyone is welcome to come out and join in on the fun.
Keep up to date on the schedule on the California Cruizers website
Check out the rest of the photos on our Facebook page
K1 Speed in Carlsbad hosted Euro Car night this past Tuesday night giving European Car enthusiasts a place to come and chat about cars for the evening, and race against each other with our indoor electric karts. It was a great mix of Porsche, Audi, BMW and Mercedes Benz owners all taking on our fast and technical track.
Joe Holmes ended up taking the pole over the full field of drivers with a 26.504 second lap. He was followed by AJ Halsey who qualified in second with a 26.754 second lap and Matthew O'Donnell would qualify in third with a 26.791 second lap time.
The drivers would be gridded up on the main straight away for the drop of the green flag and it was a dash to the first turn with everyone vying for the same spot on the track. Joe would hold off the tight-nit group for all 16 laps maintaining a very quick pace. The rest of the group battled back and fourth with each-other and multiple positions were traded back and fourth through-out the race. Matthew was able to make his way up to second place, but was unable to catch Joe as he had a comfortable lead over the rest of the group. AJ dropped back a few spots and TJ Galati who had qualified in 5th, worked his way up into third and would remain there for the duration of the race.
The group had a great time and is looking forward to coming out again next month on July 20th, and we are looking forward to seeing a number of European car enthusiasts the second time around.


K1 Speed in Carlsbad will be hosting different car nights for enthusiasts in the coming months, be sure to keep an eye on our Facebook fan page for dates and times. Currently the schedule is as follows
JDM Car Night – 1st Tuesday of the month
Bike Night – 2nd Tuesday of the month
Euro Car Night – 3rd Tuesday of the month
Muscle Car Night – 4th Tuesday of the month
Each specific night will be geared towards enthusiasts who enjoy motorsports, racing, and talking with fellow automotive aficionado's.
You can find our Facebook fan page by clicking the link below.
www.facebook.com/pages/Carlsbad-CA/K1-Speed-Carlsbad/110363525655861
Spotted at K1 Speed in San Diego – An early model Lamborghini Murcielago. The Murcielago was introduced as a coupe in 2001 for the 2002 model year, succeeding the famed Diablo super-car in Lamborghini's lineup. The car was the auto maker's first new design in eleven years, as well as the first under the ownership of German automaker Volkswagen. The new chassis design is a four-wheel drive, mid-engined sports car. Its coupe body is especially low-slung, with its roof rising to just under four feet above the ground. The super-car features the well known scissor doors, which contribute to its exotic image. First-generation Murcielago's, produced between 2001 and 2006, were powered by a 6.2-litre V12 which traces its roots back to the company's beginnings in the 1960s.
The rear differential is integrated into the engine unit, and the four-wheel drive features a central viscous coupler. Power was sent to the wheels through a six-speed manual. The Murciélago possesses an independent double-wishbone suspension design, and features a combination of carbon-fiber and steel bodywork. The rear spoiler and the air scoops integrated into the car's shoulders are electro mechanically activated, and fold out from the body at high speeds to aid aerodynamic performance and provide additional engine cooling, respectively.
SPOTTED, at K1 Speed's North San Diego, Carlsbad location, a 2010 Ferrari California, The Ferrari California hosts many "firsts" for the Ferrari company, including the first front-mounted V-8, the first use of direct injection, along with the first ever dual-clutch automated manual transmission. The new car still maintains its luxury through-out the car, as all other Ferrari's do, and it maintains that distinct exhaust note that will turn heads anywhere.

In addition to being a popular spot for car enthusiasts,
K1 Speed
is also a hit with motorcycle enthusiasts. In fact, many of our customers bring in their own helmets and our customers who ride tend to get a hang of our karts pretty quickly! On New Year's Eve, members of the
Gentlemenz Affairz
motorcycle club visited our
K1 Speed Carlsbad
indoor go kart track in San Diego, California to bring in 2010! The crew proudly sported their club apparel, and there was some healthy competition on track to see who would set the fastest time of the group in our
electric karts
!
There is a wide variety of motorcycle clubs these days celebrating an even more diverse range of bikes – from choppers, bobbers, Harley Davidsons, Indians, cruisers, vintage bikes and European marquees, to name but a few – but the members of this San Diego club have a passion for high performance sports bikes. Not content with the factory performance or aesthetics of these machines though, the guys modify their bikes to both personalize them and to increase their performance. From extended swing arms and aftermarket exhaust systems to custom paint jobs, the motorcycles of the Gentlemenz Affairz club are truly unique and have the performance to match their looks!

We would like to thank the club members for visiting our indoor karting center in North County San Diego, and we hope to see them again soon! We always appreciate it when motorsports enthusiasts choose our indoor go kart tracks to satiate their need for adrenaline and speed!
Our latest
Carspotting
feature showcases an automobile that we feel is particularly appropriate for K1 Speed: the all-electric Tesla Roadster! Spotted outside of
K1 Speed Seattle
recently, this striking blue Tesla caught our attention and we were pleased when we found that the owner was more than happy to show it off! With an advanced chassis based on the nimble Lotus Elise and cutting edge lithium ion battery cells, the Tesla Roadster – like our K1
electric karts
– proves that high performance and electric efficiency don't have to be mutually exclusive. We are big proponents of electric power at K1 Speed, and with cars like the Tesla Roadster and Audi E-Tron concept car paving the way for electric performance cars, we are excited to see where the technology takes us in the future!
It was a pleasure having the owner of this Tesla Roadster at our K1 Speed Seattle indoor karting center in Redmond, Washington, and we look forward to seeing him again soon!
3860494-1