Angie, Larry Birkhead's sister, trades lives with Adriana, Indianapolis 500 champion Helio Castroneves' girlfriend. Watch Helio take on our track in South Florida.
Larry Birkhead/Helio Castroneves
Tuesday, May 27, 2014 on ABC
Even when Helio Castroneves is not racing at the IndyCar tracks, during the offseason he does not neglect his physical conditions.
One of Helio's favorite activities is the Go-Kart. Though he hasn't been racing Go-Karts for quite some time, it is known that this practice is highly recommended for professional race car drivers like himself. It improve reflexes, conserves fitness and maintain high levels of concentration, which are vital characteristics for his profession.
For Castroneves, pre-season is always filled with commitments with the team, media and sponsors; however, he organizes his agenda in order to dedicate some time to practice Go-Karts, either in the US or while in Brazil. As you can see, even when officially on vacation, the Team Penske driver continues to speed through tracks.
about
The mothers in two celebrity families with vastly diverse values switch homes (but not bedrooms) — embarking on a journey like no other and revealing the various ways some controversial celebrities live their lives. The two moms are given the chance to see how another celebrity raises their children and deals with life in the spotlight, while allowing both couples the opportunity to re-discover why they love each other and decided to get together in the first place. It's a mind-blowing experiment that will change their lives forever.
In each of the episodes, two mothers with very different types of households swap lifestyles and children in a week-long challenge. In the first part of the swap, each mom moves into the other's home and adopts their new celebrity family's lifestyle, no matter how different it may be. They agree to follow a manual written by the departing mother that sets out the rules of their new household – how they parent, manage their social life, do house work, unwind and more.
In the second half of the week, everything changes. The new moms take charge. They introduce their own set of rules and get to run the new household their way. It's a radical shock to both celebrity families. The results are explosive, enlightening, emotional and often very funny.

The boys of One Direction recreate Mario Kart on the 1DDAY live stream on November 23, 2013 at K1 Speed Torrance!

Alexander Rossi and K1 Speed Open the Doors to Motorsport Fans across America
October 14, 2013, Austin, Texas, USA
K1 Speed and Alexander Rossi are proud to collaborate on an open event in Austin, Texas on 13th November 2013. Fans and racers alike will have the exclusive opportunity to meet with Alexander Rossi, currently America's only Formula 1 driver, ahead of the American Grand Prix in Austin, Texas, and meet the young star who is leading the way for an American presence in Formula 1.
Aspiring drivers will have the opportunity to test their skills against the Caterham F1 Team Reserve Driver, after Alexander sets a hot lap in the karts on track, and a competition will be run to win exclusive Caterham F1 Team merchandise, signed by Alexander himself.
The event, hosted at the K1 Speed in Austin, is free of charge to the public and will begin at 19:00 – chargeable driving slots are available on a first come first served basis, and are booked upon arriving at the center.
David and Susan Danglard, K1 Speed owners:
"At K1 Speed we are teaching racers to follow their dream of becoming a professional driver like Alexander Rossi through our Racing School and Challenge Grand Prix Leagues. At a young age most racers receive their first taste of speed when they step into a go kart and one of our main goals at K1 Speed is to provide this unique experience for all ages.

"As an ambassador for K1 Speed, we feel Alexander is a true representation of our core values. Alexander has shown that hard work and dedication can put you in the position to become the next American in Formula 1. He has proven to have the drive and passion to inspire American motorsport enthusiasts to strive to be the very best. We're very excited to host Alexander at our event in Austin on the 13th November; race fans will have a very unique opportunity to meet and race with a professional driver – an experience that doesn't come around often."
Alexander Rossi, Caterham F1 Team Reserve Driver:
"I'm absolutely delighted to be taking part in the event with K1 Speed and will truly welcome to opportunity to meet motorsport enthusiasts from around the country in a setting that could not be more perfect for upcoming and passionate drivers. K1 Speed have done a fantastic job of encouraging motorsport within America and making it much more accessible for amateurs and young prospects alike.

"I've karted at various venues for K1 Speed, and as an ambassador I am proud to help encourage the passion for motorsport that is so prevalent in America. With the upcoming USA Grand Prix, the event on the 13th November will be the perfect opportunity to bring Formula 1 a little closer to the wider public in America, allowing those with a real love for motorsport the chance to come and experience a taste of where it all begins."
During the event, Alexander Rossi will be available for short media opportunities – to book your slot, please contact; Tom Webb, Caterham F1 Communications at; tom.webb@caterhamf1.com
About Alexander Rossi
Alexander Rossi is currently the only American Formula 1 driver and is currently with Caterham F1 Team, based in Oxfordshire, United Kingdom. For 2013 Alexander has been competing for the team's GP2 team, EQ8 Caterham Racing, resulting in two podiums despite a late start to the season. Alexander also partakes in the Formula 1 team's Friday Free Practice sessions, and Young Driver Test, where he gains valuable experience behind the wheel of the current Formula 1 car, while also helping the team develop the car for the season and the future.
From 171 Formula car starts, 21-year old Alexander has: 38 wins, 67 podiums,
34 poles and current win percentage of 22.22%
• 2013 Caterham Racing GP2 Championship Driver
• 2013 Caterham F1 Team Official Reserve Driver
• 2012 Caterham F1 Team Official Test Driver
• 2012 World Series by Renualt – 11th Overall
• 2011 World Series by Renault – 3rd Overall and Rookie Champion
• 2011 AirAsia Team Lotus Driver Development Program
• 2011 FIA Institute Young Driver Excellence Academy
• 2010 ART Grand Prix GP3 – 4th Overall Championship
• 2009 BMW Sauber F1 Testing – F1 Superlicense Qualifications
• 2009 GP2 Asia / Meritus Racing and Ocean Racing – 9th Overall, 3 Top 5 Finishes
• 2009 International Formula Master Championship / ISR Racing – 4th Overall and Rookie Champion
• 2008 Formula BMW World Champion, 1st Place
• 2008 Formula BMW Americas 1st Champion, 10 wins
• 2007 Formula BMW Americas 3rd Overall, 3 wins
• 2006 Skip Barber National Series, 3rd Overall, 4 wins
• 2006 Skip Barber Western Regional Series, 1st Champion
For more information on Alexander, please visit www.alexanderrossi.com or catch up with him on his official social media platforms:
Facebook.com/AlexanderRossiOfficial
Twitter.com/AlexanderRossi
Google+: AlexanderRossi
YouTube: TeamRossiRacing
Instagram.com/AlexRossi16

American Le Mans Series drivers Wolf Henzler and Marco Holzer at K1 Speed Addison.
ABOUT:
@Wolf_Henzler is a German racing driver known for his success with Porsches. He began racing in 1991 with a win in the German Junior Kart championship. Wolf is one of the 11 factory Porsche race drivers.
@MarcoHolzer is a German racing driver. He has competed in sports car competitions such as the 24 Hours of Le Mans, 24 Hours of Daytona, American Le Mans Series and Le Mans Series as a Porsche works driver.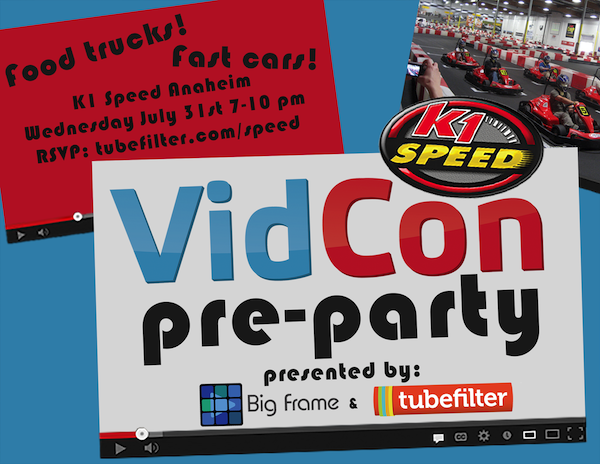 Thanks to everyone who came out Wednesday night! We had a blast hosting you all at the VidCon 2013 Pre-Party presented by Tubefilter & Big Frame at K1 Speed Anaheim.
We're very excited to see VidCon grow each and every year. Thanks to all of our friends at Rocket Jump, Machinima, Maker Studios, Big Frame, etc. for making 2013 great! See you next year.
Here's the latest video from last night's event.