Red Bull RallyCross athletes Travis Pastrana and Sébastien Loeb visit K1 Speed Torrance for a Red Bull promotion.
CLICK HERE TO VIEW MORE PHOTOS
Sébastien Loeb won the RallyCross final by more than 12 seconds, showing why he's an eight-time defending WRC champion. But because of a controversial crash in his first RallyCross heat Sunday, Travis Pastrana never got to race him. Instead, Pastrana watched from the sideline, seething, as Loeb dominated the wild 10-car final and won the gold medal.
X GAMES 2012 RALLY CROSS HIGHLIGHTS: LOEB STRIKES GOLD IN LA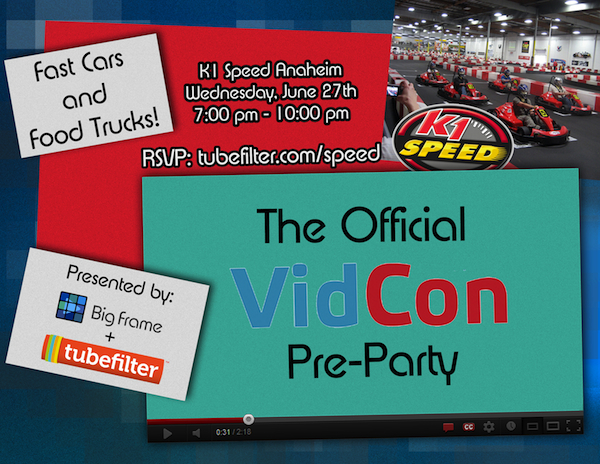 Come join us at the
Official Pre-Party for VidCon 2012
: Go Karts and Food Trucks at
K1 Speed
indoor kart racing in Anaheim!
Tubefilter and Big Frame are taking over the racetrack for the official VidCon kickoff party. Drop in, hang out, and race with some of the biggest names on YouTube!
RSVP here: tubefilter.com/speed
Enjoy discounted racing during the event! You won't want to miss out!
Official Pre-Party of VidCon 2012
Go Karts and Food Trucks
Hosted by Tubefilter and Big Frame
Wednesday, June 27, 2012
7:00 pm to 10:00 pm
K1 Speed – Anaheim
1000 North Edward Ct
Anaheim, CA 92806
We'll have food trucks, KogiBBQ, The Burnt Truck, Dogzilla and Archie's Ice Cream confirmed (updates to come) as well as other surprises. Here's a video from DeStorm Power to get you in the mood:
RSVP at tubefilter.com/speed before tickets run out!
VidCon Schedule:
Wednesday – Official VidCon Pre-Party at K1 Speed Anaheim
Thursday – Industry Day – June 28, 2012 (Held at the Anaheim Hilton)
Friday – VidCon Day 1 – June 29, 2012
Saturday – VidCon Day 2 – June 30, 2012
Sunday- Disney Day – July 1, 2012
[Find out more about VidCon 2012 and other online video industry events by signing up for Tubefilter Radar, a digest of all the events that you should be tracking.]
K1 Speed in Irvine, California was visited by Firestone Indy Lights driver Sebastian Saavedra this week along with some friends to take a few hot lapping sessions at the top indoor kart racing center in the O.C. Quickly showing his skills as a professional race car driver Sebastian was able to find the fast line around the track in his second session on track and began posting fast lap times that rivaled the top lap times of the week on the technical race course.
Not bad for a first time visit by a well seasoned formula car driver who has a number of race days in Formula BMW chassis in different race series around the world, before making the move to the Firestone Indy Light series in 2009 where he drove alongside teammate J. R. Hildebrand. In 2010 he returned to the series for Bryan Herta Autosport, and made his IndyCar Series debut in the 2010 Indianapolis 500.
Currently Sebastian sits 1st in the championship points standings in the Firestone Indy Lights Series taking podium finishes in the first 3 races of the year. K1 Speed looks forward to seeing Sebastian and his friends back in house soon and would like to wish him good luck in his future racing endeavors.