Supercross season is finally here! Headed to A1 Supercross this Saturday?!? Join us for Ryan Dungey's after party at OC Sports Grill with Skullcandy and Red Bull starting at 9pm.
Anaheim 1
Supercross After Party
Presented by Skullcandy and Red Bull
Saturday, January 5th
9pm till close
OC Sports Grill
450 North State College Blvd.
Orange, CA 92868
(714) 935-0300
Featuring DJ Ted Kennedy
Twitter handles to follow:
@redbullLAX
@ryandungey
@skullcandy
@k1speed

Travis Pastrana and the Nitro Circus family visited K1 Speed Carlsbad last night for some kart racing! Brandon Walsh came out on top followed by Lyndsey and Travis.
Final:
1st place – Brandon Walsh – 24.607
2nd place – Lyndsey Pastrana – 24.915
3rd place – Travis Pastrana – 24.953
Travis Pastrana's tweet:
Rough night at the go kart track! Thanks to K1 for the great time. Nitro family got 4 of the top 10 of the week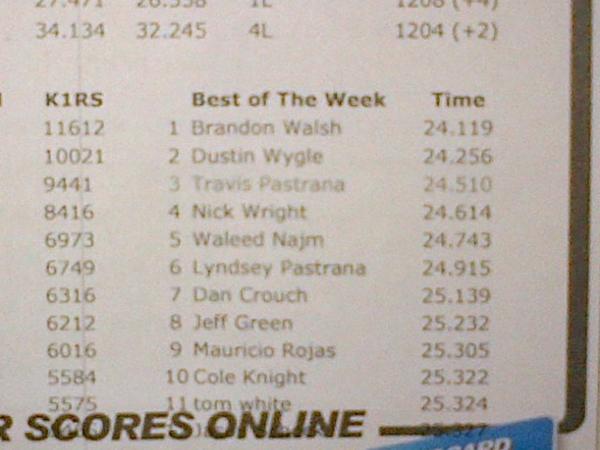 Alexander Rossi visited K1 Speed Carlsbad today to test his skills on our track. Alexander is an American racing driver currently the reserve driver for Caterham Formula One team. He is poised to be the next American in Formula One in 2014 (only the 4th American in 40 years in the sport).

Formula Drift champion Daijiro Yoshihara hangs out with his team at K1 Speed Irvine for the holidays.
The GTChannel's cameras follow Dai throughout the 2012 FD season both on and off the track giving drifting fans an exclusive look into what it takes to compete in the top professional drifting series of North America. Behind the Smoke is produced by GTChannel in association with Discount Tire/America's Tire and supported by Falken Tire, GoPro and Netflix.
About Daijiro Yoshihara
The reigning 2011 Formula Drift Series Champion enters his fourth year as part of Falken Factory team. "Dai" is a drift veteran among his Falken colleagues with more than 12 years of drifting experience, having started in his native Tokyo. He'll defend the Championship in his signature Discount Tire/Falken Tire Nissan S13 240sx. Yoshihara is considered one of the most consistent drivers in the Series. In addition to the 2011 Formula Drift Series Championship, Dai has overall finishes of 4th Place 2010, 4th Place 2008, and 3rd Place 2007. While away from the track, Yoshihara leads an effort to support and restore Japan after the March 2011 disaster. All proceeds from his charity rfjp.org, are donated to Japanese Red Cross Society.

Rapper Flo Rida reps for his hometown of Florida spending a cheerful day in Miami Beach in the official music video for "Let It Roll", a new single from his latest album "Wild Ones".
"Let It Roll" features Flo Rida and friends racing and having a good time at K1 Speed Ft. Lauderdale.