For most kids, July is a time for picnics, vacations & a school break
…FOR SOME, IT MIGHT BE THEIR LAST CHRISTMAS.
For most children, each day blends into the next one. The biggest concern may be where to go for ice cream. For many other children, the only thing on their minds is living another day as they fight a desperate battle to simply stay alive. Sadly, the idea of celebrating Christmas in December may not happen for them.
For kids fighting incurable cancer and other life threatening illnesses, their clock may run out on their life before reaching one of the most magical of all holidays…Christmas!
You can make a difference in the life of a child…a real difference. While you are helping some great kid's, you can join in the fun too with this unique action/motorsports themed two-day event! Imagine what it will feel like for you and your family to be a part of the miracle of putting a genuine smile on the face of a child who may not have had a reason to smile for quite some time. Your donation will do just that. Plus, you can join in the fun, if you choose!
A portion of ALL proceeds raised will go to several worthy local pediatric cancer charities.
DAY ONE
Where: K1 Speed
17221 Von Karmon Ave. Irvine, CA
When: Friday night, July 27th 2012 from 5:00 PM to 10:00 PM PST.
>>> Lap 4 Little Ones Sponsorship Form <<<
Why: Come on down…You'll have fun and help some very special kids feel great!
http://www.k1speed.com/irvine-location.html
DAY TWO
Where: Alfredo's Beach Club,
5101 E. Ocean Blvd. Long Beach, CA
When: Saturday, July 28th from 12 Noon to 7:00 PM.
Why: You'll never forget this experience…Guaranteed!
http://www.alfredosbeachclub.com
You can help out (and share in the fun!) in one of three ways. CLICK HERE

2012 PHILIP RIVERS 5K PRESENTED BY EDCO
Saturday, June 16, 2012 – NTC Park at Liberty Station
CLICK HERE TO DOWNLOAD OUR WALKER-RUNNER INFORMATION
PRE-EVENT T-SHIRT, RACE BIB & PACKET PICK-UP
Road Runner Sports, 5553 Copley Drive, San Diego, CA 92111
Wednesday, June 13 from 2:00 p.m.- 7:00 p.m.
Thursday, June 14 from 11:00a.m.-4:00 p.m.
DAY OF EVENT – NTC Park at Liberty Station
Registration begins at 7am; Start time: 8:25am Run, 8:30am Walk
Come join the Philip Rivers 5K presented by EDCO benefiting The Rivers of Hope Foundation! The Third Annual Philip Rivers 5K presented by EDCO will take place June 16th, 2012 at NTC Park at Liberty Station. This event will be fun for the whole family that will include food, drinks, and fun for everyone. Visit the K1 Speed booth and receive discounts and photo ops with K1 girls and kart. By registering for this event you will receive an all-inclusive package including:
Opportunity to walk/ run along the water in NTC Park at Liberty Station in Point Loma
Hand-signed Philip Rivers football card to the first 1,500
Gaglione Brothers sandwich voucher
SportClips haircut voucher*
Capriott's sandwich voucher
Commemorative Philip Rivers 5K t-shirt
Race gift bag with amenities from 5K sponsors
The entire family is invited to join the fun post-race party which includes:
Live music
Complimentary food court – Gaglione Brother's, Capriotti's, Slater's 50/50, Wings n' Things, Simple Nutrition, Nothing Bundt Cakes, Noodles & Company and Papa Johns will provide an array of food samples for you to enjoy
Kids Fun Zone – touch down to fun inside the Kids Fun Zone featuring
bounce houses provided by L.B. Jumpers Express
games and activities provided by Kid Ventures
Autograph booth presented by Novatel Wireless – featuring current/ former Chargers players and local celebrities**
Awards Ceremony – prizes include
Overall Winners
1st place (Men's and Women's) – Commemorative medal, two tickets to SeaWorld, Sunglasses from Red Star World Wear and prizes from RoadRunner Sports
2nd place (Men's and Women's) – Commemorative medal, two tickets to SeaWorld, Sunglasses from Red Star World Wear and prizes from RoadRunner Sports
3rd place (Men's and Women's) – Commemorative medal, two tickets to SeaWorld, Sunglasses from Red Star World Wear and prizes from RoadRunner Sports
Age Group Winners
1st place in each age division will receive a Commemorative medal and two tickets to SeaWorld
*Certain restrictions may apply.
**Please note: Celebrities will be available for autographs following the race. No memorabilia is permitted on the property nor will it be signed. Philip Rivers will not be signing autographs at the booth.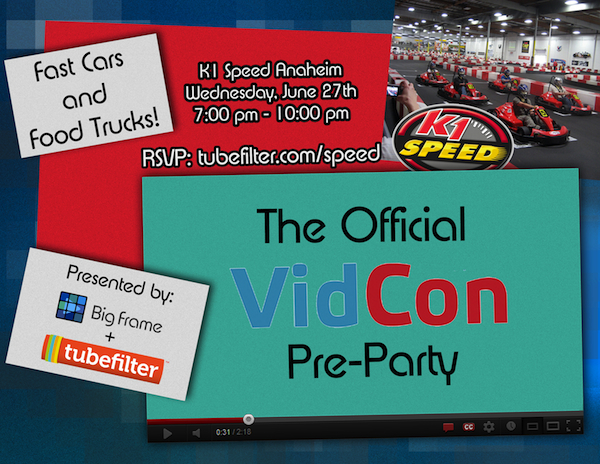 Come join us at the
Official Pre-Party for VidCon 2012
: Go Karts and Food Trucks at
K1 Speed
indoor kart racing in Anaheim!
Tubefilter and Big Frame are taking over the racetrack for the official VidCon kickoff party. Drop in, hang out, and race with some of the biggest names on YouTube!
RSVP here: tubefilter.com/speed
Enjoy discounted racing during the event! You won't want to miss out!
Official Pre-Party of VidCon 2012
Go Karts and Food Trucks
Hosted by Tubefilter and Big Frame
Wednesday, June 27, 2012
7:00 pm to 10:00 pm
K1 Speed – Anaheim
1000 North Edward Ct
Anaheim, CA 92806
We'll have food trucks, KogiBBQ, The Burnt Truck, Dogzilla and Archie's Ice Cream confirmed (updates to come) as well as other surprises. Here's a video from DeStorm Power to get you in the mood:
RSVP at tubefilter.com/speed before tickets run out!
VidCon Schedule:
Wednesday – Official VidCon Pre-Party at K1 Speed Anaheim
Thursday – Industry Day – June 28, 2012 (Held at the Anaheim Hilton)
Friday – VidCon Day 1 – June 29, 2012
Saturday – VidCon Day 2 – June 30, 2012
Sunday- Disney Day – July 1, 2012
[Find out more about VidCon 2012 and other online video industry events by signing up for Tubefilter Radar, a digest of all the events that you should be tracking.]
Join us Thursday, June 7th from 6pm-9pm for K1 Speed Austin's Grand Opening Celebration. Enjoy live entertainment and racing! Keep an eye out for Red Bull handing out FREE energy drinks! Local vendors in attendance: The Austin Grand Prix, Formula Expo, Fiat of Austin, Wahoo's Fish Taco and many more! Portion of the proceeds go to the LIVESTRONG Foundation.
K1 Speed Austin
2500 McHale Court Ste. C
Austin, TX 78758
Located in North Austin just south of THE DOMAIN off Burnet Rd and McHale Court.