We are proud to announce the official ribbon cutting ceremony of K1 Speed Addison. If you live in the greater Chicago metropolitan area, you have not one K1 Speed center to choose from but two! In addition to our Buffalo Grove center, we also have an indoor go-kart racing facility located in Addison to meet your needs. Our K1 Speed Chicago facilities are world-class entertainment venues that are designed to keep you entertained and engaged, whether you're on or off the track.
What:
Ribbon cutting with Village of Addison Chamber of Commerce
Addison Mayor Rich Veenstra
When:
Friday, July 26th at 5pm
Where:
K1 Speed Addison
2381 W Army Trail Road,
Addison, IL 60101
Phone: (630) 433-3700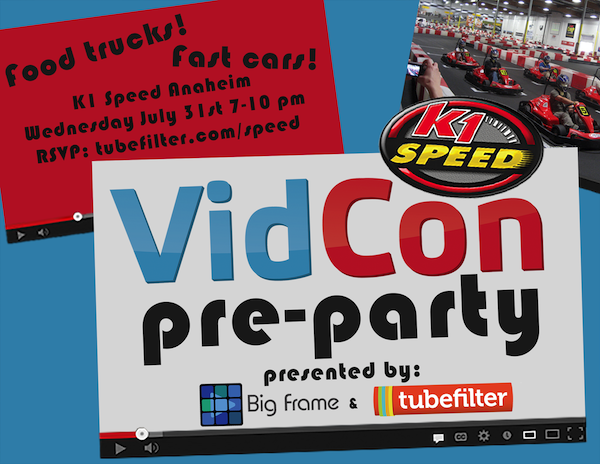 Come join us at Tubefilter's VidCon Pre-Party: Go Karts and Food Trucks fueled by BigFrame!
Tubefilter and Big Frame are taking over the racetrack for our annual VidCon kickoff party. Drop in, hang out, and race with some of the biggest names on YouTube!
RSVP here or at tubefilter.com/speed before tickets run out!
Ice Cream Truck:

K1 Speed Anaheim
1000 N. Edward Ct.
Anaheim, CA 92806
Phone: (714) 632-6999
CLICK HERE to learn more about 2013 VidCon!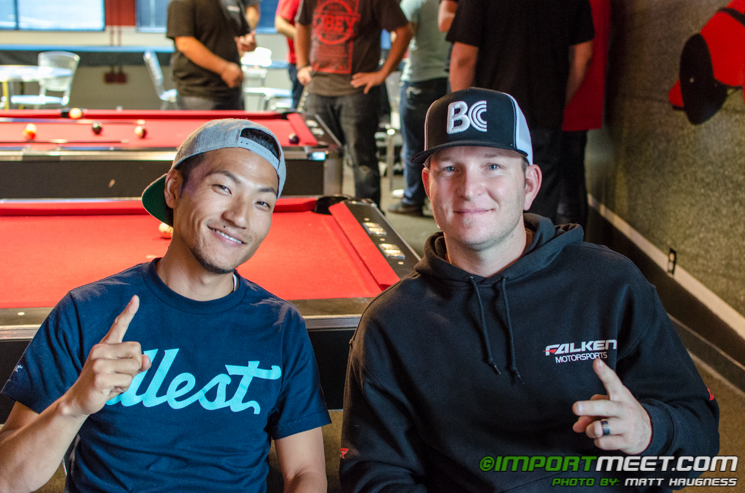 Team Falken recently arrived in Seattle for Round 5 of Formula Drift and one of their first stops while in town was an event at K1 Speed in Redmond, WA. The purpose of the event was for fans to meet the main Falken drivers and then kart against them on K1 Speed's indoor track.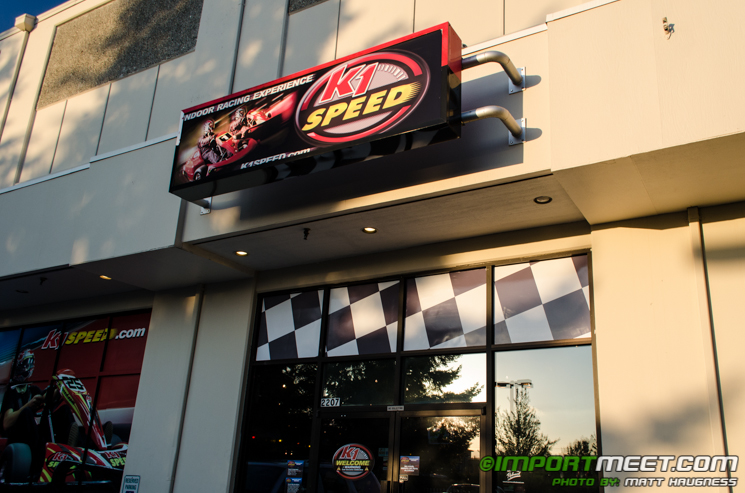 The event started with Daijiro Yoshihara and Justin Pawlak signing autographs and handing out Falken gear to fans.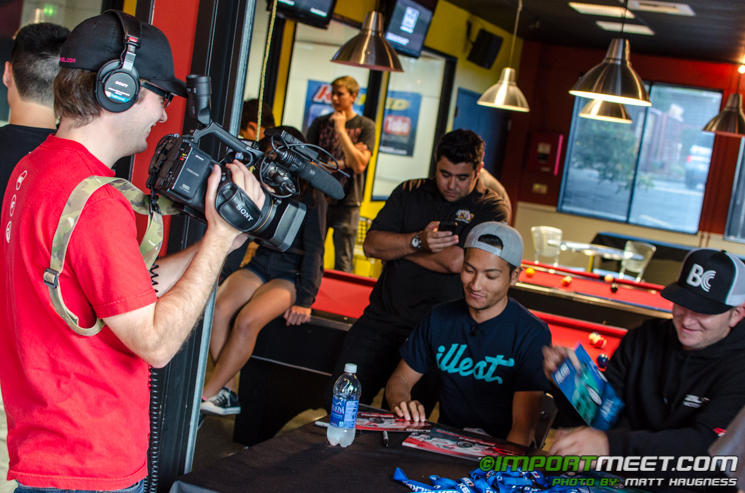 After about half an hour, they were on the track karting with the first few groups of fans.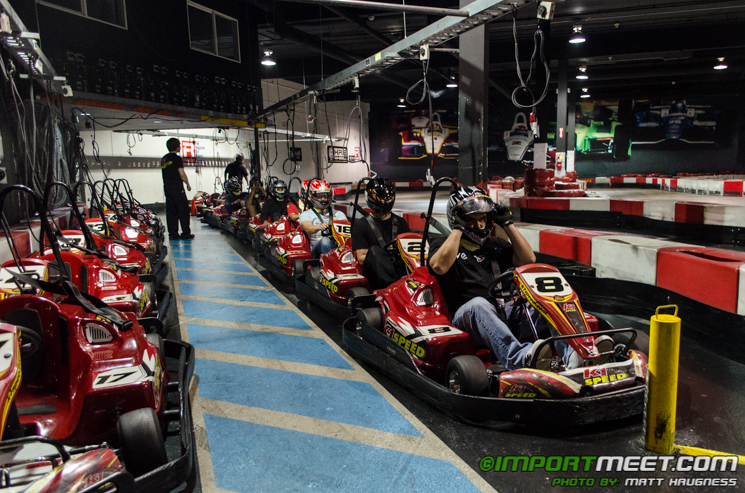 I ended up going out for a session on the track as well. After a short introduction to the kart, the staff let me loose. I was surprised by the acceleration of the electric kart and at times it felt like I was drifting every corner. My best lap of the day ended up being a 17.507, nearly a second and a half slower than the fastest lap at the day.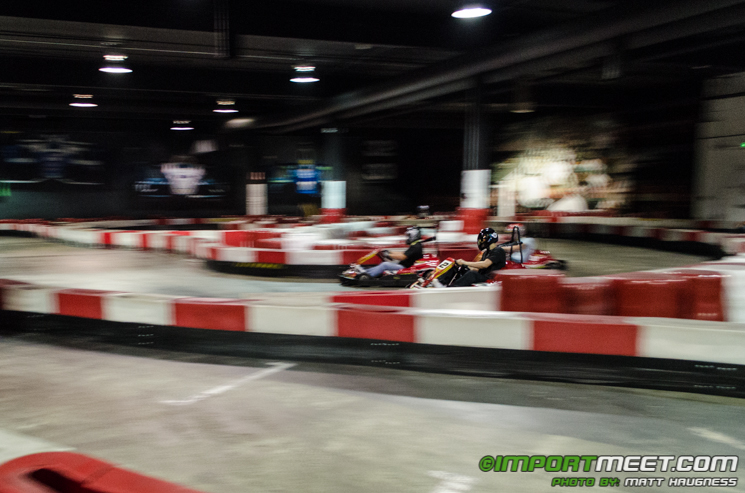 In the end, Darren McNamara had the best lap time of the professional group with a 16.221.
Falken Driver Times:
Darren McNamara: 16.221
Justin Pawlak: 16.488
Daijiro Yoshihara: 16.507
The fastest lap of the day was done by a fan and frequent K1 Speed customer named Javier Cantu-Lucero. He managed to not only beat all of the professional drifting drivers but also set a new track record with a time of 16.093.
After talking with Javier, I found out that he is an experienced racer that races open-wheel cars with his team Dos Toros Racing.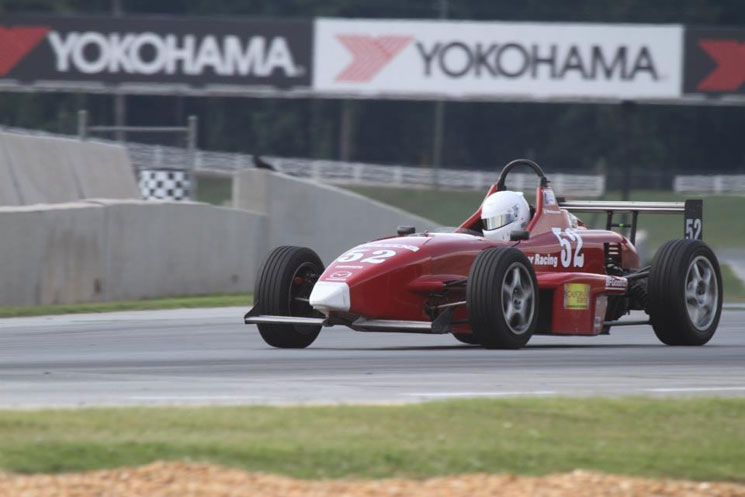 Special thanks to Falken and K1 Speed Seattle for the invitation to join the event. If you're ever in the area I highly recommend checking out K1 Speed in Redmond.
Posted on July 18, 2013 by Matt Haugness – IMPORTMEET.COM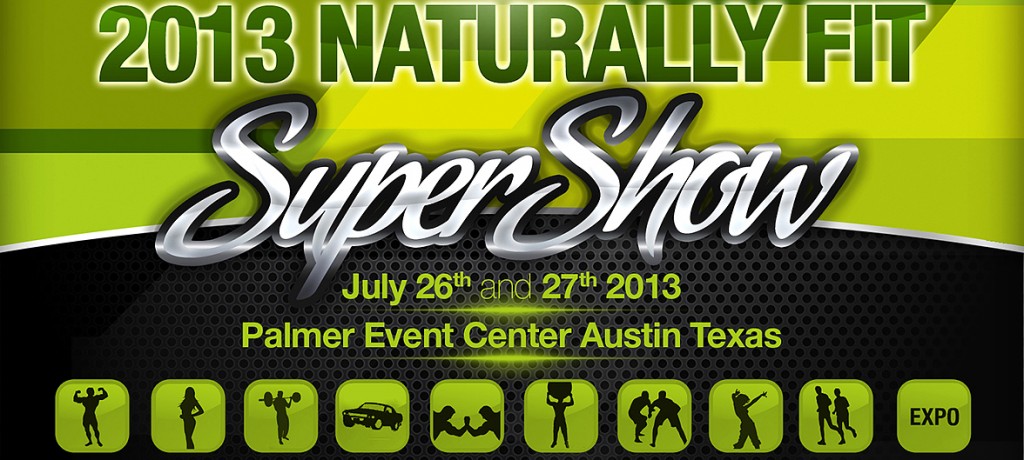 Come join the fun and check out our booth at this year's event!
The Naturally Fit Super Show one of the largest fitness events and expos in the Southwest is fast approaching. With thousands of attendees, athletes and vendors participating in a variety of fitness events and competitions all raising money for the Special Olympics, the 2013 Naturally Fit Super Show is an event that you won't want to miss!
In addition to the numerous competitions, the 2013 Naturally Fit Super Show will also feature a huge Health & Fitness Expo featuring over 100 fitness companies.
The 2013 Naturally Fit Super Show will take place on:
Friday, July 26th – 2:00 pm to 9:00 pm
Saturday, July 27th – 10:00 am to 5:00 pm
The 2013 Naturally Fit Super Show will take place at the Palmer Events Center in beautiful downtown Austin TX:
Palmer Events Center
923 Barton Springs Road
Austin, TX 78701
The 2013 Naturally Fit Super Show will have:
Over 25 sport competitions on showcase over 2 days
Health & Fitness Expo with over 100 local, regional and national companies showcasing the very best in health & fitness products / services
Muscle Car Show featuring over 100 american made cars & trucks
Kids Activities Face Painting, Jump Houses, Sports Club, Meet Iron Man and His Super Hero Friends!
Tickets for those wishing to attend the Naturally Fit Super Show can be purchased for $15- $35 online at:
Click here for Naturally Fit Super Show Tickets
K1 Speed Austin
2500 McHale Ct,
Austin, TX 78758
Phone: (512) 271-5475

Join us this weekend for the Rally, Rock and Race Weekend July 19-21 at Chicagoland Speedway and Route 66 Raceway!
Visit the K1 Speed booth at Chicagoland Speedway's Champions Park July 20-21!
Route 66 Raceway
• Traxxas TORC Series, baja-style off-road racing July 19-20!
Saturday, July 20th
• STP 300 and ARCA Racing Series practice session viewing FREE for season ticket holders, campers and fans with tickets for Sunday, July 21st
• Champions Park will also be open for fans!
Sunday, July 21st
• Use code "Julyfun" and save $10 in Section G for the NASCAR Nationwide Series STP 300 and ARCA Racing Series – Two races for just one price! Plus view practice for FREE on Saturday, July 20th with your STP 300 ticket!
• Armor All Car Show 8 am – 12 pm – Cruise the show and pick your favorites!
• Champions Park opens at 8 am, Live Entertainment, Contests, Bean Bags and More!
• Pre-race activities begin at 1:30 pm
• STP 300 Green flag at 2 pm
• Kids tickets $25 off, with discount prices begin at just $5!
Don't forget to visit the K1 Speed booth Saturday & Sunday in the Kids Zone!
K1 Speed Buffalo Grove
301 Hastings Dr
Buffalo Grove, IL 60089
Phone: (847) 941-9400
K1 Speed Addison
2381 W Army Trail Road,
Addison, IL 60101
Phone: (630) 433-3700

Do you have what it takes to race with the Pros? The top five Average Joes with the best time will compete with Lucas Oil's Off-Road Series greatest.
EVENT DETAILS:
What: Pros vs Joes
When: Friday, July 26th
Where: K1 Speed 5350 East Ontario Mills Pkwy, Ontario, CA 91764
Qualifying races from 11am-7pm…see front counter to sign-up
Top five Average Joes that qualify from 11am-7pm will be entered into the Pros vs Joes race
Classes:
LOORRS Pros vs Joes
LOORRS Pros 150lbs-200lbs
LOORRS Pros 201lbs and over
LOORRS Kart Kids
Practice:
8pm-8:50pm
Pros Practice 8 laps
Joes Practice 8 laps
150 lbs -200lbs 8 laps
LOORRS Kart Kids 8 laps
201 lbs and over 8 laps
Main Events:
9pm-10pm
Pros vs Joes 12 laps
150 lbs -200lbs 12 laps
LOORRS Kart Kids 12 laps
201lbs and over 12 laps
For more information, please call 909-980-0286 press 0
// RECAP VIDEO//

Race over TODAY! Falken and K1 Speed have teamed up to deliver an exciting day of racing. Come and get autographs from Team Falken or see if you have the skills to compete against the best!
FORMULA DRIFT EVENT:
Wednesday, July 17th
6:30pm-9pm
SCHEDULE OF EVENTS:
6:30pm-7pm: Team Falken meet and greet and autograph session
7pm: Racing begins
RSVP at our FACEBOOK page HERE
EVENT LOCATION:
K1 Speed
2207 Bel-Red Rd
Redmond, WA 98052
(425) 455-9999
Don't forget to see your favorite Formula Drift drivers at ROUND 5 – THROWDOWN July 19-20 at Evergreen Speedway!
ROUND 5 – THROWDOWN
BUY TICKETS HERE
KIDS AGE 5 & UNDER ARE FREE
Monroe, WA
July 19 – 20

Come celebrate the 11th Annual Big SoCal Euro Gathering 2013 with us!
With over 2000 European car enthusiasts, there's something for everyone! Race over to the K1 Speed booth for giveaways, discounts and photo ops!
When:
Saturday – Sept 14, 2013
10:00am til 3:00pm
Where:
Qualcomm Stadium
9449 Friars Road, San Diego, CA
* Google map *
Why:
Because we want to !!
Facebook:
RSVP here
Price:
FREE
FYI: RAIN or SHINE Event!

The annual HRE Wheels Open House has grown into one of the biggest supercar and sports car gatherings in Southern California. This year's event attracted over 500 cars ranging from Audi S4s to Bugatti Veyrons and over 1000 attendees from all over California and beyond. The HRE gathering is unique in that it isn't just about European supercars. Car fans from every different sub-culture come together to appreciate the car hobby and enjoy the automobile.
Every year HRE opens up its Vista, California-based headquarters to give its customers and fans an opportunity to learn about the forged wheel making process and see some of the most exotic cars in the world equipped with HRE's forged rollers. This year's marquee vehicle was a car that most consider to be one of coolest supercars ever built, the Ferrari F40. This particular F40 was rebuilt for Discovery Channel's Fast n' Loud TV show. Gas Monkey Garage teamed up with HRE to create a custom set of center locking C105 wheels for the car.
The front parking lot looked like something out of a kid's bedroom poster with every new model of Ferrari, a variety of Lamborghinis and even the "ChromeHearts" RAUH-Welt Begriff Porsche with a chrome wrap brought out by the folks from eGarage lining the lot.
HRE's latest Monoblok design, the Series P1 (a one piece version of its popular S1 three piece wheel), was previewed at the event and mounted on Lamborghini's gorgeous Aventador. Visitors also had a chance to check out a variety of vendors including Akrapovic, KW Suspension, Bilstein, Accuair, Falken Tire, Brembo, and Cobb as well as other HRE industry partners and local car dealerships.
"California is the epicenter of car culture and we're thrilled about how the turnout has grown over the past two years," said HRE President Alan Peltier. "The caliber of cars that came out on Saturday was impressive and it's a lot of fun for us to put on. We can't wait until next year."
The HRE prize raffle where fans had a chance to win a set of wheels from its new affordable FlowForm cast wheel line to a custom set of HRE's forged wheels and Falken Tires of their choosing. All proceeds from the raffle went to fund the Motor4Toys holiday charity event taking place in December.
The HRE Wheels Open House is truly a statement that the automotive industry and aftermarket car culture are alive and well in SoCal.
More photos from CNCPics HERE and from Boxtree Productions HERE.

The World's Fastest Motorsport Returns to Route 66 Raceway with the O'Reilly Auto Parts Route 66 NHRA Nationals powered by Super Start Batteries weekend June 27-30!
Once a year, drag racing's biggest stars roar down the dragstrip at Route 66 Raceway. The NHRA Mello Yello Drag Racing Series is the world's fastest motorsport – watch as nitro burning Top Fuel Dragsters and Funny Cars breach the 300 MPH speed barrier. Experience the whole weekend with Two Nights of Nitro (Friday & Saturday) and Championship Sunday. Get up close and personal with the drivers as every ticket is a pit pass!
Buy your tickets early and save! Visit www.route66raceway.com or call 888-629-RACE!
Use Code NHRAPROMO and save 20% on any Friday, Saturday or Sunday General Admission ticket! Must use by June 25, 2013! Visit www.route66raceway.com now to redeem!
Connect with Route 66 Raceway on Twitter and Facebook!
Don't forget to visit our Chicagoland centers in Buffalo Grove and Addison!
3860494-1