K1 Speed, the largest operator of public indoor karting centers in the country, is opening its newest location in the Dallas-Fort Worth area, in Arlington.
Irvine, CA October, 1, 2013 – The newest karting track in Arlington (located roughly equidistant between Dallas and Forth Worth) is not your ordinary go-kart track. Perhaps most strikingly, it's located entirely inside, allowing for racing rain or shine, day or night. It also features a professionally-designed course layout and high-performance electric karts. Needless to say, though everything may appear similar on a superficial level, the track represents a new approach to go-karting. Take everything that you think you know about go-kart racing and throw it out the window because K1 Speed is committed to changing your perception.
Indoor Go-kart Racing – The K1 Speed Way
Since its founding in 2003, K1 Speed has revolutionized what individuals expect out of a go-karting experience. Gone are the anemic, heavy, slow-witted gas-powered karts of your youth; in their place are high-performance, zero-emission, environmentally friendly electric karts that are cleaner, quieter, and perhaps most importantly, faster. The poorly maintained tracks and outdoor seating areas have been replaced with spacious lounges, leather couches, plasma screen televisions, snack bars, and museum-quality collections of authentic racing memorabilia. The very traits that K1 Speed has built its reputation on, and that have allowed it to grow into the largest karting company in the country – all-electric go-karts, professionally designed race tracks, year-round racing, and an unparalleled attention to detail – are all present in the company's newest location, K1 Speed Dallas.
Residents of Dallas, Forth Worth, and Arlington can visit K1 Speed seven days a week and experience the thrill of indoor go-kart racing for themselves, no reservations required. With the latest state-of-the-art, all-electric karts (designed and built in Europe), K1 Speed is able to satisfy the demands and needs of even the most ardent driving enthusiasts. The company promises an adrenaline-pumping experience that is second to none; yet, due to their tractable nature, the company's electric karts are easy to drive and suitable for racers of all skill levels and experience. Racers who want to experience the thrill of wheel-to-wheel racing need only show up – K1 Speed handles the rest!
Catering to Racers' Every Need – Planning Private Parties and More
In addition to offering public races in the form of their Arrive & Drive racing option, K1 Speed Dallas can also accommodate private events. The company has a number of private racing packages that are designed for groups of 8 or more people, making them perfect for birthday parties, bachelor and bachelorette parties, team building exercises, company functions, and more. And to ensure that large groups are properly provided for, K1 Speed Dallas also has a number of private room rentals available, as well as catering options. There is an option designed to meet every need, all of which are centered around the company's most unique and lasting product: high-performance indoor go-kart racing.
K1 Speed Dallas is conveniently located in Arlington, roughly equal distance from Fort Worth and Dallas, and is situated across from Six Flags Over Texas. Residents of Arlington, West Prairie, Dallas, Forth Worth and surrounding communities can contact K1 Speed Dallas with any questions. Individuals looking to experience indoor karting are also encouraged to show up for an Arrive & Drive race at any time.

For Corporate Inquiries, Private Parties & Birthdays
Phone: (855) 517 7333
Email: Group Reservation

The Ford Truck Jam Truck show will be exclusively Ford Trucks. From Classics to Modern, Low-Riders to Lifted, Come check out Ford's Finest.
Proceeds from the Ford Truck Jam will benefit the Sheckler Foundation, to help enrich the lives of children and injured action sports athletes! Ryan Allen Sheckler will be making an appearance, so come out and support a good cause!
SUNDAY, OCT 06, 2013
LIVE PERFORMANCES BY:
Flashback Heart Attack
State of Grace
The Walcotts
LONG BEACH ARENA MAIN LOT
Long Beach Convention & Entertainment Center
300 E. Ocean Blvd, Long Beach CA, 90802
Don't forget to visit your local K1 Speed in Torrance after the Ford Truck Jam
K1 Speed
19038 S Vermont Ave.
Gardena, CA 90248

COME OUT AND GO HEAD-TO-HEAD WITH THE FALKEN TIRE DRIFT TEAM!
Mark you calendar, Falken and K1 Speed have teamed up again to bring you an exciting night of racing. Come out and get autographs and photos from Team Falken and see if you have the skills to compete against the best. Arrive early and enter the raffle to win PRIZES!
SCHEDULE OF EVENTS:
6:30PM-7:00PM: Team Falken Meet & Greet and autograph session
7:10PM: Racing begins
K1 Speed Ontario
5350 East Ontario Mills Pkwy,
Ontario, CA 91764
Phone: (909) 980-0286

This Saturday Uli Perez, Uli Perez Racing, will be honored as community Leader at Irwindale Event Center Hispanic Heritage Month celebration.
Buy one get one FREE tickets are available with this flyer…This Saturday ONLY!!! And Don't forget..Uli Perez racing will be back on the track at Irwindale on Saturday October 5th.

Our friends at Red Bull would love to have K1 fans on Thursday, October 3rd when Roland Sands Designs rolls up their studio doors for a special screening of Drivin' Dirty with Bryce Menzies. Off-road Champion, Bryce Menzies will take a detour to Southern California to give a behind the scenes look at his journey to Baja 1000. The screening will show Episodes one through four and provide an advanced screening of episodes five and six.
Complimentary drinks will be served and Menzies' Pro-2 Short Course Race Truck will be on site for photo opps, who doesn't love a good Instagram?

Details:
7:00 PM – Doors open | Roland Sands Design, 10571 Los Alamitos Blvd. Los Alamitos, CA 90720
7:30 PM – Screening begins | Q&A session with the production team and cast of Drivin' Dirty with Bryce Menzies
10:00 PM – After Party to follow | American Junkie, 2406 Newport Blvd., Newport Beach, CA 92663
Admission:
Event is free by invitation only, but space is limited. RSVP is required to loren.piretra@us.redbull.com to reserve your spot by Wednesday, October 2. A confirmation email will be returned to those that RSVP.
Facebook Event Page:
https://www.facebook.com/events/163025317238366/
Social:
@redbullLAX @BryceMenzies7 #DrivinDirty

On-board with Vesko Kozarov of Skullcandy Team Nissan at Barber Motorsports Park. Continental Tire Sports Car Challenge – CTSCC, ST class Nissan Altima Coupe.
Good luck to Patricio Jourdain and Skullcandy Team Nissan at Lime Rock next weekend.
RACE DATE/TIME:
Friday, September 27, 2013 3:25 PM ET
DURATION:
2 Hours 30 Minutes
BROADCAST INFO:
October 6, 3:00PM ET, FOX Sports 1
TYPE: 1.5-mile, 7-turn road course
ADDRESS:
497 Lime Rock Road
Lakeville, CT 06039
WEBSITE: Official Link

LONG BEACH, are you ready for National Red Bull #Flugtag? Attend the event live! More details here: http://win.gs/16NOk5h
K1 Speed
19038 S Vermont Ave.
Gardena, CA 90248
September 21
Rainbow Harbor
Hangars open at 10:00am
First flight at noon
EVENT IS FREE AND OPEN TO THE PUBLIC!

As a poet once said, "There's so much drama in the LBC." And on September 21st, there's sure to be a lot of drama when Red Bull Flugtag lands in Rainbow Harbor, situated in the heart of downtown Long Beach. Let's see the West go wild on the rest of the county and grab victory on the flight deck.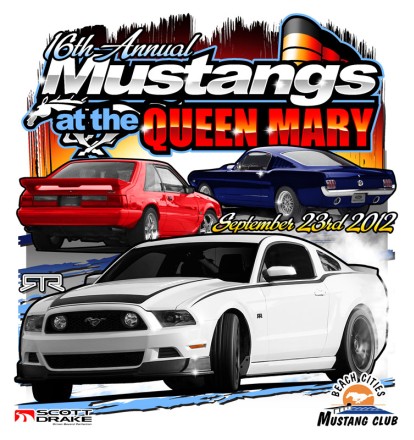 Join us on September 22nd for the 17th Annual Mustangs at the Queen Mary. Open to all Ford vehicles! Visit the K1 Speed booth for discounts and giveaways!
400+ Mustangs & Ford Vehicles!
SPECIAL GUEST: Courtney Hansen (PowerBlock, Overhaulin')
Be a part of our huge Goodie Bags!
Awesome Raffles and Auctions!
Celebrities, Food, Fun & MORE!
California's Largest Mustang Show!
What:
17th Annual Mustang & Ford Car Show
When:
Sunday September 22, 2013
Where:
Queen Mary
1126 Queens Hwy.
Long Beach, CA 90802

Saturday – September 14, 2013 – 3pm-8pm @ Qualcomm Stadium, San Diego CA
Raffles !!
$5 for 1 ticket or $20 for 5 tickets. Prizes include a set of Toyo Tires, VMR Wheels, Solowerks coilover kit, Eibach spring kit, SPM downpipe kit, Custom European Plates, GoPro Hero3 kit and more !
Drag Racing !!
$40 Pre-Registration or $45 day of event
Canned food Raffle !!
5 canned food for 1 ticket. Prizes include Tools, K1 Speed races, Custom European Plates, and more
Food Truck !!
Devilicious, SuperQ, Mastiff Sausage, Bitchin Burgers, Bubbas BBQ, Jamba Juice
Caravan !!
Join other enthusiasts for the trek to Qualcomm Stadium !
Vendors and Sponsors !!
Over 35 vendors showcasing their products. They will also have event specials !!
Stop by the K1 Speed booth for discount races and giveaways!
Stuff-a-Dub !!
Form a team to see how many people can fit into a VW Beetle !
Swap Meet !!
We have a FREE area designed for Personal parts/car sales.
When:
Saturday – Sept 14, 2013
3:00pm – 8:00pm
Where:
Qualcomm Stadium
9449 Friars Road, San Diego, CA
* Google map *
Why:
Because they want to !!
Facebook:
RSVP here
Admission:
FREE – $0
FYI: RAIN or SHINE Event!

The fastest growing city in the US has the fastest weekly radio show to keep pace. "Speed City" brings to the airwaves the most comprehensive motorsports show available in Central Texas.
Stop by K1 Speed Austin Saturday, September 14th from 10am-11am to watch and listen to Jon, Les and Jonathan talk about motorsports and professional driver, Bryan Sellers, about the ALMS meet & greet with Team Falken Tire!
Topics include:
• Circuit of the Americas (COTA): F1 and all other series racing. All COTA events coverage.
• Motorsports coverage including F1, MotoGP, ALMS, GRAND-AM, NASCAR and more.
• Area Motorsports events, including track events and car shows and car news.
• Cars, motorcycles, and anything that goes fast!
K1 Speed
2500 Mchale Ct.
Austin, TX 78758