K1 Speed is proud to be the HEADLINER SPONSOR! The Coach House is excited to welcome, "OC BANDSTAND!" OC Bandstand provides an opportunity for teen bands to showcase their music live onstage at the Coach House Concert Theatre in front of over 500 people. Bands will perform during a day of good music, great food and receive prizes from our spotlight sponsors, including K1 Speed. Thanks to our presenting sponsor, MasterDrive of Orange County
Saturday, July 14, 2012
11:00 AM to 2:00 PM (PT)
The Coach House
33157 Camino Capistrano
San Juan Capistrano, CA 92675
The best in indoor kart racing in the Southwest can be found at K1 Speed in Phoenix, Arizona with their first Team Endurance event coming this Sunday to the highly popular facility. Teams of 2- 5 drivers will be competing in a tag team style racing with a few different twists to make things more challenging for drivers. Strategy and speed will both be the key to success to winning. Drivers will have a quick 10 lap qualifier to set the field, and 90 minutes of continuous racing to go after the checkered flag!
Early registration is open – cost is $175.00 PER TEAM for early registration, and $225.00 the day of. Come out this Sunday June 24th at 6:30 PM for registration with qualifying beginning at 7:00 PM. There is an 11 team limit for this inaugural race – so
per-registration in highly encouraged. SEE YOU THIS SUNDAY!

2012 PHILIP RIVERS 5K PRESENTED BY EDCO
Saturday, June 16, 2012 – NTC Park at Liberty Station
CLICK HERE TO DOWNLOAD OUR WALKER-RUNNER INFORMATION
PRE-EVENT T-SHIRT, RACE BIB & PACKET PICK-UP
Road Runner Sports, 5553 Copley Drive, San Diego, CA 92111
Wednesday, June 13 from 2:00 p.m.- 7:00 p.m.
Thursday, June 14 from 11:00a.m.-4:00 p.m.
DAY OF EVENT – NTC Park at Liberty Station
Registration begins at 7am; Start time: 8:25am Run, 8:30am Walk
Come join the Philip Rivers 5K presented by EDCO benefiting The Rivers of Hope Foundation! The Third Annual Philip Rivers 5K presented by EDCO will take place June 16th, 2012 at NTC Park at Liberty Station. This event will be fun for the whole family that will include food, drinks, and fun for everyone. Visit the K1 Speed booth and receive discounts and photo ops with K1 girls and kart. By registering for this event you will receive an all-inclusive package including:
Opportunity to walk/ run along the water in NTC Park at Liberty Station in Point Loma
Hand-signed Philip Rivers football card to the first 1,500
Gaglione Brothers sandwich voucher
SportClips haircut voucher*
Capriott's sandwich voucher
Commemorative Philip Rivers 5K t-shirt
Race gift bag with amenities from 5K sponsors
The entire family is invited to join the fun post-race party which includes:
Live music
Complimentary food court – Gaglione Brother's, Capriotti's, Slater's 50/50, Wings n' Things, Simple Nutrition, Nothing Bundt Cakes, Noodles & Company and Papa Johns will provide an array of food samples for you to enjoy
Kids Fun Zone – touch down to fun inside the Kids Fun Zone featuring
bounce houses provided by L.B. Jumpers Express
games and activities provided by Kid Ventures
Autograph booth presented by Novatel Wireless – featuring current/ former Chargers players and local celebrities**
Awards Ceremony – prizes include
Overall Winners
1st place (Men's and Women's) – Commemorative medal, two tickets to SeaWorld, Sunglasses from Red Star World Wear and prizes from RoadRunner Sports
2nd place (Men's and Women's) – Commemorative medal, two tickets to SeaWorld, Sunglasses from Red Star World Wear and prizes from RoadRunner Sports
3rd place (Men's and Women's) – Commemorative medal, two tickets to SeaWorld, Sunglasses from Red Star World Wear and prizes from RoadRunner Sports
Age Group Winners
1st place in each age division will receive a Commemorative medal and two tickets to SeaWorld
*Certain restrictions may apply.
**Please note: Celebrities will be available for autographs following the race. No memorabilia is permitted on the property nor will it be signed. Philip Rivers will not be signing autographs at the booth.
Grab your Dad or Grad and head to Main St in Downtown Huntington Beach to join the fun at the 5th Annual Chili At the Beach on Father's Day Weekend! Visit the K1 Speed booth in front of Huntington Surf and Sport.
Saturday, June 16, 2012
11:00 am – 6:00 pm
Downtown Main St.
The Main event features the Annual Chili Cook Off with Chili & Salsa Teams competing for awards in three categories:
Best Tasting
Most Creative Chili Name
Most Enthusiastic Team
Featured Attractions
Marketplace with 60 vendors displaying products, activities and gifts for men
Musical Entertainment on two stages and roving street performers
Children's Activities with kid's rides, games and entertainment
Downtown boutiques and restaurants galore!!
Beer Garden on The Strand(5th St)
Attendance is free. Chili tasting tickets range from $5-$23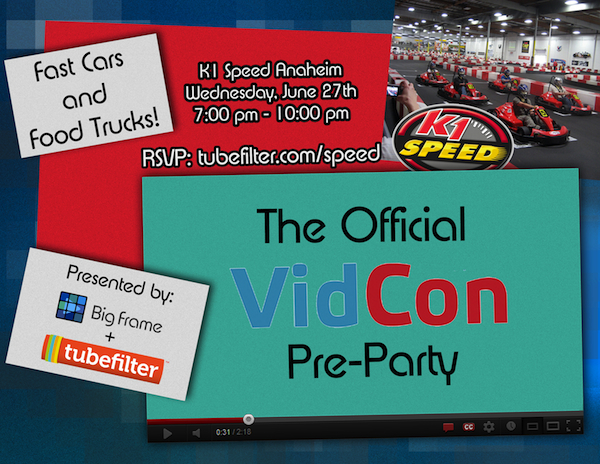 Come join us at the
Official Pre-Party for VidCon 2012
: Go Karts and Food Trucks at
K1 Speed
indoor kart racing in Anaheim!
Tubefilter and Big Frame are taking over the racetrack for the official VidCon kickoff party. Drop in, hang out, and race with some of the biggest names on YouTube!
RSVP here: tubefilter.com/speed
Enjoy discounted racing during the event! You won't want to miss out!
Official Pre-Party of VidCon 2012
Go Karts and Food Trucks
Hosted by Tubefilter and Big Frame
Wednesday, June 27, 2012
7:00 pm to 10:00 pm
K1 Speed – Anaheim
1000 North Edward Ct
Anaheim, CA 92806
We'll have food trucks, KogiBBQ, The Burnt Truck, Dogzilla and Archie's Ice Cream confirmed (updates to come) as well as other surprises. Here's a video from DeStorm Power to get you in the mood:
RSVP at tubefilter.com/speed before tickets run out!
VidCon Schedule:
Wednesday – Official VidCon Pre-Party at K1 Speed Anaheim
Thursday – Industry Day – June 28, 2012 (Held at the Anaheim Hilton)
Friday – VidCon Day 1 – June 29, 2012
Saturday – VidCon Day 2 – June 30, 2012
Sunday- Disney Day – July 1, 2012
[Find out more about VidCon 2012 and other online video industry events by signing up for Tubefilter Radar, a digest of all the events that you should be tracking.]
Join us Thursday, June 7th from 6pm-9pm for K1 Speed Austin's Grand Opening Celebration. Enjoy live entertainment and racing! Keep an eye out for Red Bull handing out FREE energy drinks! Local vendors in attendance: The Austin Grand Prix, Formula Expo, Fiat of Austin, Wahoo's Fish Taco and many more! Portion of the proceeds go to the LIVESTRONG Foundation.
K1 Speed Austin
2500 McHale Court Ste. C
Austin, TX 78758
Located in North Austin just south of THE DOMAIN off Burnet Rd and McHale Court.

Come and join us for K.R.O.P.S. sixth car meet of 2012 with SO CAL CAR MEETS/SHOWS Group at K1 Speed Anaheim on Sunday, June 3rd, from 4:00-8:00PM. The address is: 1000 North Edward Court Anaheim, CA 92806
The previous meets had a great turnout at the K1 Speed locations in Ontario and Irvine. The meets are not car specific so come out and have a good time with a variety of people, see some unique cars, and eat some delicious food from Street Style Gourmet. NOS will be there as well handing out free NOS Energy Drinks all night! Also, there will be karting competitions with prizes and a raffle inside K1 Speed Anaheim as the night progresses so come stop by the K.R.O.P.S. booth and get your FREE raffle ticket!
***Extreme AutoFest has donated some free tickets to their show in Anaheim on June 10th to giveaway as a raffle and for karting competitions. Don't miss out!!!

The Racing Nuts Show at K1 Speed in Hollywood, Fla. Had some very special guests this week. The NDIMA came down to the show at K1 Speed. As the NDIMA (National Domestic Import Motorsports Association) prepares for their first event of 2012 at Palm Beach International Raceway. They began their promotions of the 1st event on June 24th 2012 on The Racing Nuts Show at K-1 Speed.
The Racing Nuts would like to thank the following people for their participation:
Shameel Khan the Co Founder of the NDIMA
Julio Bajdaun from Straight Up Media for the cool pictures
Jason Gatlin owner of A.T.F IN Davie, Florida
Charles Walker for bringing out his 2001 Honda S2000 2JZ
Shawn Ash for bringing out his 1985 fully restored Ford Mustang

The NDIMA will hold their first event at P.B.I.R on June 24th 2012 that will feature Imports racing Domestic dragsters on the famous P.B.I.R. Drag strip. Also there will be a car show, Bikini Contest and vendors on hand with all types of racing products.
The Racing Nuts Show has been given tickets to this event so come out next week to K1 Speed 2950 Stirling Road in Hollywood Florida between 7 to 8 pm ET. For you chance to win tickets to the 1st NDIMA event at Palm Beach International Raceway on June 24th 2012.

Come celebrate this charitable day and help children who are in need across the U.S.
Donate $10 and receive a collectible NASCAR DAY Pin or wristband and one FREE Go-Kart Race!
LIVE broadcast from KDAY 93.5 FM with Brandi Garcia from 10am-3pm
NASCAR FOUNDATION – foundation.nascar.com
KDAY 93.5 FM – www.935kday.com
3860494-1