MONSTER ENERGY GIVES BACK HOSTS A CELEBRITY K1 KART RACE FUNDRAISING EVENT TO BENEFIT MUSIC SAVE LIVES.
Music by Good Guys In Black
Event Raises $17k
On April 1, Monster Energy Gives Back raised $17k at their Celebrity K1 Kart Race fundraising event to benefit Music Saves Lives featuring a special red-carpet evening with celebrities, athletes, media and industry influencers.
Invited guests enjoyed Kart Racing, an auction, good food and music by legendary professional BMX rider, musician, actor, and TV and radio personality Rick Thorne's band, Good Guys In Black.
Celebrities, Athletes, Musicians, Hosts, Influencers
The evening was filled with great energy and good vibes. Guests and celebrity racers included: Christopher Knight – "Peter Brady" on The Brady Bunch, VH1's "My Fair Brady" and "The Surreal Life", Darrell and Brandon Sheets – Storage Wars, Jarrod Schulz and Brandi Passante – Storage Wars, Destin and Rachel Pfaff – Bravo´s Millionaire Matchmaker, Gordon "Lug Nutzz" Stewart – Nationally syndicated radio personality, Monster Energy athletes and Host of Speed Network's "Speed Freaks," Rick Thorne – professional BMX rider; actor; and singer for "Good Buys in Black", Anastasia Ashley – professional surfer, Dean Wilson – Motorcross professional racer, Ernie "E-Dub" Vigil – Street bike stunt rider, Shin "Shinobi" Kinoshita – Street bike stunt rider, Nick "Apex" Brocha – Street bike stunt rider, Jason Britton – stunt bike rider, Jeremy Wright – professional body border, Joslyn Davis – Clevver TV host, Kyle Mohan – pro formula drift driver, Paul Luc Ronchetti – professional skateboarder, Pierre-Luc Gagnon (PLG) – professional skateboarder.
Celebrity Winners, Bragging Rights
Celebrity winners took home custom Monster trophies, bragging rights, and an invitation for next year´s fundraiser to defend their title.
1st Place: Nick "Apex" Brocha – Street bike stunt rider
2nd Place: Brandon Sheets – Storage Wars
3rd Place: Ernie "E-Dub" Vigil – Street bike stunt rider
Making Dreams Comes True
The event also made an eight-year old boy, Zack Wenner's wish come true. Wenner who is suffering from Juvenile Rheumatoid Arthritis had a dream to meet the cast from Storage Wars (his favorite show) that has given him a way to escape his painful condition. His dream came true when he not only met the cast, but also actually got to bid in the live auction against them. The auction took a heartwarming turn when one of the cast members, Sheets actually bid on an autographed helmet on Wenner's behalf. His mother, Tiffany Wenner said, "you guys made his night unforgettable and one of the of the happiest moments in his life."
Sponsors included: Prodigy Entertainment, All Smiles Solutions, Evan's Lager, Pabst Beer, Status Vodka, Karma Tequila, The Wine Artist, Night & Day Productions, Socially Sweet Events and Wee Man´s Chronic Taco´s.
Music Saves Lives (MSL) is a nonprofit organization that focuses its main efforts on blood donation and marrow registration, reaching out by sharing facts and educating young people on music tours nationwide. MSL began in 2006 and has reached over 2 million youth blood donors and registered over 20,000 for the marrow program saving as many as 15 people with leukemia. Their efforts have changed lives across the US and Canada.
Check here to view photos and feel free to post and blog.
For more information on Music Saves Lives visit: www.musicsaveslives.org. For more on Monster Energy Gives Back and our athletes visit our Facebook page at www.facebook.com/MonsterEnergyGivesBack or check out www.monsterenergy.com.
Seeing an Endsession gets you up the noses of people who play music for a living and a once in a lifetime experience BUT it's not like you can pop up and stage and out-perform the stinky band members at their own songs. We got out of bed extra early, 11a, on a Saturday and picked up bands Grouplove and Young The Giant for some crazy karting fun at K1 Speed in Redmond.It was an opportunity to be better than the band at something none of us had much experience doing…
There's something about being poor, on the road and skinny and going super fast in a kart. When race driving something so light, potato chips and xbox doesn't often equal a great training regiment! Evidently Young The Giant are staying thin on their tour bus as guitarist Eric managed to go fastest of all band members!
Grouplove's Christian and Hannah seem so nice to one another off the track. Then you get them racing next to one another and the intensity shows its dark side!
Bands tour together for months without much break and become friends on the road. Our K1 experience took place on the final stop of a long tour and they couldn't have been more ready to goof off together!
So fun! Thanks to K1 for having us and Mat Hayward for taking the best photos!
Music Saves Lives Celebrity Kart Race fueled by Monster Energy
Sponsors and Supporters will get a chance to kart race against celebrities in a fun, thrilling grand-prix-style competition.
Attendees will enjoy great food, drinks and can bet on celebrity kart racers.
This red carpet event will also have live entertainment, a silent auction. Many of the athletes will be displaying their racecars and motorcycles offering pictures and autographs.
Music Saves Lives is a nonprofit that has focused its main efforts on blood donation and marrow registration, reaching out by sharing facts and educating young people on music tours nationwide. MSL began in 2006 and has reach out to more than 2 million youth blood donors and registered over 20,000 for the marrow program saving as many as 15 people with leukemia. Their efforts have changed lives across the US and in Canada.
To find out more about www.MusicSavesLives.org
Information and tickets: http://msl.ticketleap.com/k1fun/
Facebook Event link: CLICK HERE
For Sponsorship Opportunities and In-kind Donations, please contact Mijanou@sociallysweetevents.com
Sanuk Surfing America Prime presented by Got Milk?
Huntington Beach Pier, March 17 & 18, 2012
We acquire the strength we have overcome.—Ralph Waldo Emerson
The Sanuk Surfing America Prime presented by Got Milk? at the Huntington Beach Pier last weekend was cold, windy and scary!
The Huntington Beach experience started pleasantly enough on Wednesday in perfect hollow peaks with the beginning of a three-day PacSun USA Surf Team training camp. The team members rotated through three coaching segments. The f
Special 2-hour Formula Car Driver Program at Auto Club Speedway in Fontana, CA.
Date: Thursday, May 3rd, 2012
Offer expires Friday, March 30th, 2012

>>> PURCHASE THE PROGRAM HERE <<<
When you purchase the program you will be emailed a confirmation number and a list of available time slots to register for.
Whether you're looking for a once in a lifetime experience, or you're a driving enthusiast in search of critique, Allen Berg Racing School offers world class instruction featuring direct consultation with former Formula 1 driver, Allen Berg.
ABRS uses state-of-the-art race cars to provide exceptional programs at classic motorsports venues from Western Canada to California. Whether you are seeking an unforgettable experience for your next corporate event, starting a racing career, or looking for a new adventure, our professional instructors and proven curriculum will provide the fundamentals that will allow you to drive our racecars to the limit. No matter the reason for the need, Allen Berg Racing Schools is the place where racing dreams are made and expectations are met.
K1 Speed is offering a special Driving Program in ABRS' immaculately prepared Formula race cars–lapping around Auto Club Speedway road circuit led by one of our experienced instructors. Normally students would need to spend over $1700 in order to drive the Formula cars. But K1 Speed has worked a deal with ABRS to offer a special Two-Hour Driving Program for the low price of $300.
Listed below is what is included in the deal:
• 25 minute session in our authentic immaculately prepared Formula race cars –lapping around Auto Club Speedway road circuit led by one of our experienced instructors.
• 20 minute ride along track orientation session in road car with Instructor – an opportunity for the guest to learn the track layout, driving lines, curves, which gear to use, braking points – all explained clearly by one of our instructors
• 20 minute classroom session – outlining the operation and controls of the race car, how to enter and exit the race car, how to shift gears.
• Photo with race car (static) posted to Flicker
• On board video free of charge
• ABRS K1 Gift Bag – gift items and materials provided by ABRS and its sponsor partners
• ABRS Certificate of completion
• Optional on board camera video of each students session – a feature normally only offered in our 1, 2 and 3 day programs
• Optional Photo Plaque – each student standing beside or sitting in race car in their suit and helmet
• $200 off of any ABRS 1, 2 or 3 day program purchased within 90 days of ABRS K1 events
Prerequisites:
• All guests must be capable of driving a manual transmission.
• Minimum / maximum height restriction 5'0" – 6'6"
• Maximum weight 260 lbs
• Students would participate under terms and conditions as listed on ABRS website
• All guests and spectators will sign track liability waiver upon entering premises.
• Participants will be required to complete and sign damage liability form
• ABRS will offer an optional reduced insurance liability policy (fee of $100), reducing student's maximum exposure from $4500 to $500.
• Programs operate rain or shine – courses are only delayed if ABRS determines extreme rain causes conditions to become a safety hazard (however ACS is excellent for track drainage and the possibility for this during our months of operation are extremely remote)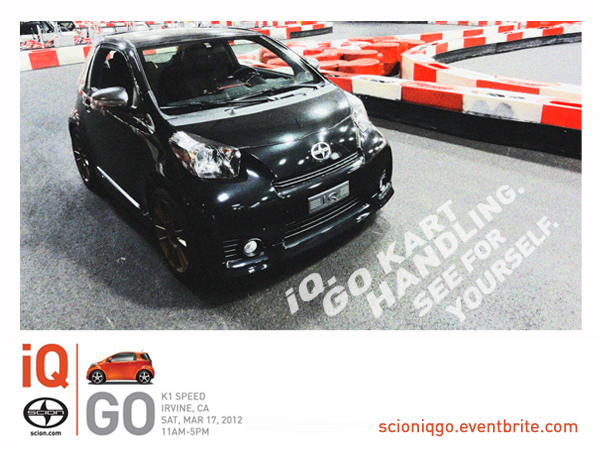 Well, hey there! Meet the Scion iQ – the World's Smallest Four-Seater. The Scion iQ is big ideas concentrated – but also, its got some moves. In fact, we say the Scion iQ has "go-kart handling". Really. You can see for yourself at an exclusive ride and drive event at K1 Speed, Irvine, CA on March 17, 2012.
Come have some FREE go-kart fun – race the K1 indoor go karts! – and check out the iQ. In fact, take it for a spin on our Ride and Drive course in the parking lot. You can even score an iQ ride-along on the indoor go-kart track!
As a member of the Scion brand, the iQ is also about personalization. Customize the iQ to fit your style from the many customization possibilities directly from Scion, or through our Scion OPTOMIZE program partners.
With all Scion models, you can also expect class-setting styling, performance, value, fuel efficiency, driving dynamics, and safety features. And as a marque of Toyota, all Scion vehicles are built with legendary world-class Toyota quality and reliability.
Check it out for yourself, and tell a friend. Just fill out the information requested on the registration page you'll have a chance to be one of the first people in the country to get behind the wheel of the 2012 Scion iQ.
Thanks for stopping by! Click here to view the Scion iQ event photo gallery
Fans eagerly gathered for the first 2012 Austin Grand Prix Downtown Watch Party on Sunday afternoon to kick off the season with the 2012 Formula 1 Qantas Australian Grand Prix.
One of Austin's most iconic downtown restaurants, Z'Tejas Southwestern Grill, welcomed F1 fans from Austin, Dallas, San Francisco, New York, Kansas City, DC, London, Germany and beyond. Fan enjoyed the delicious brunch buffet of southwestern and Tex-Mex fare, including an item I can't seem to find anywhere outside of Austin – Migas. Migas are eggs scrambled with tortilla chip strips, japanelos, salsa fresca and cheese – delicious! The location was ideal, the staff attentive and friendly, and the food and service, world-class. Thank you Z'Tejas!
In the multi-level private house fans had multiple options for enjoying the race – including a downstairs viewing room with a 10′ high-def screen and 60″ LCD complete with heart-pumping sound system. Upstairs, guest had the option to stay indoors or venture to the outdoor patio and enjoy the perfect Austin weather while still keeping up with the action on a large LCD screen nearby. Special thanks to IES for outfitting Z'Tejas into a rivaling F1 media center!
Our fans were lucky to be some of the first in Austin to meet the crew from K1 Speed – the nation's largest indoor kart racing chain that runs on high performance, zero-emission European electric karts. In just a few short weeks, Austin's own K1 Speed loction will open and our 15 lucky K1 Speed gift card winners will be able to put them to good use. On Sunday fans were able to check out one of their karts on display and hop on in. Everyone is excited about this new venue and we'll be sure to keep you up to date on their grand opening. I must admit, I can't wait to get out there and take one for a spin…Thank you K1 Speed!
We'll continue to share the F1 excitement with friends and fans throughout downtown Austin this season. We've chosen a handful of races to host watch parties, with China being the next race on the calendar on April 15. Stay tuned for more details.
Wahoo's Fish Taco is hosting a SXSW PARTY WEEK SHOWCASE presented by VIZIO.
Wahoo's Fish Taco – 509 Rio Grande Street, Austin, Texas
Wristband Entry Only! First Come First Served!

BAND LINE UP AND RSVP FOR MARCH 14TH
BAND LINE UP AND RSVP FOR MARCH 15TH
BAND LINE UP AND RSVP FOR MARCH 16TH
BAND LINE UP AND RSVP FOR MARCH 17TH
See you at Wahoo's Austin! K1 Speed Austin opening soon!
World of Outlaws SoCal Showdown at Perris Auto Speedway
Saturday March 10th.
Starting today, we're giving away a pair of tickets to this weekends SoCal showdown to the fastest lap of the day (Mon-Fri)!
Participating centers:
K1 Speed Irvine
K1 Speed Carlsbad
K1 Speed Anaheim
K1 Speed Torrance
K1 Speed Ontario

To purchase tickets visit www.wooperrisspeedway.com
Buy 8 Races for $100 at K1 Speed South Florida and be ENTERED TO WIN a FOUR PACK of PIT BOX tickets! A $1,000 value
Feel the rush—literally—while perched above Gatorade Victory Lane in the brand new all-inclusive indoor club for the Grand Prix of Miami. Watch pit crews tend to their team cars on pit road while enjoying catered food and beverage, Paddock access and preferred parking.
2-Day Package includes tickets good SAT-SUN and preferred parking.
Contest ends: April 15, 2012
3860494-1