Special 2-hour Formula Car Driver Program at Auto Club Speedway in Fontana, CA.
Date: Thursday, May 3rd, 2012
Offer expires Friday, March 30th, 2012

>>> PURCHASE THE PROGRAM HERE <<<
When you purchase the program you will be emailed a confirmation number and a list of available time slots to register for.
Whether you're looking for a once in a lifetime experience, or you're a driving enthusiast in search of critique, Allen Berg Racing School offers world class instruction featuring direct consultation with former Formula 1 driver, Allen Berg.
ABRS uses state-of-the-art race cars to provide exceptional programs at classic motorsports venues from Western Canada to California. Whether you are seeking an unforgettable experience for your next corporate event, starting a racing career, or looking for a new adventure, our professional instructors and proven curriculum will provide the fundamentals that will allow you to drive our racecars to the limit. No matter the reason for the need, Allen Berg Racing Schools is the place where racing dreams are made and expectations are met.
K1 Speed is offering a special Driving Program in ABRS' immaculately prepared Formula race cars–lapping around Auto Club Speedway road circuit led by one of our experienced instructors. Normally students would need to spend over $1700 in order to drive the Formula cars. But K1 Speed has worked a deal with ABRS to offer a special Two-Hour Driving Program for the low price of $300.
Listed below is what is included in the deal:
• 25 minute session in our authentic immaculately prepared Formula race cars –lapping around Auto Club Speedway road circuit led by one of our experienced instructors.
• 20 minute ride along track orientation session in road car with Instructor – an opportunity for the guest to learn the track layout, driving lines, curves, which gear to use, braking points – all explained clearly by one of our instructors
• 20 minute classroom session – outlining the operation and controls of the race car, how to enter and exit the race car, how to shift gears.
• Photo with race car (static) posted to Flicker
• On board video free of charge
• ABRS K1 Gift Bag – gift items and materials provided by ABRS and its sponsor partners
• ABRS Certificate of completion
• Optional on board camera video of each students session – a feature normally only offered in our 1, 2 and 3 day programs
• Optional Photo Plaque – each student standing beside or sitting in race car in their suit and helmet
• $200 off of any ABRS 1, 2 or 3 day program purchased within 90 days of ABRS K1 events
Prerequisites:
• All guests must be capable of driving a manual transmission.
• Minimum / maximum height restriction 5'0" – 6'6"
• Maximum weight 260 lbs
• Students would participate under terms and conditions as listed on ABRS website
• All guests and spectators will sign track liability waiver upon entering premises.
• Participants will be required to complete and sign damage liability form
• ABRS will offer an optional reduced insurance liability policy (fee of $100), reducing student's maximum exposure from $4500 to $500.
• Programs operate rain or shine – courses are only delayed if ABRS determines extreme rain causes conditions to become a safety hazard (however ACS is excellent for track drainage and the possibility for this during our months of operation are extremely remote)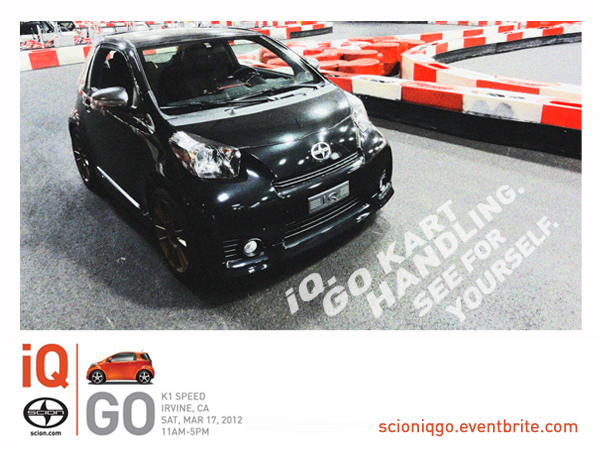 Well, hey there! Meet the Scion iQ – the World's Smallest Four-Seater. The Scion iQ is big ideas concentrated – but also, its got some moves. In fact, we say the Scion iQ has "go-kart handling". Really. You can see for yourself at an exclusive ride and drive event at K1 Speed, Irvine, CA on March 17, 2012.
Come have some FREE go-kart fun – race the K1 indoor go karts! – and check out the iQ. In fact, take it for a spin on our Ride and Drive course in the parking lot. You can even score an iQ ride-along on the indoor go-kart track!
As a member of the Scion brand, the iQ is also about personalization. Customize the iQ to fit your style from the many customization possibilities directly from Scion, or through our Scion OPTOMIZE program partners.
With all Scion models, you can also expect class-setting styling, performance, value, fuel efficiency, driving dynamics, and safety features. And as a marque of Toyota, all Scion vehicles are built with legendary world-class Toyota quality and reliability.
Check it out for yourself, and tell a friend. Just fill out the information requested on the registration page you'll have a chance to be one of the first people in the country to get behind the wheel of the 2012 Scion iQ.
Thanks for stopping by! Click here to view the Scion iQ event photo gallery
Fans eagerly gathered for the first 2012 Austin Grand Prix Downtown Watch Party on Sunday afternoon to kick off the season with the 2012 Formula 1 Qantas Australian Grand Prix.
One of Austin's most iconic downtown restaurants, Z'Tejas Southwestern Grill, welcomed F1 fans from Austin, Dallas, San Francisco, New York, Kansas City, DC, London, Germany and beyond. Fan enjoyed the delicious brunch buffet of southwestern and Tex-Mex fare, including an item I can't seem to find anywhere outside of Austin – Migas. Migas are eggs scrambled with tortilla chip strips, japanelos, salsa fresca and cheese – delicious! The location was ideal, the staff attentive and friendly, and the food and service, world-class. Thank you Z'Tejas!
In the multi-level private house fans had multiple options for enjoying the race – including a downstairs viewing room with a 10′ high-def screen and 60″ LCD complete with heart-pumping sound system. Upstairs, guest had the option to stay indoors or venture to the outdoor patio and enjoy the perfect Austin weather while still keeping up with the action on a large LCD screen nearby. Special thanks to IES for outfitting Z'Tejas into a rivaling F1 media center!
Our fans were lucky to be some of the first in Austin to meet the crew from K1 Speed – the nation's largest indoor kart racing chain that runs on high performance, zero-emission European electric karts. In just a few short weeks, Austin's own K1 Speed loction will open and our 15 lucky K1 Speed gift card winners will be able to put them to good use. On Sunday fans were able to check out one of their karts on display and hop on in. Everyone is excited about this new venue and we'll be sure to keep you up to date on their grand opening. I must admit, I can't wait to get out there and take one for a spin…Thank you K1 Speed!
We'll continue to share the F1 excitement with friends and fans throughout downtown Austin this season. We've chosen a handful of races to host watch parties, with China being the next race on the calendar on April 15. Stay tuned for more details.
Wahoo's Fish Taco is hosting a SXSW PARTY WEEK SHOWCASE presented by VIZIO.
Wahoo's Fish Taco – 509 Rio Grande Street, Austin, Texas
Wristband Entry Only! First Come First Served!

BAND LINE UP AND RSVP FOR MARCH 14TH
BAND LINE UP AND RSVP FOR MARCH 15TH
BAND LINE UP AND RSVP FOR MARCH 16TH
BAND LINE UP AND RSVP FOR MARCH 17TH
See you at Wahoo's Austin! K1 Speed Austin opening soon!
World of Outlaws SoCal Showdown at Perris Auto Speedway
Saturday March 10th.
Starting today, we're giving away a pair of tickets to this weekends SoCal showdown to the fastest lap of the day (Mon-Fri)!
Participating centers:
K1 Speed Irvine
K1 Speed Carlsbad
K1 Speed Anaheim
K1 Speed Torrance
K1 Speed Ontario

To purchase tickets visit www.wooperrisspeedway.com
Buy 8 Races for $100 at K1 Speed South Florida and be ENTERED TO WIN a FOUR PACK of PIT BOX tickets! A $1,000 value
Feel the rush—literally—while perched above Gatorade Victory Lane in the brand new all-inclusive indoor club for the Grand Prix of Miami. Watch pit crews tend to their team cars on pit road while enjoying catered food and beverage, Paddock access and preferred parking.
2-Day Package includes tickets good SAT-SUN and preferred parking.
Contest ends: April 15, 2012
After you create and upload your YouTube video, simply fill out the form here ::: http://on.fb.me/K1Kontest ::: Submit your YouTube video link in the appropriate box. Be sure the video response follows the guidelines down below or it will not be reviewed.
Winner will receive a Mini Grand Prix for you and your friends. Also your video wil be featured on K1 Speed's Official YouTube Channel, website and Facebook pages.
Video Guidelines:
- Videos must be under 60 seconds
- Videos must NOT contain offensive content
- Videos containing music must be original. No copyright infringement
- Must include at least one of the following K1 Speed references: K1 Speed logo, mention, website, URL, center, track etc.
- The more videos the better. There is no limit on the number of videos submitted
- Be Creative, Have Fun & Race Now!
- Contest ends June 30, 2012
NASCAR and Auto Club Speedway invite you to the official 2012 Daytona 500 Viewing Party and Fan Event!
Sunday, February 26th from 9am-3pm
ESPN ZONE, DOWNTOWN DISNEY
1580 S. Disneyland Dr. Anaheim, CA 92802
FREE Viewing Party

K1 Speed Interactive Booth

LIVE NASCAR racing on Jumbotron Screen at ESPN ZONE

Tire changing competition

Live Radio Broadcast & Promotions

FREE Viewing Party featuring

Latino 96.3FM ~Raq-C

Lug Nutzz Radio Show AM830 ~Gordon Stewart

NASCAR and Auto Club Speedway Prizes

Authentic Stock Car display and photo opportunities

Auto Club Speedway

NASCAR Street Team

Rusty Wallace Racing Experience

Food, Drinks and Fun for the entire family

Auto Club 400 ticket packages

The last time Boris Said ran a full season in the Continental Tire Sports Car Challenge, he helped Turner Motorsport win the 2006 Grand Sport championship.
Said will return to a full-time GS ride with the team, joining Michael Marsal in the No. 97 BMW M3 – and team owner Will Turner has high expectations.
"I think this is one of our strongest lineups ever," Turner said. "The last time Boris ran GS for us full time we won the championship. Pairing him with Mike Marsal, we're looking for another championship."
Head over to the San Jose Convention Center for the 2012 Silicon Valley International Auto Show! See hundreds of the hottest cars, trucks, crossovers, exotics and more this weekend. Stop by and say hello at our K1 Speed booth. Pick up a $5 off coupon or purchase a gift card for that special someone. K1 Speed – The Place to Race!
K1 Speed Santa Clara
2925 Mead Ave,
Santa Clara, CA 95051
3860494-1