Think you have what it takes to beat a professional race car driver?!
Head over to K1 Speed Irvine now through Sunday, August 18, 2013 and race Track 2.
All racers that beat Conor Daly's fastest lap of // 21.171 // will be put into a drawing to win a K1 Speed Prize Package!
*Winner will be notified within 24 hours
K1 Speed Irvine
17221 Von Karman Ave,
Irvine, CA 92614
Phone: (949) 250-0242
ABOUT
Conor Daly, a second generation race driver, is the son of professional race car driver Derek Daly (who reached the pinnacle of the sport, competing in Formula One and Indy Cars for well over a decade), and his Mom, Beth, who won a Novice Jet Ski World title in 1990.
Conor's career started racing go-karts as a 10 year-old. In 2005, He won 19 races, two championships and was elected "Junior Driver of the Year" by Kart Racers of America.
In 2006 he won three World Karting Association National events including the jewel of the WKA season, the Grand Nationals in South Bend, Indiana.
Towards the end of the season, and on age waivers (he was just 14 years old), he became the youngest driver in the country to win a "senior" Pro kart race when he won the Pro Invitational race at the TaG World Championships at Newcastle Motorsports Park, Indiana. Conor Flag
In 2007, driving for the factory Top Kart team, Conor won the Stars of Karting TaG East championship having dominated the penultimate rounds In Schwano Wisconsin where he scored 2 pole positions, four fastest race laps and a first and second place in the finals. He finished off his season with five consecutive pole positions. In 2007 he also won three Skip Barber Regional races including a win in Moroso Park, Florida on his debut in the series.
In 2008, Conor concentrated on race cars and had an outstanding season winning the Skip Barber National Championship (five wins) and the Ontario Formula Ford 1600 Rookie of Year (five wins). During his European debut he won prestigious Walter Hayes Formula Ford 1600 Trophy in Silverstone, England representing Team USA. Along the way he set three new lap records in Canada, and scored ten pole positions in three different classes.
In 2009, as a member of the Mazdaspeed driver development system, Conor finished 3rd in the Star Mazda championship presented by Goodyear. He was the youngest winner of the season scoring his maiden championship win at the 4th round of the championship in May at the New Jersey Motorsports park.
In 2010, Conor had a record setting year as he swept the Formula Star Mazda championship presented by Goodyear with seven wins (record), nine pole positions (record) and twelve podium finishes (record), most laps led (record), largest winning points margin in 23 year history of championship. What a season.
In 2011, Conor competed in the European Formula One support series, GP3, driving for Carlin. He also competed in five Firestone Indy Lights races, driving for Sam Schmidt Motorsports, winning the Grand Prix of Long Beach.
For 2012, Conor has signed with Lotus GP to contest the Formula One support series, GP3. Conor won in Barcelona on the opening weekend of the championship.
Formula One came calling after Conor's Spanish win as Sahara Force India invited Conor to drive their Formula One car during an aero data mapping session in England.
In 2013 Conor's primary program will be GP3 with ART Grand Prix. He also made his Indy 500 debut driving for the legend, AJ Foyt. Early in the season he raced GP2 in Malaysia where he finished 7th while setting second fastest race lap to the race winner.
Primary sponsors for 2013: VBrick, Ravilla, Delavaco, Callcap, Merchant Services LTD, Tom Lange Company and Modspace. He is also supported by Alpinestars, St Vincent Sports Performance and Aspin Group.
WHO:
5&A Dime and Green Flash Brewing Co.
WHAT:
For the 2nd year – 5&A Dime and Green Flash Brewing Co. will co-host of the 4th Annual Motor Union car show. The entire parking lot, Tasting Room, and Brewery Cellar will serve as the ultimate showroom for a mish mosh of over 150 of the coolest cars around including everything classics, domestics, drift cars, imports and other rare and custom cars. For the second year there will be a custom beer brewed for the event by Green Flash. There will also be a raffle of items from all sponsors including a set of custom HRE wheels from San Diego's premier wheel manufactures HRE. Spectators can spend the day enjoying the delicious food from local vendors, delicious beer from Green Flash, apparel, cars and games. Stop by the K1 Speed booth for discounts and prizes!
WHERE:
Green Flash Brewing Co. | 6550 Mira Mesa Blvd | San Diego, CA 92121
EVENT WILL TAKE OVER THE ENTIRE BREWERY (INTERIOR AND EXTERIOR) INCLUDING PARKING LOT, TASTING ROOM AND CELLAR…
WHEN:
Sunday August 18th, 2013 | 11am – 6pm
HOW:
ADMISSION IS FREE TO PUBLIC –
For Vehicle Registration: http://themotorunion.com/
About Motor Union
The idea to make a new kind of car show began with the 5&A Dime crew sitting around with a bunch of friends. Those friends just so happened to have really nice cars. With the brand and clothing boutique "5&ADime" in full throttle, the original idea was to create brand awareness by sponsoring their friend's rides.
What would one day turn into The Motor Union began with daily driver meet ups in front of the shop on the corner of 8th & G in downtown San Diego. Before they knew it, 5&A Dime was hosting its first unofficial car show, and it was as unofficial as it gets. They saved space on 8th Ave. not with permits, but by blocking off parts of the street with red cones. It was guerrilla, but it got the job done.
What started as a casual meet up of friends has grown into a unique event that is held once a year bringing together more than 3,000 people!
Moving into car culture was a natural progression for 5&A Dime since they had daily conversations with customers about cars. They wanted to break the stereotype of traditional car shows and bring something unique to the table. Making a car into an extension of yourself is a positive hobby and lifestyle, this is the vision…
Motor Union is more than a car show.
It is a fusion of men's apparel and car culture, thus bringing a creative style to the event.
It is a mishmash of all cars, bringing together different lifestyles.
It is unique, held at exotic venue locations.
And it will always be free of charge!
This is what Motor Union is. This is what we want to maintain. We hope to share our culture and expand our community with others that visit our fair city.
Expansion is inevitable.
Let's grow this Motor Union together!
About 5&A Dime
5&A Dime is a, San Diego based, men's lifestyle clothing company that was started in 2005 by a brother and sister team (Jay & Darcie). The store is located in the heart of San Diego's East Village and features an early Americana aesthetic while focusing on clothing based in the skate, art, music, and car cultures. Three years ago Jay decided to create The Motor Union with the goal of unifying the car community, much in the way that 5&A Dime unifies people across various lifestyles.
About Green Flash Brewing Co.
Green Flash Brewing Co., is located in San Diego, California, and was founded in 2002 by Mike and Lisa Hinkley. Brewmaster, Chuck Silva, leads brewing operations. Green Flash is an award-winning brewer of fine, hand-crafted ales, and specializes in brewing assertive and distinctive beers, such as the nationally acclaimed West Coast I.P.A.: an award-winning beer whose wide acceptance has helped define a category. Green Flash brews ten styles of beer regularly, on draught and in bottles as well as a growing lineup of seasonal and special offerings, including several barrel-aged beers, throughout the year. Please visit the Green Flash website www.greenflashbrew.com for more information.
// RECAP VIDEO //

Doors are open right now! Come test your skills on our new track layout at K1 Speed Carlsbad!
K1 Speed Carlsbad
6212 Corte Del Abeto
Carlsbad, CA 92011
Phone: (760) 929-2225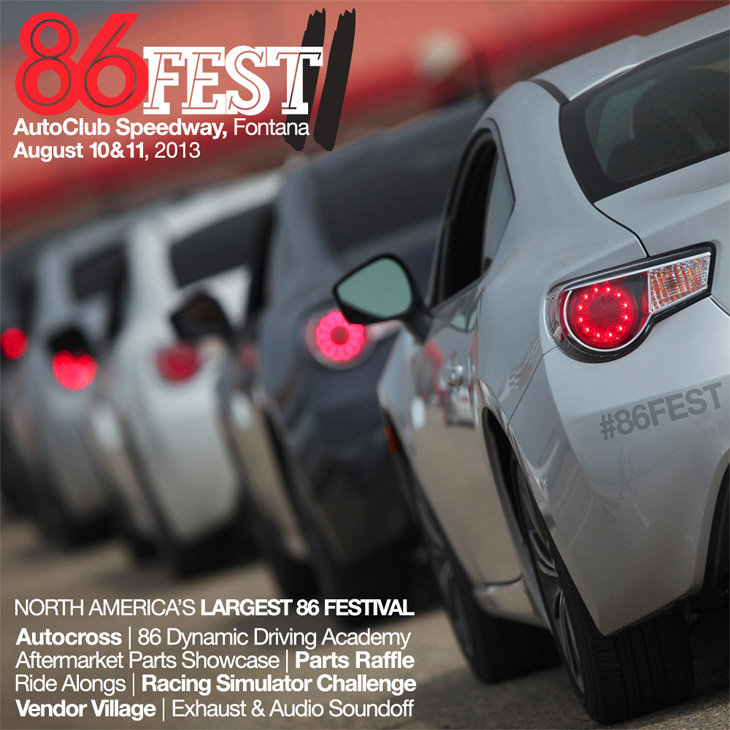 86FEST is the Largest Gathering of Scion FR-S, Subaru BRZ, and AE86 Toyota Corolla GT-S, Sprinter Trueno, Corolla Levin and RWD Toyota Enthusiasts in North America! Join us Sunday in the Vendor Village and Enter to Win prizes and giveaways!
Saturday, August 10th: 86FEST Dynamic Driving Academy
Sunday, August 11th: AUTOCROSS, CAR SHOW, MUSIC, GIRLS, FORMULA D DRIVER SIGNING, VENDOR VILLAGE
AutoClub Speedway
9300 Cherry Ave.
Fontana, California 92335
K1 Speed Ontario is just minutes away from the track. Race on over and get your fix after 86FEST!
K1 Speed Ontario
5350 East Ontario Mills Pkwy,
Ontario, CA 91764
Phone: (909) 980-0286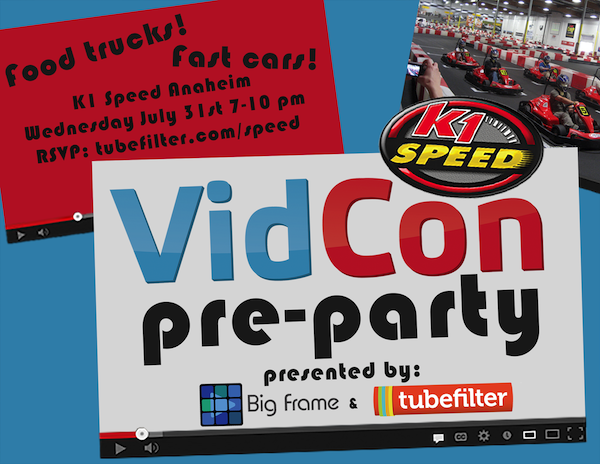 Thanks to everyone who came out Wednesday night! We had a blast hosting you all at the VidCon 2013 Pre-Party presented by Tubefilter & Big Frame at K1 Speed Anaheim.
We're very excited to see VidCon grow each and every year. Thanks to all of our friends at Rocket Jump, Machinima, Maker Studios, Big Frame, etc. for making 2013 great! See you next year.
Here's the latest video from last night's event.

We are proud to announce the official ribbon cutting ceremony of K1 Speed San Antonio. With locations in Houston and Austin, K1 Speed has introduced the sport of indoor go-kart racing to people throughout Texas. With our San Antonio karting center, we've now brought the sport to Southwest Texas as well. If you've never been to a K1 Speed center before, forget everything that you think you know about go-kart racing. At K1 Speed, we offer a truly unique – and thrilling – experience. Gone are the anemic, heavy, unreliable, gas-spewing karts of your youth. In their place are state-of-the-art, high-performance, zero-emission electric karts that offer unparalleled performance – performance that is in the reach of nearly anyone yet potent enough that extracting all of it requires skill, dedication, and practice.
What:
Ribbon cutting with San Antonio Chamber of Commerce
When:
Friday, July 26th at 5pm
Where:
K1 Speed San Antonio
6955 NW Loop 410
San Antonio, TX 60101
(210) 802-0802

Skullcandy Team Nissan is beyond stoked to announce the newest addition to the Continental Tire Sports Car Challenge Team—Patricio Jourdain, from Mexico City, Mexico. The cousin of Indy car and CART veteran Michel Jourdain, Jr. Patricio will bring international experience to the team beginning at Road America. While this will be his first CTSCC event, he's not a newcomer to sports car racing. Starting his career as a champion kart racer in Mexico, Patricio has also raced everything from touring cars to NASCAR stock cars. Currently he is K1 Speed's pro driver supporting them with race clinics at K1 locations across the United States.
Today, when the #33 and #34 Nissan Altima Coupes roll out of the trailer at Indianapolis Motor Speedway they will be rocking two new logos in addition to the iconic skull: those of K1 Speed and K1 RaceGear. K1 Speed is America's largest indoor kart racing company, and has just opened their 16th location in San Antonio, Texas, with more to come. K1 RaceGear is a full-service safety and apparel manufacturer and provider of gear for the entry level kart racer to the professional auto race team.
"I love it when a plan comes together! K1 and Patricio are an excellent addition to the team, I've gotten to know Patricio over the last year and I'm really happy to see him in one of the Skullcandy cars. I believe he'll be a great addition to our driving team." says team owner Lara Tallman.
"I am very excited to join Skullcandy Team Nissan with the support of a great company and good friends at K1 Speed." states Jourdain. "The goal for the remaining of the 2013 season is to drive intelligently, finishing races and giving our supporters what they deserve on and off the track. K1 and I both believe this is a start of a great partnership."
K1 Owner David Danglard adds his enthusiasm, "We've always been part of the racing world, and are very happy to have K1 participate with Patricio in the Nissan ST car. He's been an important part of the K1 team, and he's a great addition to Skullcandy Team Nissan."
About K1 Speed
Founded in 2003, K1 Speed is America's Premier Indoor Kart Racing Company with 16 locations nationwide. K1 Speed offers exciting tracks with a unique upscale entertainment concept for casual consumers, racing enthusiasts and corporate or group events. K1 Speed is a first choice for those wanting to experience genuine racing in state-of-the-art European electric karts that are eco-friendly, safety oriented and provide superior performance to more traditional gas karts. Each K1 Speed facility is designed as a large entertainment venue with professionally-designed tracks and cutting-edge décor showcasing authentic racing memorabilia along with ample seating and viewing areas, spacious lobbies, meeting rooms and full restaurant or snack bar.
About K1 RaceGear
Established in 2003, K1 RaceGear has been driven by the principal set of goals; providing drivers the highest level of safety and comfort for the lowest cost, leaving room in their budget to do what they love: Racing. Our Strong line of karting race wear, combined with our expanding line of auto racing equipment, enables K1 RaceGear to provide the necessary safety-wear for anyone from a five year old karter to a professional racecar driver. Our years of racing knowledge provides a level of customer support and attention to detail that exceeds other gear providers. K1 RaceGear can effectively design products tailored to what our customers wants and needs providing them with a stylish and professional look. We look forward to seeing you at the track!

We are proud to announce the official ribbon cutting ceremony of K1 Speed Addison. If you live in the greater Chicago metropolitan area, you have not one K1 Speed center to choose from but two! In addition to our Buffalo Grove center, we also have an indoor go-kart racing facility located in Addison to meet your needs. Our K1 Speed Chicago facilities are world-class entertainment venues that are designed to keep you entertained and engaged, whether you're on or off the track.
What:
Ribbon cutting with Village of Addison Chamber of Commerce
Addison Mayor Rich Veenstra
When:
Friday, July 26th at 5pm
Where:
K1 Speed Addison
2381 W Army Trail Road,
Addison, IL 60101
Phone: (630) 433-3700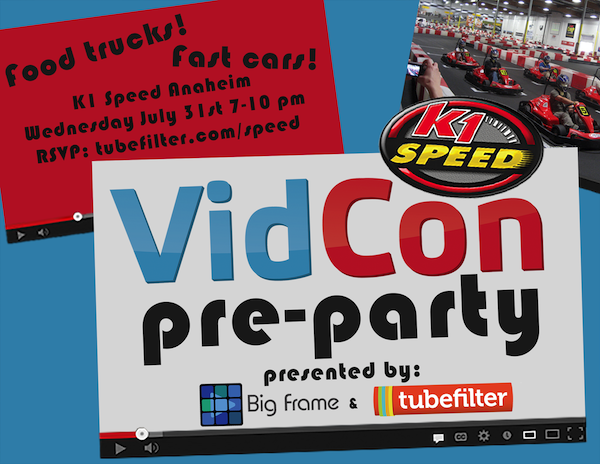 Come join us at Tubefilter's VidCon Pre-Party: Go Karts and Food Trucks fueled by BigFrame!
Tubefilter and Big Frame are taking over the racetrack for our annual VidCon kickoff party. Drop in, hang out, and race with some of the biggest names on YouTube!
RSVP here or at tubefilter.com/speed before tickets run out!
Ice Cream Truck:

K1 Speed Anaheim
1000 N. Edward Ct.
Anaheim, CA 92806
Phone: (714) 632-6999
CLICK HERE to learn more about 2013 VidCon!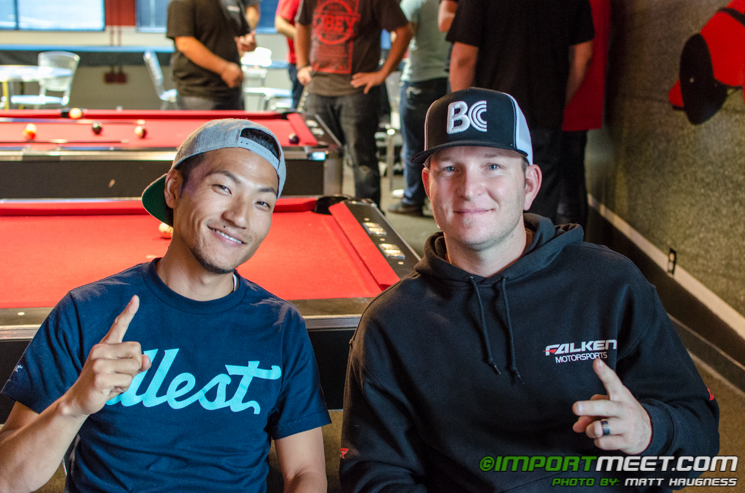 Team Falken recently arrived in Seattle for Round 5 of Formula Drift and one of their first stops while in town was an event at K1 Speed in Redmond, WA. The purpose of the event was for fans to meet the main Falken drivers and then kart against them on K1 Speed's indoor track.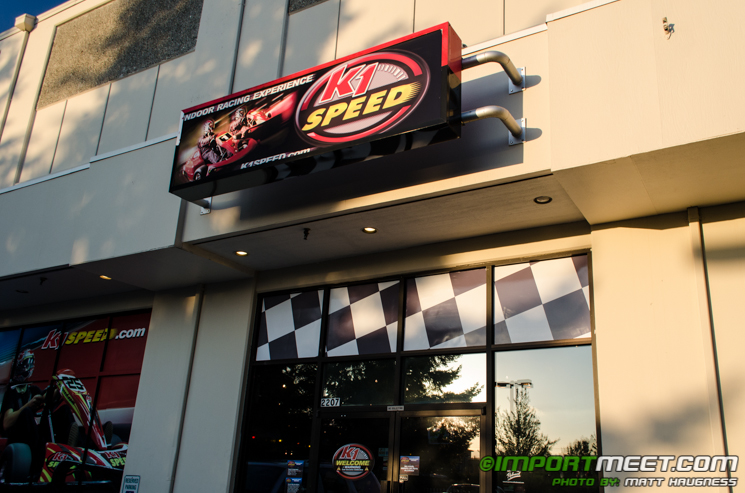 The event started with Daijiro Yoshihara and Justin Pawlak signing autographs and handing out Falken gear to fans.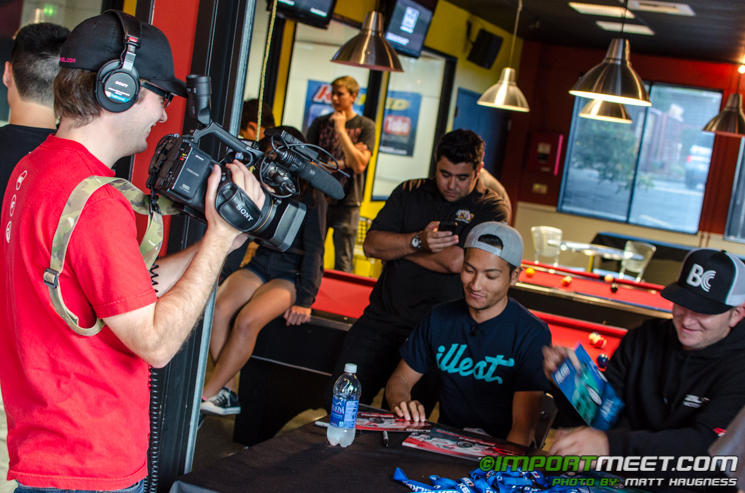 After about half an hour, they were on the track karting with the first few groups of fans.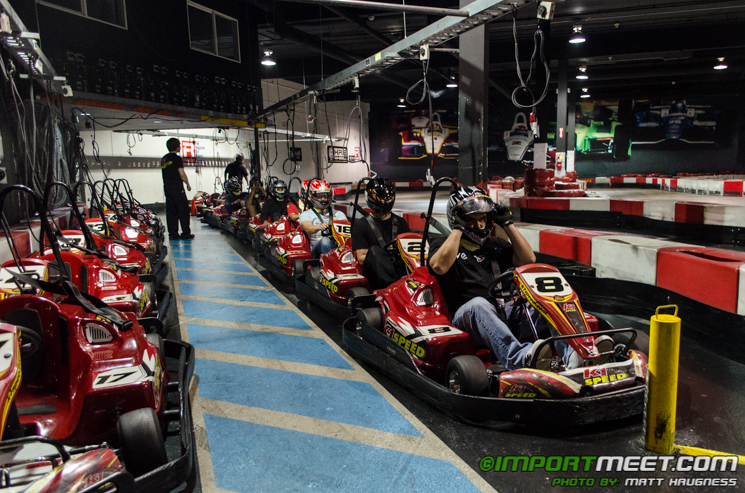 I ended up going out for a session on the track as well. After a short introduction to the kart, the staff let me loose. I was surprised by the acceleration of the electric kart and at times it felt like I was drifting every corner. My best lap of the day ended up being a 17.507, nearly a second and a half slower than the fastest lap at the day.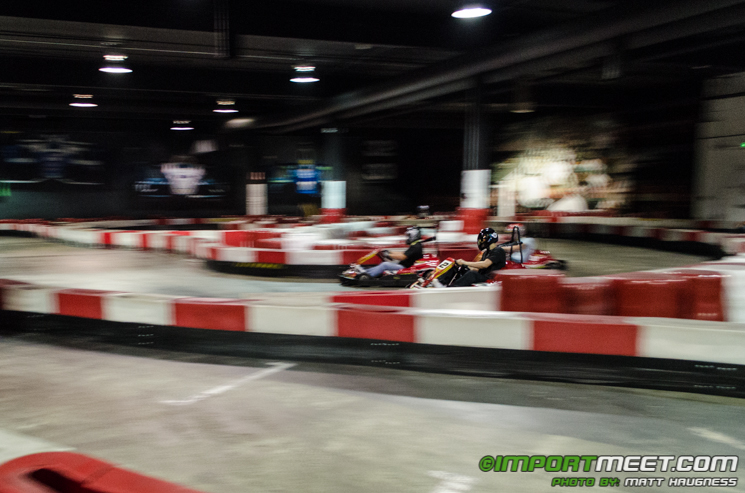 In the end, Darren McNamara had the best lap time of the professional group with a 16.221.
Falken Driver Times:
Darren McNamara: 16.221
Justin Pawlak: 16.488
Daijiro Yoshihara: 16.507
The fastest lap of the day was done by a fan and frequent K1 Speed customer named Javier Cantu-Lucero. He managed to not only beat all of the professional drifting drivers but also set a new track record with a time of 16.093.
After talking with Javier, I found out that he is an experienced racer that races open-wheel cars with his team Dos Toros Racing.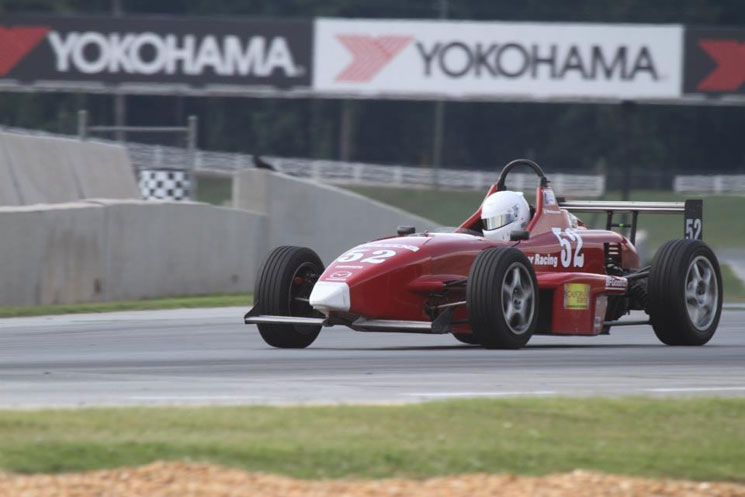 Special thanks to Falken and K1 Speed Seattle for the invitation to join the event. If you're ever in the area I highly recommend checking out K1 Speed in Redmond.
Posted on July 18, 2013 by Matt Haugness – IMPORTMEET.COM
3860494-1