Freddie Wong and the team at Rocket Jump didn't disappoint with the first episode of the new season. Click on Episode 1 below and let us know what you think.
We have a special surprise for you this season using K1 Speed go-karts. As you may of seen in the trailer our karts were used in a Mario Kart style Battle Arena in an episode. We're very excited to work with Freddie again and look forward to this season.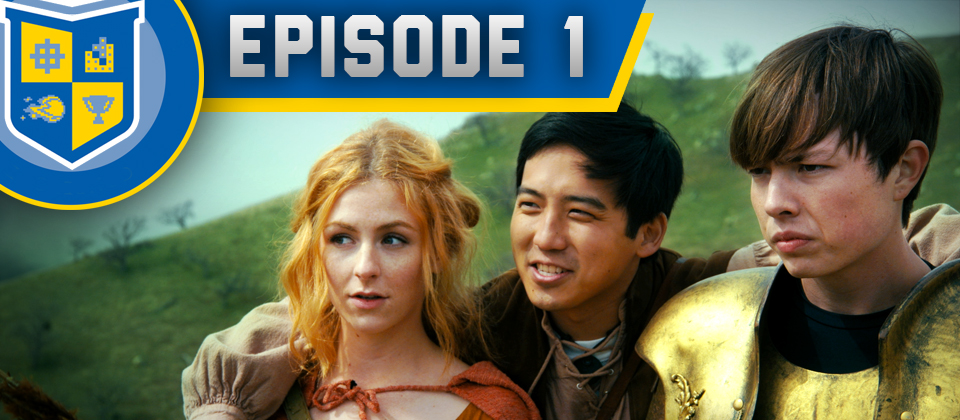 The guys from Dude Perfect are at it again. Ty and the boys take on our track at K1 Speed Austin with a special guest.
Special thanks goes out to Dude Perfect – CLICK HERE to visit their channel and subscribe.
ABOUT
"If I make this shot, you owe me lunch" …Swish.
A free sandwich, a simple camera, and 20 "I can do better than you" shots later, Dude Perfect was born. Obviously when that first ball swished, we had no idea what we were getting ourselves into, but we believe that nothing happens by accident, that God's given us this platform for a reason, and that we have an opportunity to make a serious impact on the lives of countless others all around the globe. Above all else, our ultimate goal is to glorify Jesus Christ in everything that we do. We want to use this platform for something much bigger than us.
So, in a nutshell, who is Dude Perfect?
As self-proclaimed AMBASSADORS OF FUN, Dude Perfect provides genuinely enjoyable entertainment that puts smiles on people's faces.
Listed by Advertising Age as one of YouTube's hottest brands, Dude Perfect has used its crazy basketball shots to inspire hundreds of millions with their contagious Go Big philosophy. In the four short years since they exploded onto the scene, Dude Perfect has filmed basketball videos all over the world and worked with Fortune 500 brands such as GMC, ESPN, AT&T, and Southwest Airlines. With over 1.2 Million Subscribers & 135 Million views across their online content, Dude Perfect is now the 3rd largest sports channel on YouTube [Highlight Video]. Dude Perfect has walked the ESPYs red carpet, interviewed Lebron and Team USA at the 2012 Olympic Games, been featured on Jimmy Kimmel, Regis and Kelly, GMA, CBS Evening News, and other shows around the globe, and even had their work aired commercially during primetime events such as the NBA Finals and the FIFA World Cup. The Dude Perfect brand recently expanded by launching what has become a best-selling game for iPhone, iPad, and Android, and followed that up with the release of their newly published book, Go Big. Showing no signs of slowing down, Dude Perfect has big plans for 2013. Always focused on using their platform for a cause greater than themselves, Dude Perfect is dedicated to working alongside honorable non-profits such as Charity Water and Compassion International.

The nation's largest indoor karting chain has opened its newest racing center and entertainment complex in America's "Second City," Chicago.
The thrill of all-electric indoor go-kart racing has come to Chicago. The nation's largest indoor karting company, K1 Speed, has opened its doors in America's "Second City" and with it, introducing its trademark style of racing to a whole new group of enthusiasts. As one of the most populous cities in America, and one that is subject to sever weather for months at a time, Chicago is a natural fit for the sport of indoor go-kart racing. It is currently both underserved and an ideal location for indoor kart racing.
Unlike outdoor karting tracks, which are subject to weather, K1 Speed's racing centers are open every day of the year. Rain or shine, scorching heat or blistering cold, people can get away from it all and satiate their need for speed at K1 Speed's newest track. This unique approach to year-round racing has allowed K1 Speed to bring the sport of kart racing to the masses. And yet, thanks to the company's dedication to providing a genuine racing experience, it is still able to deliver a racing environment that will please even ardent enthusiast.
The K1 Speed Experience
K1 Speed has been at the forefront of the indoor karting industry since first opening its doors in the town of Carlsbad – near San Diego, California – in 2003. The company rethought karting as a sport and as a recreational activity, seeking to provide solutions to the two biggest problems typical of traditional karting venues; the karts and the track. The solutions as K1 Speed saw it were simple: rethink the karts and rethink the tracks.
The most defining aspect of K1 Speed, and perhaps the one aspect that has allowed it to become the largest karting chain in the country, is its high-performance, all-electric, zero-emission go-karts. These machines are capable of speeds approaching 45mph on the company's indoor tracks, and can accelerate to top speed almost instantly thanks to their torque-rich electric motors; all without noxious gas fumes or loud engines. Individuals accustomed to driving a 6.5-hp, lawn mower-powered go-kart are sure to be impressed with these 20-hp, electrically driven machines. Put simply, the difference is night and day.
Racing at K1 Speed Chicago
Though K1 Speed Chicago will be situated near Buffalo Grove and Addison, residents from throughout the area will be able to enjoy the thrill of wheel-to-wheel racing, thanks to K1 Speed's popular Arrive & Drive race format. Individuals are grouped on a first-come, first-served basis – there are no reservations or previous experience required to race at K1 Speed. One only needs to be able to safely operate the kart's pedals and steering wheels and meet the height requirements. With the Arrive & Drive race format, up to 12 racers at a time will hit the track in a 14-lap race against the clock. While sharing the track, racers will have to vie with each other to set the fastest lap time, as the fastest lap will determine the winner!
Buffalo Grove
Every event at K1 Speed is a unique occasion. Buffalo Grove features 86,000 square feet of meeting & event space that can accommodate up to 400 guests comfortably, offering a multitude of options for your event. Two indoor track layouts, a mezzanine level with floor to ceiling windows overlooking the tracks, a video arcade area with an array of games, Sky Box Bar & Grill with a full service restaurant and two private dining areas and four party rooms with seating up to 120 guests.
Addison
The versatility of the 105,000 square foot location includes almost everything you could possibly need. With General Session space and meeting room designed to hold up to 300 guests and up to 7 traditional breakout spaces and countless non-traditional options. Two indoor track layouts, a video arcade area with an array of games, Sky Box Bar & Grill with a full service restaurant, three private dining areas, multiple bars an numerous party rooms to comfortably accommodate all of your guests.
K1 Speed is happy to accommodate groups and parties. To do so, it offers several race packages, which afford groups reserved race times, exclusive use of the track during races, and standing-start races for position. Though racing against the clock is fun, it's more fun to race against a friend in a battle to cross the finish line first! No matter which option individuals choose, they will be rewarded with a genuine racing experience that has been tailored to satisfy everyone from novices to veteran racers alike. This is the K1 Speed experience.
K1 Speed
301 Hastings Dr.
Buffalo Grove, IL 60089
Phone: (847) 941-9400
K1 Speed
2381 W. Army Trail Rd.
Addison, IL 60101
Phone: (630) 433-3700

Julissa Ortiz, Good Day Sacramento, was LIVE at K1 Speed Sacramento with Sarah Gaul, the lady who's going on 30 dates in 30 days!

30 Dates In 30 Days: Part 2
K1 Speed Sacramento
3130 Bradshaw Road,
Sacramento, CA 95827
Phone: (916) 368-7223

Visit the following K1 Speed centers for your chance to win a trip for two (2) to the SAVE MART 350 in Sonoma!
K1 Speed centers:

Phoenix

Sacramento

San Francisco

Santa Clara

Torrance

Ontario

Anaheim

Irvine

Carlsbad

Austin

Houston

Seattle
Mail in the form to Pepsi/K1 Speed Race Sweepstakes, PO Box 48266, Spokane, WA 94228. All entries must be postmarked no later than 6/3/13 and received by 6/10/13 to be eligible for the drawing. Sweepstakes ends 6/3/13.

'Shake It Up' actress Zendaya Coleman and partner Val Chmerkovskiy dance the Quiskstep on week 9 of 'Dancing With The Stars' on May 13, 2013.
Week 9 – ABC Dancing With The Stars

It's not too late to purchase tickets for the Toyota Grand Prix of Long Beach this weekend! Visit GPLB.com and use the code K1SPEED3 to receive discount ticket prices for Saturday and Sunday races!
Don't forget to visit the K1 SPEED booth located at the LIFESTYLE EXPO in the Convention Center.
The Racetrack is located in downtown Long Beach at:
300 East Ocean Blvd
Long Beach, CA 90802
Closest K1 Speed location:
K1 Speed Torrance
19038 S Vermont Ave
Gardena, CA 90248
3860494-1