Rapper Flo Rida reps for his hometown of Florida spending a cheerful day in Miami Beach in the official music video for "Let It Roll", a new single from his latest album "Wild Ones".
"Let It Roll" features Flo Rida and friends racing and having a good time at K1 Speed Ft. Lauderdale.

Donate any Amount For a Chance to Win Signed Ryan Sheckler Gear, and Donations Larger than $10 Automatically Get Sheckler Foundation Products!
December 12, 2012 (San Clemente, CA) – This holiday season, Ryan Sheckler's Foundation is bringing people together to build a skatepark on the Port Gamble S'klallam reservation in Washington state, and they would like your help. Everyone that donates can enter to win a Ryan Sheckler prize pack, and any donation larger than $10 automatically gets a gift. Give and get: The gifts that donors automatically get include Be the Change Tech decks, the Plan B Sheckler Foundation collaboration skateboard deck or a limited-edition Ryan Sheckler Be the Change New Era hat.
All donations will help the Sheckler Foundation "Be the Change" by building a skatepark for the Port Gamble S'klallam tribe here: ShecklerFoundation.org.
To enter to win the Ryan Sheckler prize pack, make a donation in any amount, and then go to the Sheckler Foundation's Facebook page to enter here:
K1 Speed Gift Cards are available on-line and at all K1 Speed locations.
Not only are they redeemable against racing but also at K1 Speed Pro-Shops
located in every center. Give the Gift of Speed this Holiday Season!
In our sixth and final challenge race of the season, we see, yet again, a Michael Whipple and Charles Abbott 1-2 punch, with Michael taking honors as the fastest qualifier. Charles and Michael have been battling for first all season with Michael capturing 5 of our 6 checkered flags, and Charles capturing his lone victory in November. Michael has been the kryptonite to Charles Superman all season long.
Our B Main has some of our typically A Main racers competing for top spot, with Douglas Friar having an unusual race and not placing, while youngster TJ Stamm took second. Jeff Osgood has had a consistent season and claims his first checkered flag during the final Challenge GP race.
Next year is looking exciting for the die hard racers that are here month in and month out.

This spring the Sheckler Foundation launched the Be The Change project. The social network was activated, hundreds of people submitted their plans to Be The Change in their community and they nominated four causes to be voted on by you. The Native American Port Gamble S'Klallam Tribe won the 1st Be The Change online call to action, and received the most votes for their plans to build a skatepark on their reservation in Washington State.
Join us and watch the S'Klallam Tribe BTC Skatepark Episode 1 as we document the journey on how the Sheckler Foundation is partnering with the S'Klallam tribe and members of their community to see this skatepark built!!!

Tanner Foust visits K1 Speed Ft. Lauderdale during NASCAR weekend. Tanner and TOP GEAR USA host Rutledge Wood raced with crew Monday night.
Tanner came in 1st posting a time of 23.544 on Track 1
Rutledge came in 5th posting a time of 24.774 on Track 1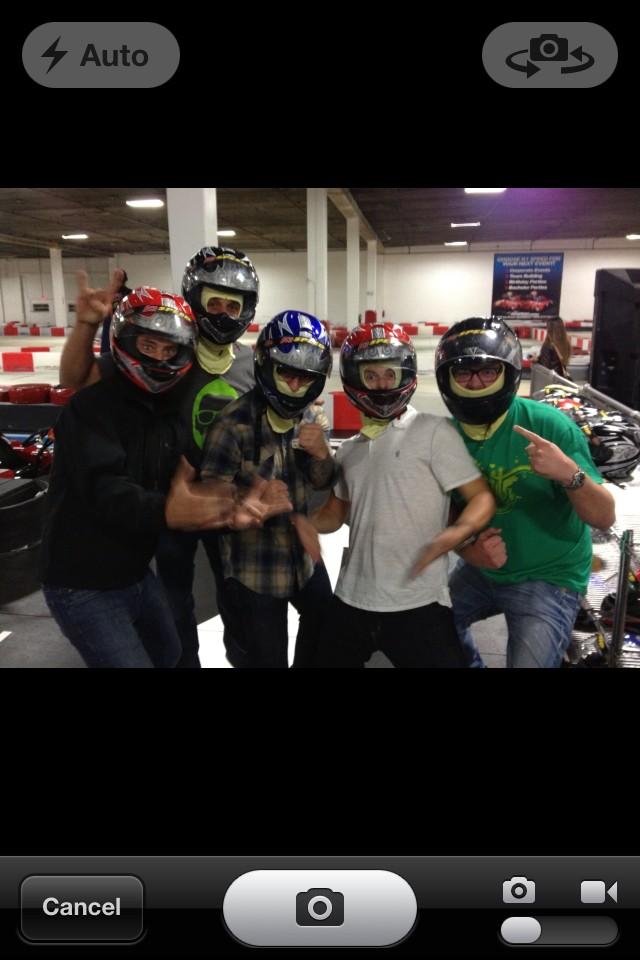 TOP GEAR USA
One of the UK's most popular series since 1977, Top Gear now brings its high-adrenaline action entertainment to America. Top Gear delves into the colorful history of the automobile and showcases an offbeat celebration of the art of driving, featuring super-cars, extreme stunts and challenges, car reviews and celebrity interviews, as well as the eccentric adventures of its hosts with Top Gear's customary wit and humor. Hosted by comedian and car buff Adam Ferrara, champion rally and drift racer Tanner Foust and racing analyst Rutledge Wood, Top Gear explores the history of America, one lap at a time.
Top qualifier Michael Whipple encountered some aggressive and determined racers on the second to last lap entering turn 4 and was passed on the inside and spun into a wall dropping him from his chance to be top dog in both the qualifying run and A main, but finished a strong fourth. Charles Abbott continued his consistent performance with his first win of the season after finishing runner up in the last four challenge GPs.
It was great to see Crista Brown back on the K1 track as she took home the first place trophy for dominating the B Main over long time racer Gary Wiesel. Several new faces were seen at K1 South Florida for this Challenge GP and we hope that with only one race left, December has the strongest attendance since opening weekend.

"I finally had a chance to visit the shop where all the work is being done on "The Streamliner". What a project, visiting the shop where the Cyclone Team Steam Streamliner is being put together is like a trip to a science fair.
I decided to produce another article. This time with the addition of pictures on the progress, so you the steam enthusiast can get a view on the project.
As I was there, Nelson Hoyos showed me how the body for The Streamliner is being fabricated. First, the team has to draw up the plans for the design. Then the design has to be cast in these huge moldings.
These moldings have to be made from scratch. The center section molding was just being finished as I visited the shop.
The cover for the center section where The Greenhouse or cock pitt for the driver will be was the last piece if the outer fiberglass shell to be molded. Except for the under carriage witch is mostly flat and smooth and will be added last when the suspension and final pieces to the roll cage are installed.
Nelson and Harry Schoell were on hand to try and explain to me the inner workings of The Cyclone power plant. It was very interesting, but I must be honest with you. I grew up around race cars and worked on a pitt crew since the age of 8, my father was a mechanic.
When it comes to The Cyclone Steam engine, you can take a lifetime of knowledge and throw it out the window. The Cyclone is so simple yet so confusing to any regular mechanic.
There is almost a mile of tubing inside the Cyclone. That is very different from anything I have ever worked on.
Harry Schoell is a genius. I have added some of the first pictures of The Cyclone power plant to this article with the inventor.
Now on to the suspension. Nelson explained to me the two front wheels
will not be side by side like your conventional car is. The will be one on front of the other and will steer as one. This suspension has been designed to handle high speeds as Nelson and Harry prepare to break the world steam speed record. The rear wheels will be side by side for stability.
The Greenhouse or cock pit for The Streamliner was amazing. I had a chance to sit in the drivers seat. Now grant you, I am just a little bigger than Nelson Hoyos, but it was like being placed behind the wheel of a jet fighter and it wasn't even finished.
Enjoy the updated pictures and stay tuned to www.racingnutsmotorsports.com for all and any updates on the progress of Cyclone Team Steam USA." – Steve Christensen
article – http://racingnutsmotorsports.com/2012/10/01/team-steam-progress-update-09-30-2012/

Tramar Dillard, Flo Rida, visits K1 Speed South Florida!
Over the last several years, Flo Rida has pulled off a pretty neat trick. Not only has the Florida-born rapper become a chart fixture thanks to the blockbuster singles "Low (feat. T-Pain)," "Right Round," "Club Can't Handle Me," and his most recent chart-topping hits, "Good Feeling" and "Wild Ones (feat. Sia)," he's also broken down barriers by uniting millions of fans of pop, hip-hop, and club music around the world and establishing himself as an international, genre-busting superstar in the process. Flo Rida brings his experiences traveling the globe to his fourth album, Wild Ones.
Flo Rida's NEW album WILD ONES available everywhere now – CLICK HERE
3860494-1