Celebrate Halloween with K1 Speed! We want to see everyone in their favorite Halloween costume starting this Tuesday to win a GoPro Hero3!
K1 Speed is giving away the top-of-the-line, Hero3 Black Edition Camera from GoPro, valued at $399.99. To enter, stop by any K1 Speed Tuesday, October 29th through Thursday October 31st, in costume, snap a picture, and post to Facebook, Twitter or Instagram with the hashtag #TrackorTreat. This will put you in the drawing to be held on Friday November 1st.
You must be 13 years old or older to play – sorry kids! For complete rules, click here

Sebastian Vettel wrapped up his fourth consecutive drivers' championship in style with a convincing win in Sunday's 2013 Formula 1 Airtel Indian Grand Prix in New Delhi.
The German, whose victory also secured a fourth straight constructors' crown for Red Bull, needed to finish in fifth place or higher to secure another drivers' crown, but ended up reaching the chequered flag first, half a minute clear of Mercedes' Nico Rosberg who was second, with Lotus's Romain Grosjean an impressive third having started 17th.
Fittingly it was Red Bull's chief technical officer Adrian Newey who joined Vettel on the podium to receive the constructors' trophy on behalf of the brilliant RB9 car he had designed.
The only downside for Red Bull was Mark Webber's retirement from second place, riding shotgun for Vettel, with alternator failure on the 39th of the 60 laps. Later Vettel was told on the 52nd lap to stop using his drinks bottle and not to engage KERS, as the team advised him not to take any more energy out of the car than was absolutely necessary.
Things went wrong for Ferrari's Fernando Alonso – the only man who could stop Vettel from securing the title in India – right from the start. As Lotus's Kimi Raikkonen and Webber collided at the first corner, Alonso was left with nowhere to go and collected the Red Bull, damaging his front wing and forcing him to pit for a replacement on the second lap. After that his Ferrari was never right and he never got higher than his eventual 11th place finish.
Vettel blasted into the lead from pole and then pitted to switch his soft Pirellis for the mediums as early as the second lap. That dropped him to 17th place, three ahead of Alonso, but the Red Bull was healthy and he began to climb back through the field very rapidly.
Meanwhile, having overtaken the two Mercedes' on the opening lap to run second, Ferrari's Felipe Massa led a race again, staying in front from lap two until his own stop on the eighth, whereupon the medium tyre-shod Webber moved as planned into the lead. Now it was clear, as if it hadn't been even before the start, that the race was between the two Red Bull pilots. Bit by bit, as they traded fastest laps, Vettel got a 14.5s gap down to 10.4 by the time Webber stopped for a brief stint on the softs on the 28th lap. Vettel then made a very fast stop for more mediums on the 31st lap, before Webber switched back to mediums on the 32nd.
Now they were on similar tyres, 12.5s apart, with Vettel leading, and gradually the gap went out, tenth by tenth, until Webber's sudden demise. One minute he was keeping his team mate honest, the next he was told with urgency to "Stop the car."
Behind the Red Bulls, the situation was confused by drivers such as McLaren's Sergio Perez, Toro Rosso's Daniel Ricciardo and Force India's Adrian Sutil making very long runs on the mediums on which they started, and others ditching their softs within the first 10 laps.
By lap 20, Webber was leading Perez and Vettel, with Ricciardo next from Sutil, as Massa scrapped with the Mercedes of Rosberg and Lewis Hamilton. Further back the Lotuses were on charges after what were intended to be their sole stops. Grosjean had used a set of softs to climb from 17th on the grid after his qualifying snafu and made them last a remarkable 13 laps to climb up to fifth.
After the next round of stops which started with Webber's on lap 28, the real order finally began to form more clearly apart from Sutil hanging on to third in the wake of the Red Bulls. Raikkonen was fourth, then came Rosberg ahead of Grosjean, Massa, Ricciardo – who would stop on the 33rd lap for a brief spell on softs – Hamilton and Perez.
When Ricciardo stopped again, for mediums on lap 37, then Sutil at last on 41, Raikkonen was up to second but was 25s adrift of Vettel and in no position to challenge. Indeed, he was having to conserve his tyres and was beginning to struggle. As Rosberg closed in on the Finn, Grosjean fought up to fourth, saving his rubber while keeping Massa, Hamilton and Perez at bay.
Rosberg overtook the fading Raikkonen for second on lap 52, and after a touch with his begrudging team mate, Grosjean went up to third on the 56th. Raikkonen was then consumed by Massa, before Perez pounced on both him and Hamilton on the 58th lap. That was when Raikkonen pitted for a set of soft tyres and slipped to seventh before setting fastest lap on the last tour.
By then Vettel had won by nearly half a minute from Rosberg, while Grosjean's tremendous drive earned him his third straight podium. Massa had challenged him briefly before having to settle for fourth, with Perez striding away from Hamilton to give McLaren 10 valuable points.
Paul di Resta drove a quiet but effective race to take a welcome eighth, passing Sutil on the 44th lap. The German had taken a set of softs and boldly tried to make them last to the finish. Astonishingly he achieved that, but even better he somehow managed to fend off the attentions of Ricciardo, who had Alonso in his wheeltracks. Thus the Spaniard's appalling day, which brought his already dwindling title hopes to an end, concluded without a single point for the first time since Malaysia in March. At the end Williams' Pastor Maldonado was just over half a second adrift of the Ferrari. Maldonado's team mate Valtteri Bottas had starred, mixing it with Alonso, Ricciardo and Sauber's Esteban Gutierrez in the fight for 11th, before a final stop dropped him back to 16th.
Toro Rosso's Jean-Eric Vergne had an unhappy run to 13th, but nothing like as bad as Jenson Button's to 14th. The McLaren driver got hit by Alonso on the opening lap, stopped for soft tyres on the sixth, and never regained ground as his troubled car required three more stops before his ordeal was over.
It was also a bad day for Sauber. Nico Hulkenberg ran strongly and was a decent points contender in seventh place until his C32 ran out of brakes, and Gutierrez would have been a points contender but for a drive-through penalty for a jumped start. He finished 15th.
Max Chilton did a long stint on the mediums and hung on to beat Marussia team mate Jules Bianchi by 0.7s in their fight for 17th, while neither Caterham finished. Giedo van der Garde was involved in a collision on the first lap when he got pincered between Chilton and team mate Charles Pic, and retired in the pits, while the Frenchman later succumbed to a serious technical problem.
On a great day for the team, Red Bull secured their fourth constructor's title despite Webber's demise, with 470 points, while Mercedes have moved ahead of Ferrari with 313 points to 309, as Lotus closed in with 285. McLaren have 93, and Force India eased away from Sauber with 68.
Vettel's elaborate doughnut celebrations following the chequered flag earned Red Bull a 25,000 Euro fine and the German a reprimand for failing to go straight to parc ferme, but on a day when they made history, you sense they won't be all that bothered.
Source by Formula1.com

During my time racing in Europe I became close friends with Gerry Donaldson, one of Formula One's premier journalists. Gerry was in F1 during my battles in F3 and F1 and was always a great supporter. He (a fellow Canadian) also wrote a number of bestselling books about F-1 including biographies on Gilles Villenueve, Juan Manuel Fangio and James Hunt.
The following excerpt is from his book Grand Prix People, Revelations From Inside The Formula 1 Circus. It consists of profiles of 110 prominent personalities inside Formula One. Among those interviewed were several world champions, including this one with James Hunt. At the time Gerry was also then working on James' syndicated newspaper columns and they were planning for Gerry to write his memoirs. Sadly, Gerry had to complete this without James…
Be sure to visit Gerald Donaldson's website and follow his blog www.f1speedwriter.com
We will post more of his work in future newsletters.
James Hunt
To his role as colour commentator on the BBC Formula 1 telecasts James Hunt brings all the experience of 92 Grands Prix and the authority of a World Champion (1976). But Murray Walker's sidekick also brings his press-on-regardless style (which intimidated opponents, some of whom thought he was "barking mad – so when they saw my car behind them they moved out of the way!"), which now takes the form of foot-to-the-floor, often caustic, comments about what he sees on the TV monitors. And Hunt's pithy observations liven up even the dullest race.
Early in his career his penchant for crashing earned him the title of 'Hunt the Shunt.' Later, in deference to his public school background, he was 'Master James' and, during his tenure as a driver for Lord Alexander Hesketh, 'Superstar' Hunt was the ringleader of a riotous Grand Prix team that seemed to consume as much champagne as petrol and where the nubile young ladies occasionally outnumbered the mechanics.
Hunt retired in 1979 ("for reasons of self-preservation"), and his formerly flamboyant lifestlye is now tempered somewhat by the responsiblities of fatherhood – he has two lively young sons, Tom and Freddy – and having to tend a large flock of budgerigars which he breeds in an aviary at his home in Wimbledon. But on race weekends Hunt turns his attention back to the Grand Prix circus.
"If I was driving now it wouldn't do for me to turn up, as I used to for a Grand Prix, unshaven and not particularly tidy in my civvie clothes. I was really only there to do my job in the cockpit and around the car, which of course one doesn't have to dress up for. Presentation is all-important now, because it's all so publicity-oriented, which is of course where all the money has come from, and it has to be respected. The teams are much more professional businesses. As a result, that's taken a little bit of the character out of it, because everything is so professional and organized. The only reason I ever walked up and down the pit row when I was a driver was to look at the pretty girls. But with the modern pass system there aren't any in the pits now, so now you have to go outside. Pity, that.
"I was jolly happy with life in the 70′s, really. We certainly had a lot of fun in those days. But I think my way of living when I was driving would be difficult today. I was entirely responsible about my driving, and never misbehaved there, but after that, when the job was done, I led a fairly laidback lifestyle. I think modern sponsors in this day and age would find that a bit of a strain, and it would not be to my advantage in my career. People would hesitate before hiring me. And I would probably have to curb my behaviour and certainly put on a different public face. I don't think that the way I lived then affected my driving, and I don't think it would if the whole thing was happening now. But you would just have to go a bit more under cover.
"Funnily enough, when I first retired, and first started commentating, I was very uncomfortable with Grands Prix. I think, having been a driver, two factors contributed to that. One was, when I came back into the paddock I actually felt like a spare prick at a wedding! A lot of standing around with nothing to do. But what really compounded it, and made it particularly unpleasant, was that the general public was still treating me like a driver. And that was one of the reasons I retired. That was specifically one of the things I was trying to get away from. So there I was, walking back into the fire, having just got out of the frying pan.
"But people have very short memories and by five years after I had retired I was able to walk quite happily and freely around the paddock without any aggravation. That's fine now and I am very comfortable at Grands Prix, and I thoroughly enjoy my TV commentating. I enjoy the racing. It's a good way to watch the race because I'm actually involved with it, which is much more fun for me than just sitting and watching it, which probably wouldn't even hold my attention, most of them.
"On the race weekend basically I'm most interested in the final qualifying, and that's only an hour on Saturday. Then I've got a twenty-four hour wait until the race starts. There's actually nothing to do other than stand around and socialize and try not to start drinking too much, out of boredom. But there's not a lot else to do!
"Even in my day one had to, as a driver, stay under cover, so you had your hibernation points. My hibernation point ever since I drove for McLaren has always been in the Marlboro hospitality unit in the paddock. They're particularly good friends of mine anyway. And the atmosphere in there is exactly the same as when I was driving, and I still stay under cover most of the time. I find it varies from race to race, but I like the the paddock atmosphere at Jerez, for instance. It's got a nice wide open layout, and everybody always seems relaxed and in a good mood. And you can see people coming from a long way off!
"But, basically, all the people here are mad passionate motor racing enthusiasts. Ninety-nine percent of them are would-be racing drivers themselves, expressing their enthusiasm in other ways. They either haven't had the opportunity to become one, or they've tried, or they've just preferred in the end to express their love for it that way. Really, for everybody I know in the business, it is primarily an act of love. That's aside from the fact that nowadays it also happens to be a good job, with good working conditions and decent pay. But even if the conditions hadn't improved I'm sure the same people would be here." – by Gerald Donaldson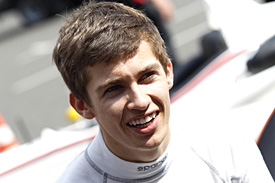 European Formula 3 Championship squad Van Amersfoort Racing will test American teenager Gustavo Menezes at Spielberg this week as it looks towards its 2014 line-up.
Menezes, 19, won twice in the German F3 Cup for the team this year on his way to fourth in the points, and raced in Petit Le Mans last weekend in an LMPC-class ORECA.
"Gustavo's had a good year in the Cup and we're really pleased to be giving him a chance to drive the FIA car," team boss Frits van Amersfoort told AUTOSPORT.
"He's someone we'd like to run next year in European F3.
"We've not taken any decisions on our line-up for next year. It will all depend on what programme we can put together with the budgets available."
The car Menezes raced in Germany this year will be driven at Spielberg by German teenager Sebastian Balthasar, who won the 'Trophy' division of German F3 for cars not powered by the overboosted Volkswagen engine.
Article By Jamie O'Leary – Autosport.com

K1 Speed offers a race class for beginners and a racing class for advanced competitors – are a great way to learn more about karting and motorsport. If you would like to get involved with the sport of karting or are interested in improving your lap times with more advanced racing techniques, we would be happy to help. Karting is our passion at K1 Speed, and we are intimately familiar with the workings of our 20hp electric karts and the ins-and-outs of proper racing technique. If you are looking for an affordable race class, then our go kart racing class is for you! Please feel free to contact K1 Speed today for more information or to schedule a reservation.
For more info please CLICK HERE
K1 Speed Racing School Includes:
Welcome Drivers
Racing Concepts Theory
Track Walk Through with Coach
Track Session with Apex Cones on track
Improvement Tips / Q&A Session
Track Session without Apex Cones on track
Improvement Tips / Q&A Session 2
Track Session Race Mode
Snack, K1 T-shirt and Awards
All for just $99.99
K1 Speed San Francisco
Junior Class – August 24th 8:00 AM to 10:00 AM
Adult Class – August 25th 8:00 AM to 11:00 AM
K1 Speed S. San Francisco
160 Beacon St.
South San Francisco, CA 94080
Phone: (650) 741-0215