Freddie Wong and the team at Rocket Jump didn't disappoint with the first episode of the new season. Click on Episode 1 below and let us know what you think.
We have a special surprise for you this season using K1 Speed go-karts. As you may of seen in the trailer our karts were used in a Mario Kart style Battle Arena in an episode. We're very excited to work with Freddie again and look forward to this season.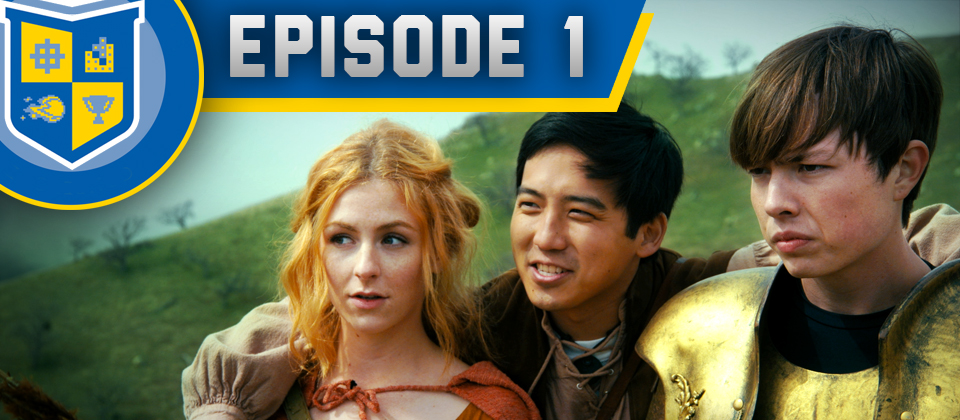 Skullcandy Team Nissan is beyond stoked to announce the newest addition to the Continental Tire Sports Car Challenge Team—Patricio Jourdain, from Mexico City, Mexico. The cousin of Indy car and CART veteran Michel Jourdain, Jr. Patricio will bring international experience to the team beginning at Road America. While this will be his first CTSCC event, he's not a newcomer to sports car racing. Starting his career as a champion kart racer in Mexico, Patricio has also raced everything from touring cars to NASCAR stock cars. Currently he is K1 Speed's pro driver supporting them with race clinics at K1 locations across the United States.
Today, when the #33 and #34 Nissan Altima Coupes roll out of the trailer at Indianapolis Motor Speedway they will be rocking two new logos in addition to the iconic skull: those of K1 Speed and K1 RaceGear. K1 Speed is America's largest indoor kart racing company, and has just opened their 16th location in San Antonio, Texas, with more to come. K1 RaceGear is a full-service safety and apparel manufacturer and provider of gear for the entry level kart racer to the professional auto race team.
"I love it when a plan comes together! K1 and Patricio are an excellent addition to the team, I've gotten to know Patricio over the last year and I'm really happy to see him in one of the Skullcandy cars. I believe he'll be a great addition to our driving team." says team owner Lara Tallman.
"I am very excited to join Skullcandy Team Nissan with the support of a great company and good friends at K1 Speed." states Jourdain. "The goal for the remaining of the 2013 season is to drive intelligently, finishing races and giving our supporters what they deserve on and off the track. K1 and I both believe this is a start of a great partnership."
K1 Owner David Danglard adds his enthusiasm, "We've always been part of the racing world, and are very happy to have K1 participate with Patricio in the Nissan ST car. He's been an important part of the K1 team, and he's a great addition to Skullcandy Team Nissan."
About K1 Speed
Founded in 2003, K1 Speed is America's Premier Indoor Kart Racing Company with 16 locations nationwide. K1 Speed offers exciting tracks with a unique upscale entertainment concept for casual consumers, racing enthusiasts and corporate or group events. K1 Speed is a first choice for those wanting to experience genuine racing in state-of-the-art European electric karts that are eco-friendly, safety oriented and provide superior performance to more traditional gas karts. Each K1 Speed facility is designed as a large entertainment venue with professionally-designed tracks and cutting-edge décor showcasing authentic racing memorabilia along with ample seating and viewing areas, spacious lobbies, meeting rooms and full restaurant or snack bar.
About K1 RaceGear
Established in 2003, K1 RaceGear has been driven by the principal set of goals; providing drivers the highest level of safety and comfort for the lowest cost, leaving room in their budget to do what they love: Racing. Our Strong line of karting race wear, combined with our expanding line of auto racing equipment, enables K1 RaceGear to provide the necessary safety-wear for anyone from a five year old karter to a professional racecar driver. Our years of racing knowledge provides a level of customer support and attention to detail that exceeds other gear providers. K1 RaceGear can effectively design products tailored to what our customers wants and needs providing them with a stylish and professional look. We look forward to seeing you at the track!

Race over to K1 Speed Seattle and try our new track layout today!
The track record prior to the change was 16.26 and the fastest time on the new track layout is 17.12. We believe racers will enjoy the challenging aspects of the track but with some places where you can get the karts to top speed.
K1 Speed Seattle
2207 NE Bel-Red Rd,
Redmond, WA 98052
Phone: (425) 455-9999

Sebastian Vettel joined in the Red Bull soapbox race in Germany on Sunday dressed as Super Mario…sorry 'Super Seb,' as it said on his kart. He even got some pretty sweet air on his run.
55,000 enthusiastic spectators witnessed Sebastian and 67 teams compete in a spectacular Soapbox Race in Landschaftspark Hoheward, Germany.
Here's our own interpretation produced by Freddie Wong – Real Life Mario Kart – filmed at K1 Speed Anaheim two years ago.

The long awaited trailer for VGHS Season 2 is now available. Freddie Wong and his team at Rocket Jump have out done themselves this season.
Watch closely as you will see K1 Speed go karts used for Mario Kart Battle Arena. Can't wait for the new season to start July 25th!
Season Two will take place over six TV-length episodes, for a total of 160-180 minutes of action-packed goodness.
After a shocking scandal puts The Law in handcuffs and VGHS's reputation on the line, it's up to Brian D and Jenny Matrix to take the embattled FPS team to victory and redemption. Vehicles will explode and hearts will break as Brian and Jenny battle the toughest gamer schools in the world– all while dealing with the team's new coach: Mary Matrix, Jenny's win-at-all-costs mother.
Meanwhile, Brian's best bud Ted Wong struggles to prove himself to the Drift Racing Team. Along the way, he'll square off against the Drift King's arch rival, the Duchess of Kart and partake in a sacred – and deadly – rite of drift passage.
And as Ki Swan finds herself mired in an existential crisis, yearning for meaning in a meaningless world, she'll match wits with an egomaniacal RTS Player, duel a wandering fighting gamer ronin, and engage in a high stakes game of Poker-mon for her very right to stay at VGHS.
ABOUT
Video Game High School is a series set in an alternate reality where professional video gaming becomes the biggest spectator sport in the world. It follows Brian D, an aspiring pro gamer who lands an invitation to VGHS, the most prestigious gaming academy in the world. Think Hogwarts, but instead of spells and magic wands, it's headshots and IBM Model M keyboards!
In 2010, they launched a successful Kickstarter campaign for Season 1, which premiered online on our site Rocketjump.com and YouTube.com/FreddieW.
Just over a year later, the series has received over 40 million views and is now available on Blu-Ray, DVD, iTunes, Netflix, as well as Xbox and PS3.