FEEDBACK FROM SOME OF OUR CORPORATE CLIENTS
I wanted to take a minute to give some huge accolades to Eric Thompson for his help in making our Corporate event in May a big success.  Eric went above and beyond in helping me plan the event, helping with setup and even with a couple of things that were unusual (food trucks for our dinner).  Actually, when I mentioned to Eric about my idea for food trucks, he went and researched some of the best local providers for me.  All of my team had a great time at the event and Eric and his staff did a great job.
Sincerely,
Kevin R.
Director – Western Division
Tenneco, Inc
THANK YOU SO MUCH FOR AN EXTREMELY SUCCESSFUL EVENT!
We had what I would call one of the most successful team events at K1 Speed – Austin just last night. The facility was incredible, the staff was engaging, and our entire group had a blast! Our staff can't stop talking about how much fun we had, and they keep asking when we are going to do it again!! We hope that this is just the first of many events we will have with K1 Speed. We are going to have an extremely hard time getting our team to agree to anything else but K1 Speed for our future events. You have set the bar pretty high, and the fun factor is off the charts!! Thank you, K1 Speed!!!!
Nathan W.
National Instruments
WE WILL BE BACK!
Your team there was very organized and polite and everything ran smoothly. I especially appreciated Arnold Lim, who really took care of us to make sure we had an excellent experience – I very much appreciated all of his efforts in every way. We will be back!
Thank you.
Claire C.
Intel Corporation
KEEP UP THE GOOD WORK
Thank you for the photos. We appreciate how friendly everyone was and how your team was so well organized. Not only did everyone seem to have a good time, I didn't hear a single peep of discontent from anyone in my group (other than someone wanted to pass someone else and couldn't get by). I consider that a major victory. We are a group of chemical engineers and getting the printouts with everyone's lap data was definitely something they all went crazy over.
Keep up the good work.
Tom G.
Jacobs Long Beach
CLASS "A" SERVICE AND LOGISTICS
I wanted to follow up with you this morning, after our amazing event at K1 Speed Phoenix last night. Our group had a fantastic time and tremendous fun. The facility and personnel at the Phoenix location were attentive, professional and accommodating.
We will most definitely look to K1 Speed in the future to repeat this great team event. All of our employees were very impressed and very glad they showed up. Please offer my thanks to your team.
Thanks very much for your assistance.
Best regards,
Daisy M.
Arrow Electronic Components
Hi! We had a small corporate event at your Bellevue location last Wednesday night and I just wanted to pass along what a great time we had and how enjoyable your staff was, especially Arnold Lim. Arnold was extremely engaged, customer focused and personable! We will definitely plan on returning again in the future.
Thanks!
Cary W.
Director Repair Services
Service, Philips HealthCare, Ultrasound
I just wanted to let you know that we had such a great time today at our event and Arnold, the onsite manager, was wonderful. He provided some of the best customer service I've ever received at a morale function for my team. And it far surpassed the customer service I received at my last function at K1 speed. I was really impressed.
Please let him know that we would book with him again in a heartbeat, and I will definitely pass the word along to my co-admins.
Thanks again! 

Jennifer H.
Windows Web Services
Just wanted to let you guys know we had a great time today! Your staff is awesome and made it a ton of fun!
Thanks again
Kathy C.
National Federation of Independent Business
"After spending over 25 years in the public entertainment field (before moving into my current position), I know a well-run facility when I experience one. Last Saturday, 12/12, our group held our Christmas party at K1 Speed Ontario. I was thoroughly impressed. The facility and equipment was clean and well-maintained. The staff was friendly, helpful, and quick to respond to our requests. Ian and his people at Ontario made me, and the other guests, feel that our presence was truly appreciated at K1.
My compliments to the management and people of K1, and thanks for great evening!"
Steve B.
Radiology Applications Analyst
Loma Linda University Medical Center
"Candice, Just wanted to say THANK YOU!!! We had a fantastic time at your facility tonight, everything turned out great the food was a big hit with my group especially the higher management!!! Your employees treated us very professionally but yet made the whole evening LOTS OF FUN!!! I would highly recommend your business to any one, thank you once again."
Diego
Damage Evaluator
Allstate Good Hands Repair Network
Southern California
"The night of Steve's Life was not only something that the guys will talk about for the rest of their lives. It was an experience unmatched by any other venue in California. We thank you, and I thank you and your team of professional management. Tim, the acting Manager, worked diligently all evening to help the party and it's guests. His attention to detail and commitment to professionalism and service was inspiring for our party. The overall commitment to professionalism from you, Tim the District manager and the Owner himself showed well. K1 Speed proved to be the ideal place for a Party. The race track, cars and service were beyond our expectation. The staff was attentive, courteous, accommodating and just really great.
The F1 room was a relaxing environment for the party to gather between races. On behalf of Steve V's Bachelor Party – We want to thank you and K1 for an amazing night."
Ram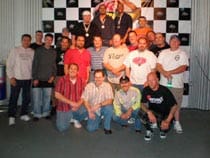 "We had a blast and would love to do it again! Thanks for the photos – tey're really pretty good, although I want one in the car, on the track, proving that I really did it!!!"
Cristina.
Irvine Company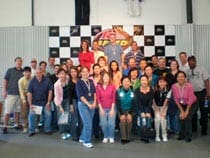 "I was so impressed with your operation. From the front counter sign in, to the staff managing the track. Everyone was very professional. All of my relatives had a great time and your event is front runner for a Holiday event for a couple of my best customers in 2007."
Thank you
Lance.
After Hours Digital.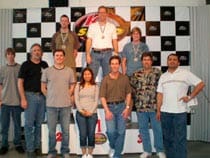 "The event was great yesterday so I wanted to convey to you that you have a great team and I truly appreciate your time, effort and your staff's attention to our event yesterday."
Thank you for a job well done!
Peggy.
Ernst & Young.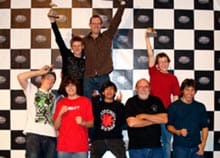 "I wanted to tell you what a great time we had at K1. Some of the kids had never done anything like that before but quickly got into the spirit and had a great time. Also a little personal info. As this was Eric's 16th birthday party my parent were there as well and my dad is 68 and I didn't think he would be up to driving the carts. Well when we arrived and all the kids were standing in line to enter their info into the computer stations and I looked over to check on them and there was my dad standing in line to enter his info.
I quickly ran back to the cashier and asked if I could add one more to the package. She was very accommodating and fixed me up. What ended up happening was very cool. We had three generations of my family on the track at the same time.
My dad was walking a bit slower and needed an icepack for his neck but the smile he had on his face was almost as big as the one Eric had on his. Granted we are a family of speed freaks growing up riding motorcycle and dune buggies but the great time we had was priceless. As for the the other kids as the left our house and the next day they told us and Eric that we really knew how to throw a party. I don't know about that but I do know my audience and K1 Speed was definitely the right choice for this event."
Thank you again,
Scot M.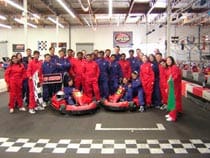 "We all had a great time and enjoyed the team-building event enormously. Much appreciate all your help in setting this up, look forward to the next time."
Rob.
Global Financial Systems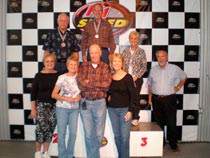 "I just got back from my first experience at your track, me and 9 of my friends did the grand prix and I just need to tell you what a great time we had. The speed of your karts were excellent, your staff were outstanding. I can't say enought about how much fun we had. WE'LL BE BACK!"
Thanks again,
Sean.
"Once again my experience at K1 was amazing. Not only does my crew consistently have a great time, we are always blown away by the hospitably and the service of your staff members. They make sure to always have smiles on their faces, which is hard to come by. From food service to advice on how to shave a half second off of a lap time, each one jumps to help us as soon as they can. Thank you so much for all of your assistance in helping me set up the event. I look forward to bringing the Wells Fargo team back many times in the future. Thanks!"
Christopher I.
Wells Fargo Financial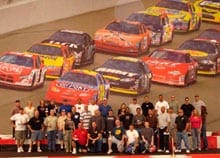 "I would like to take this time and thank you and your entire staff at K1 Speed Ontario. K1 exceeded the expectations of all my guest but best of all everyone in the group had a great time. K1 provided a location where I could host a team meeting and build team sprit and support. Your staff was excellent at the job they preformed and made the outing a great success. Please thank everyone for the great time we all had. I will suggest K1 speed to anyone looking for an event site and wants to have an unforgettable team experience."
Wesley.
Cooper Crouse-Hinds
"The guys had a great time and enjoyed the K1 experience much more than they did the gas car racing they did last year. I am sure we will be back next year for another race in December. Feel free to send me a reminder in November to book in advance if you would like.
Thanks so much!!"
Chris C.
Office Manager
Mark IV Communications, Inc.