CYBERSPORT AT OUR CHICAGO – ADDISON LOCATION.
CyberSport is a combination of lacrosse, basketball and hockey on custom-designed Cyber Cars. Two teams of up to five players each pass around a soft ball using one-handed scoops. Goals are scored by driving or passing the ball towards the opposing team's goal and shooting the ball through one of three goal targets. It is the perfect affordable alternative or supplement to racing. Each court can hold up to 10 players at a time, with up to 40 players participating in an hour and two courts available to book!
CyberSport features state of the art CyberCars with joystick controllers, lightweight scoops, foam balls and clearly marked goals at the end of each court. The team with the most points at the end of the game wins!
A referee controls all the action automatically, including:
Awarding goals for each team
Calling penalties automatically
Stopping and starting the game or the Cyber Cars
Each court features glass viewing galleries with an adjacent lounge and all include alternative state-of-the-art video gaming, comfortable seating and countless options for the event planner in us all. A service bar within steps of each lounge is easily accessible with affordable bar packages for groups of all sizes.
CyberSport - Gear
You will need some basic equipment to participate in a Game of CyberSport and we provide it all, from a referee to officiate, to battery powered, highly maneuverable, joystick steered cars, to lightweight Cyber Scoops and nearly weightless foam balls for scoring points… Bring your guests and we will provide the rest!
The Cyber Cars
Cyber Cars are lightweight state-of-the-art battery powered cars that utilize a simple to use joystick system to control steering. The highly maneuverable vehicles go up to 5 miles per hour; will spin in place with a zero turn radius and go forward and backwards. All cars can be shut down immediately with a touch of a button by the referee and all cars automatically stop during penalties, when lap belts are unfastened and at the end of each game.
Cyber Scoops
These lightweight scoops are made of plastic and have a small cup to hold the foam ball that gets passed between competitors during an event.
Foam Balls
The nearly weightless foam ball passed between competitors during an event was designed to make for easy and pain-free passing!
CyberSport Courts
A 40′ X 50′ totally enclosed court with a goal box on either side of the courts and a referee box on the sidelines.
CyberSport Goal Box
There are two goal boxes on the court. The players shoot at the goal boxes that match the color of their CyberSport Cars to earn points.
Referee
There are two goal boxes on the court. The players shoot at the goal boxes that match the color of their CyberSport Cars to earn points.
Participant Requirements
CyberSport requires participants to be at least least 54″ or taller.
CyberSport - How Points Are Earned
There are two ways to acquire points.
Make a shot, which is good for two points (extra bonus point if made from half court).
Acquire penalty points assessed against the opposing team. (In all cases, penalty points are awarded to the team not guilty of committing the penalty. Play does not stop.)
There are ways to lose points and give them to the other team:
Point Penalty for collisions with excessive speed. The penalty goes against the person most responsible for the collision. Referee judgment call.
Point Penalty for pushing off with feet, hands or wall.
Point Penalty for touching the ball with your hands unless it is wedged inside your scoop and is stuck there; or unless it goes inside your car.
Point Penalty for goal tending (Raising up in your seat to block a shot).
Head on collisions and directed collisions from behind are determined by a judgment call from the referee as to who is more responsible for its occurrence. The referee officiates from the sidelines of the court and will keep score and call all penalties. The referee's word is final.
CyberSport - Safety Rules
No Running Permitted on the Court or in the Common Area.
No Admittance to the Court Without CyberSport Referee Oversight.
Keep One Hand on the Joystick at All Times.
Lap Belts Must Remained Fastened at All Times (Cyber Cars stop automatically the minute you unbuckle your lapbelt).
Do Not Use Hands to Pick Up the Ball From the Court Floor.
Do Not Use Hands or Feet to Push off Wall, Bumper, or Other Cyber Car
Ramming from behind will not be tolerated and Player will be ejected from the court.
No eating or drinking is permitted on the court.
The game of CyberSport is inherently dangerous and injury is possible even if all rules are followed. If you are not willing to assume the risk of injury please do not participate.
Failure to follow all rules or instructions may result in injury to yourself and others.
Guests with pre-existing medical conditions such as head, neck, heart or back problems and those that are pregnant should not participate.
Guests must be 54" to participate.
Flat Hourly Court Rental
$200 per hour, per court.
Minimum 1 hour rental to book in advance.
Walk in Individual Rates
(6 Player Minimum)
$15 per person for three matches.
Guests must be at least 54″ or taller to participate.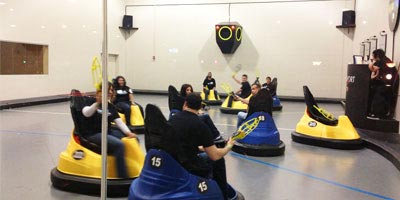 CYBERSPORT – ADVANCE RESERVATIONS & GROUP EVENTS.
Reservations can be made in advance for private events through the Group Events Department, and same day reservations may be made based on availability.