2014 X Games Austin — Bucky & Friends Endurance Race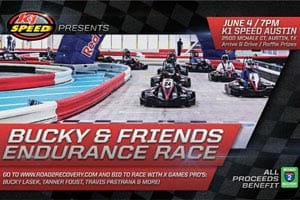 Bucky Lasek is headlining a unique go karting event and fundraiser at K1 Speed in Austin TX on June 4th. You will have the ultra rare opportunity to drive on a team with or against some of your favorite X Games athletes from Skate, BMX, Rallycross and more! The evening is going to be packed with prizes, raffles and lots of fun. Doors open to this special event at 7:00 pm and you can arrive and drive right from the beginning. There will be some amazing items up for auction and Red Bull will be in the house supporting the event all night long.
The race will be based on a endurance format and each driving team will be anchored by a celebrity athlete. There are three spots per team open to the public and a total of 10 teams. That means only 30 will get the opportunity to race side by side with the same guys you will be rooting for at the X Games the following week. To be one of these lucky drivers just visit http://www.road2recovery.com/product-category/items-auctions/ to bid for a spot on a team today! Confirmed drivers are Bucky Lasek (Skate Vert), Tanner Foust (Rally X), Travis Pastrana (Mr. Everything), Chase Hawk (BMX) and Liam Doran (Rally X) with more confirming daily.
The top three winning teams will receive prizes and swag from our sponsors of the event. Even if you aren't coming out to drive this will be the place to hang out and get up close to some of the best in action sports.
All proceeds benefit Road2Recovery
CLICK HERE TO BID
http://www.road2recovery.com/product-category/items-auctions/
K1 Speed
2500 Mchale Ct, Austin, TX 78758
Wed. June 4th 7:00pm – 10:00pm
About
The Road 2 Recovery Foundation is a 501 (C) (3) non-profit organization founded to help professional AMA licensed professional motocross/supercross members with financial assistance if they sustain career-ending injuries as well as providing motivational, emotional, and spiritual support to these individuals and their families.
On April 14, 2011 the Road 2 Recovery expanded to Europe. The Road 2 Recovery International supports licensed FIM MX1, MX2 and MX3 Professional riders who sustain career-ending injuries.
As of January 2014 Road 2 Recovery expanded once again to help professionals in action sports which kicked off in a strategic merge with nonprofit Athlete Recovery Fund. Road 2 Recovery will consider support to the following sports BMX, FMX, Skate, Skiing, Snowboarding, Snowmobile, Surfing, Mountain Biking, and Wake Boarding. Some sports are specific to freestyle disciplines but all grants will require the unanimous approval of the board of directors.
Our goal of Road 2 Recovery would be to build enough assets in the endowment fund to completely provide for an athlete under our description for the duration of their life if they are unable to ever generate revenue again. We can strive towards this goal with the help of everyone in the motocross and action sports community who is passionate about these sports. The Road 2 Recovery is out there to make our sports a better, safer place.
Road 2 Recovery MX & SX/ International / Action Sports are all separately functioning accounts which are independent of each other.
The non-profit Road2Recovery Foundation wants your complete confidence and trust, and thus we have created this page to show supporters and donors of R2R what we do with the donations we're given. We are extremely careful with how we spend the dollars you entrust in our care, and offer you an inside look at our financials. Our 501 (c) (3) Non-Profit Federal Tax ID# is 86-0996104