ABC Celebrity Wife Swap with Helio Castroneves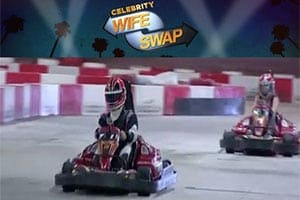 Angie, Larry Birkhead's sister, trades lives with Adriana, Indianapolis 500 champion Helio Castroneves' girlfriend. Watch Helio take on our track in South Florida.
Larry Birkhead/Helio Castroneves
Tuesday, May 27, 2014 on ABC
Even when Helio Castroneves is not racing at the IndyCar tracks, during the offseason he does not neglect his physical conditions.
One of Helio's favorite activities is the Go-Kart. Though he hasn't been racing Go-Karts for quite some time, it is known that this practice is highly recommended for professional race car drivers like himself. It improve reflexes, conserves fitness and maintain high levels of concentration, which are vital characteristics for his profession.
For Castroneves, pre-season is always filled with commitments with the team, media and sponsors; however, he organizes his agenda in order to dedicate some time to practice Go-Karts, either in the US or while in Brazil. As you can see, even when officially on vacation, the Team Penske driver continues to speed through tracks.
about
The mothers in two celebrity families with vastly diverse values switch homes (but not bedrooms) — embarking on a journey like no other and revealing the various ways some controversial celebrities live their lives. The two moms are given the chance to see how another celebrity raises their children and deals with life in the spotlight, while allowing both couples the opportunity to re-discover why they love each other and decided to get together in the first place. It's a mind-blowing experiment that will change their lives forever.
In each of the episodes, two mothers with very different types of households swap lifestyles and children in a week-long challenge. In the first part of the swap, each mom moves into the other's home and adopts their new celebrity family's lifestyle, no matter how different it may be. They agree to follow a manual written by the departing mother that sets out the rules of their new household – how they parent, manage their social life, do house work, unwind and more.
In the second half of the week, everything changes. The new moms take charge. They introduce their own set of rules and get to run the new household their way. It's a radical shock to both celebrity families. The results are explosive, enlightening, emotional and often very funny.