American Menezes gets European F3 test with Van Amersfoort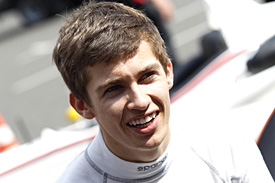 European Formula 3 Championship squad Van Amersfoort Racing will test American teenager Gustavo Menezes at Spielberg this week as it looks towards its 2014 line-up.
Menezes, 19, won twice in the German F3 Cup for the team this year on his way to fourth in the points, and raced in Petit Le Mans last weekend in an LMPC-class ORECA.
"Gustavo's had a good year in the Cup and we're really pleased to be giving him a chance to drive the FIA car," team boss Frits van Amersfoort told AUTOSPORT.
"He's someone we'd like to run next year in European F3.
"We've not taken any decisions on our line-up for next year. It will all depend on what programme we can put together with the budgets available."
The car Menezes raced in Germany this year will be driven at Spielberg by German teenager Sebastian Balthasar, who won the 'Trophy' division of German F3 for cars not powered by the overboosted Volkswagen engine.
Article By Jamie O'Leary – Autosport.com