Episode 2 BEHIND THE SCENES of VGHS Season 2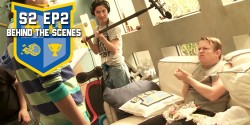 Law being weird. Go karting. A new character. Check out the awesome behind the scenes for VGHS Season 2 Episode 2!
Watch the making of the battle kart scene with K1 Speed's very own Uli Perez and Trevor Andrews. Thanks to everyone who made this possible including K1 Race Gear hooking it up with some amazing custom VGHS race suits.
[iframe src="http://www.rocketjump.com/videoplayer/6451/" width="580″ height="325″]