Introducing The New K1 Speed!
Notice anything different today? I sure hope so, because we've just launched the new and improved K1 Speed website. This is our third redesign since back in 2010.
While the obvious change is the look, we continue to provide the same excellent service to our customers when visiting our website. You'll continue to get the most up to date content that you've come to expect from us, ranging from announcements about upcoming centers, race league results, group and birthday party packages, special offers and events.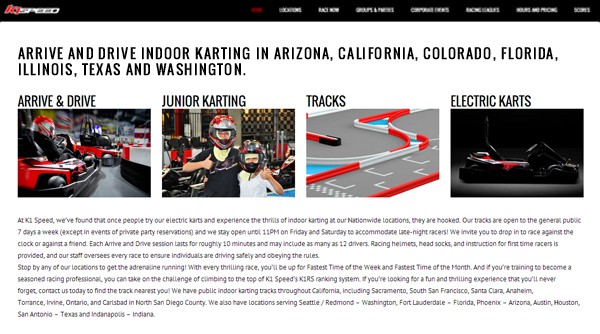 Our mission remains the same as it's always been: to bring the thrill and excitement of indoor karting to a large audience. Offering highly-advanced and environmentally-friendly electric go karts as well as large indoor entertainment venues that feature authentic racing memorabilia, pit cafes, meeting rooms and pool tables, K1 Speed is a great place to visit with family and friends or to host a corporate event or party.
We hope you'll find the website easier to read, easier to navigate, easier to share our content with others and easier to connect with us to book your next visit! Please share your feedback in the comments below.