Join K1 Speed at the 44th Toyota Grand Prix of Long Beach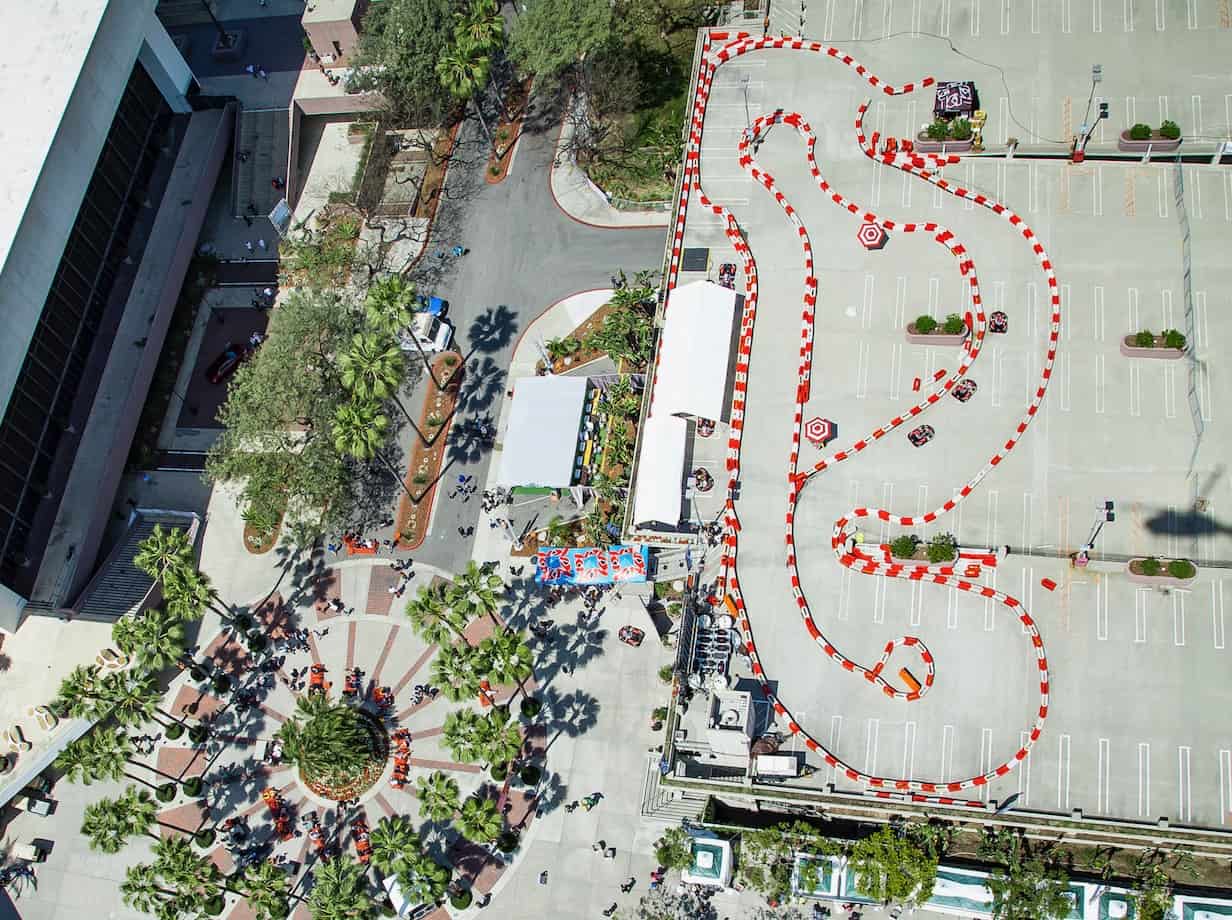 Since 1975, racecars have been speeding around the fast but narrow streets of downtown Long Beach, California. Starting as a Formula 5000 event, the Grand Prix has hosted Formula One, IndyCars, Stadium Super Trucks, Trans Am, the hottest GT and Prototype sports cars, Formula Drift, Formula E, and countless celebrities. It's also North America's longest continuously-running major street race.
Be sure to join us for the 44th running of the Toyota Grand Prix of Long Beach this weekend, April 13-15. Since we're a primary sponsor of this legendary event, you'll be seeing plenty of us around the circuit. Be sure to stop by our booth in the Lifestyle Expo, where we'll be handing out some free swag to our fans!
And you've definitely got to check out our outdoor kart track located on the top floor of the parking garage in the Welcome Plaza.  We always get the itch to race when watching the pros out on circuit, and with our on-site track you won't have to go far to scratch that racing itch. This outdoor track's only around these three days of the year and is the perfect way for racers 58" or taller to experience the same adrenaline rush the pros are experiencing right near you! And with a race purchase, you'll receive a free souvenir headsock to take home.
And don't forget to grab discounted tickets online at gplb.com: enter promo code SPEED44 to receive Saturday General Admission tickets for only $45, and Sunday General Admission tickets for just $50 – a savings of $20 each ticket!
Don't be a stranger during the Toyota Grand Prix of Long Beach – come visit and say hello! We love meeting with all of our fans and we can't wait to bring a little K1 to your weekend.
Grand Prix of Long Beach Facts:
K1 Speed became an official sponsor and Official Go-Kart Track Operator of the GPLB in 2017.
Al Unser, Jr. is most winning driver at the TGPLB with six wins.
Team Penske and Newman/Haas are tied with most wins as a team at the LBGP with six wins each.
The most winning drivers during the Pro/Celebrity race, that was held for 40 years, was Dan Gurney as a pro with four wins, and Alfonso Ribeiro as a celebrity with four wins.
The Formula One record for the lowest ever starting position for a race winner goes to John Watson during the 1983 event, who started from 23rd position.
Toyota has sponsored the Grand Prix of Long Beach since its inception, and has been a title sponsor since 1980, which is believed to be the longest continuously-running sports sponsorship in the United States.
Every Grand Prix of Long Beach since 1978 has been announced by the same announcer, Bruce Flanders.
The first event drew 30,000 fans. Today, the event pulls in more than 200,000 fans from all over the world.
A multitude of drivers can claim the GP of Long Beach as their first win, including: Michael Andretti, Paul Tracy, Juan Pablo Montoya, Mike Conway and Takuma Sato.
Michael Andretti scored both his first IndyCar win (1986) and last IndyCar win (2002) at Long Beach.
In 2005, Katherine Legge won the Atlantic Championship support race at Long Beach, becoming the first female driver to win a feeder series open-wheel race in North America.