K1 Speed Albany Now Open
21 November 2014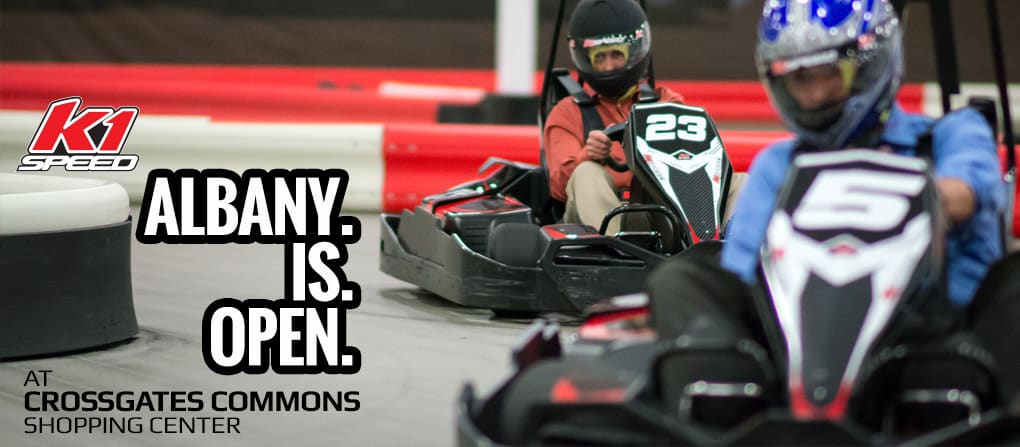 Irvine, CA November 21, 2014 – We're proud to announce the opening of our second location in New York, Albany. One week ago today we opened our doors in Poughkeepsie at the Poughkeepsie Galleria with much success. We're very excited to now be open in the state capital of New York and look forward to seeing some new and familiar faces racing with us at our newest location.
If you want to experience the thrill of indoor go-kart racing, K1 Speed Albany indoor karting center is for you! Situated in Crossgates Commons in Albany, less than 30 minutes from Schenectady, our karting center features high-performance electric karts, a professionally designed kart track, and a collection of authentic racing memorabilia that would be right at home in a motorsports museum. It is fun for all ages!
To see what all the fuss is about, we invite you to come in and visit K1 Speed Albany today! Our indoor go-kart racing is second to none and will redefine what you come to expect from karting. In fact, don't be surprised if you leave wanting more. After all, speed is addictive!
To All FasTrax Customers, We apologize. We have no prior customer information or data from the closed FasTrax locations. We do not have any way to know gift card values or race credits. K1 Speed will honor a free race for any customer presenting a FasTrax gift card and valid ID for the next 30 days (until Dec 21).
K1 Speed is situated in Crossgates Commons across from the Crossgates Mall.
K1 Speed
161 Washington Ave. Extension #205
Albany, NY 12205
(518) 452-2687
For Corporate Inquiries, Private Parties & Birthdays
Phone: (855) 517-7333
Email: Group Reservation