K1 Speed sponsors The Great Grove Bed Race in Miami
As A Proud Sponsor, K1 Speed, will be participating in this year's Great Grove Bed Races! Watch Team K1 Speed take the streets in a custom "race" bed!!!
MIAMI — Motocross champ-turned-rapper-turned-TV star Vanilla Ice phoned City of Miami Mayor Tomas Regalado and Commissioner Sarnoff tonight at City Hall, in Coconut Grove to promote Nov. 8 "The Great Grove Bed Race." The pop-star-DIY-host, despite the flu, called in from his sick bed to announce he serves as official race Grand Marshal for next weekend's tongue-in-cheek competition of racing homemade beds through the streets of Coconut Grove. Proceeds benefit Little Smiles of Florida to help kids in local hospitals, hospices and shelters escape their unfortunate circumstances, even if only for a short period of time.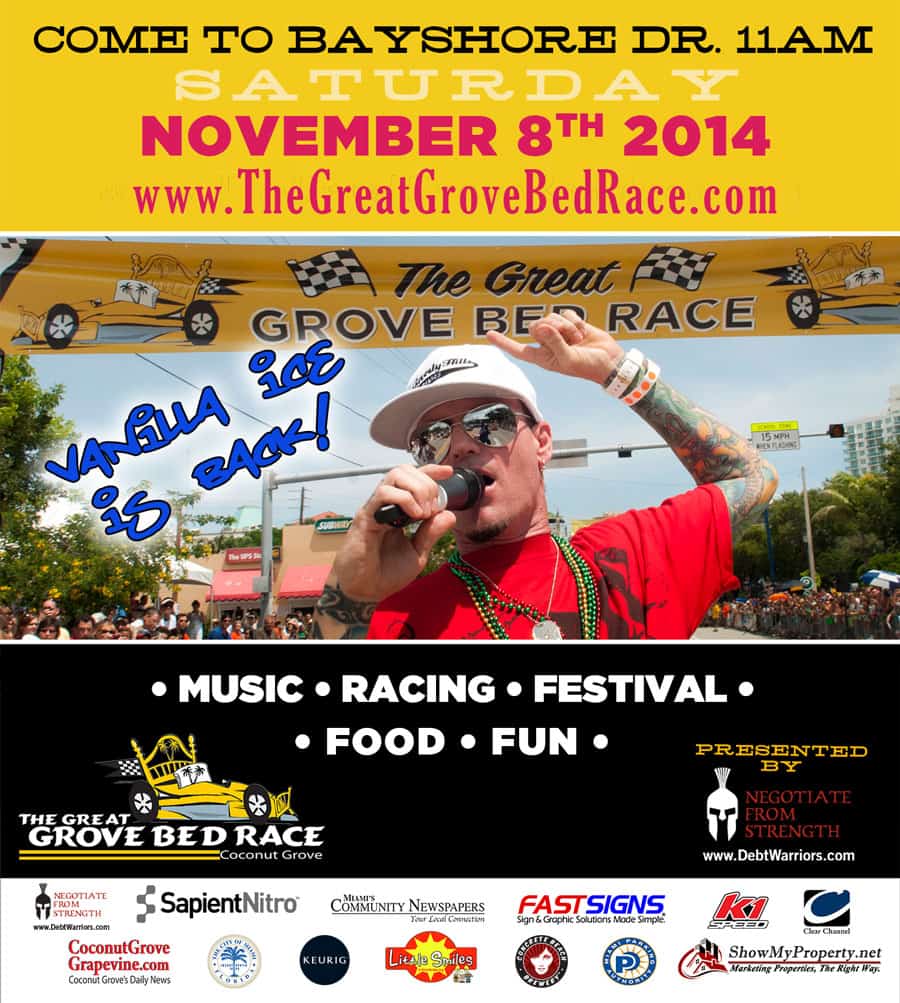 "I'm back to Ice this race and be inspired by new inventions. See if these DIY beds can withstand concrete streets."
—Grand Marshall 2014 Bed Race, Rapper-turned-reality star-turned-real estate DIY guru Vanilla Ice
Raised in Miami and a current South Florida resident, Vanilla Ice launched to stardom in the early '90s after writing and recording the top-selling rap single of all time – "Ice Ice Baby," a song inspired by a weekend spent with band members in Miami. His fame has taken a recent new twist, as Vanilla Ice continues to dominate as a star in DIY Network's "Vanilla Ice Project," chronicling his achievements as a home-improvement guru and now a returning champion of bed racing, having called the Grove races from the main stage in 2011.
City of Miami Mayor Tomás Regalado and Commissioner Sarnoff 'rapped' up the call with some pillow talk, and agreed to join the Grand Marshal in judging beds during Saturday, Nov. 8 during the Pit Row Parade of decorated beds. With entries in recent years depicting everything from the resurrection of E.T. by Sapient group to a fully helmeted sword-toting warrior from debtwarrior.com, race-veteran Sarnoff welcomed the return of Vanilla Ice into the proverbial sack but warned him to expect the unexpected, as the popularity of DIY shows like his have taken mattress-mayhem to an even more hilarious and innovative place.
Stay tuned for next weeks sneak peek of what Vanilla Ice does with Little Smiles racing bed as they visit his set and ask him to trick it out, Ice style! With a racing resume that includes three-straight motocross titles at the Grand National Championships and a run as the No. 6-ranked sit-down Jet Ski racer in the world, Vanilla Ice earlier tonight did not sound like one looking to hide under the covers: "When I was asked to return to 'Bed Races,' I knew what to expect. The word 'race' is in there, the hand crafting of beds onto wheels is a must and I'm all about it!"
Festivities kick off Saturday Nov. 8 with the Family Pajama Party and Main Stage Band (11 a.m.), the Pit Row Parade and Celebrity Judging (12 p.m.), Green Flag Racing (1 p.m.) and the post-race Bed Race Block Party at the Tavern in the Grove at (5 p.m.). For more info: TheGreatGroveBedRace.com.