Official 2012 VidCon Pre-Party: Go Karts and Food Trucks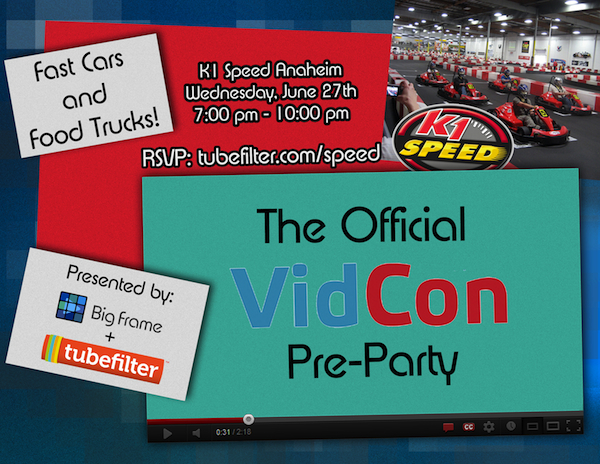 Come join us at the Official Pre-Party for VidCon 2012: Go Karts and Food Trucks at K1 Speed indoor kart racing in Anaheim!
Tubefilter and Big Frame are taking over the racetrack for the official VidCon kickoff party. Drop in, hang out, and race with some of the biggest names on YouTube!
RSVP here: tubefilter.com/speed
Enjoy discounted racing during the event! You won't want to miss out!
Official Pre-Party of VidCon 2012
Go Karts and Food Trucks
Hosted by Tubefilter and Big Frame
Wednesday, June 27, 2012
7:00 pm to 10:00 pm
K1 Speed – Anaheim
1000 North Edward Ct
Anaheim, CA 92806
We'll have food trucks, KogiBBQ, The Burnt Truck, Dogzilla and Archie's Ice Cream confirmed (updates to come) as well as other surprises. Here's a video from DeStorm Power to get you in the mood:

RSVP at tubefilter.com/speed before tickets run out!
VidCon Schedule:
Wednesday – Official VidCon Pre-Party at K1 Speed Anaheim
Thursday – Industry Day – June 28, 2012
Friday – VidCon Day 1 – June 29, 2012
Saturday – VidCon Day 2 – June 30, 2012
Sunday- Disney Day – July 1, 2012
[Find out more about VidCon 2012 and other online video industry events by signing up for Tubefilter Radar, a digest of all the events that you should be tracking.]