Red Bull Air Race in the 'Lone Star' State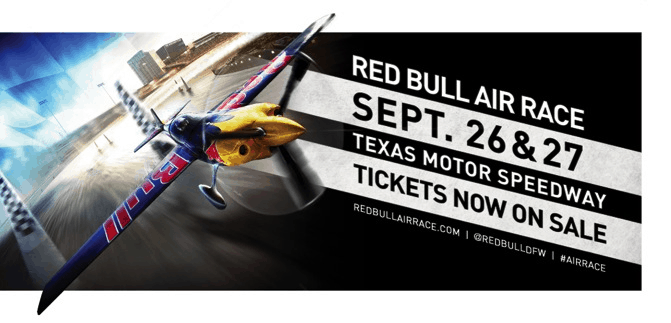 Celebrate National Aviation Day with Red Bull Air Race and K1 Speed as we prepare for its' triumphant return to Texas Motor Speedway in Fort Worth on September 26th and 27th!
As the seventh of eight stops in the World Series, the spirit of competition is at an all-time high with 12 of the world's best pilots vying for the Championship title. These pilots face an incredible challenge as they race through the Speedway's course flying through pylon obstacles at speeds in excess of 260 miles per hour, and experiencing forces up to 10 times that of Earth's gravity.
As fellow fans of speed, we would love to offer you a special discount for your ticket purchase using code RBARDFW15, eligible for 10% off both General Admission and Reserved Seating tickets.  Come on out for a weekend of family- friendly fun, jaw-dropping action, and a chance to witness the world's fastest motorsport in a way few can!
Learn more and purchase tickets at www.redbullairrace.com