Scion iQ GO – K1 Speed Ride and Drive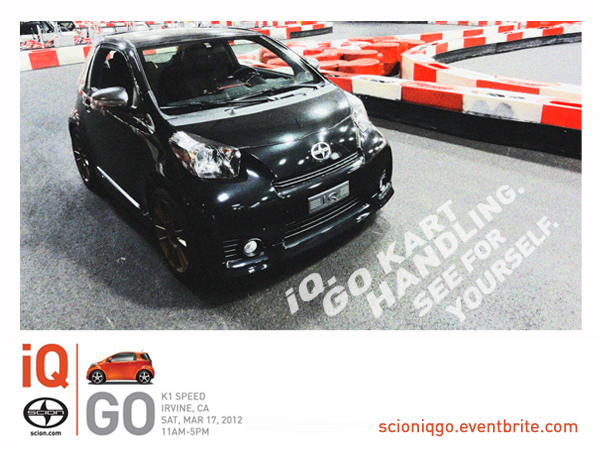 Well, hey there! Meet the Scion iQ – the World's Smallest Four-Seater. The Scion iQ is big ideas concentrated – but also, its got some moves. In fact, we say the Scion iQ has "go-kart handling". Really. You can see for yourself at an exclusive ride and drive event at K1 Speed, Irvine, CA on March 17, 2012.
Come have some FREE go-kart fun – race the K1 indoor go karts! – and check out the iQ. In fact, take it for a spin on our Ride and Drive course in the parking lot. You can even score an iQ ride-along on the indoor go-kart track!
As a member of the Scion brand, the iQ is also about personalization. Customize the iQ to fit your style from the many customization possibilities directly from Scion, or through our Scion OPTOMIZE program partners.
With all Scion models, you can also expect class-setting styling, performance, value, fuel efficiency, driving dynamics, and safety features. And as a marque of Toyota, all Scion vehicles are built with legendary world-class Toyota quality and reliability.
Check it out for yourself, and tell a friend. Just fill out the information requested on the registration page you'll have a chance to be one of the first people in the country to get behind the wheel of the 2012 Scion iQ.
Thanks for stopping by! Click here to view the Scion iQ event photo gallery