CORPORATE ROOM RATES AND INFORMATION FOR THE
K1 SPEED ANAHEIM

LOCATION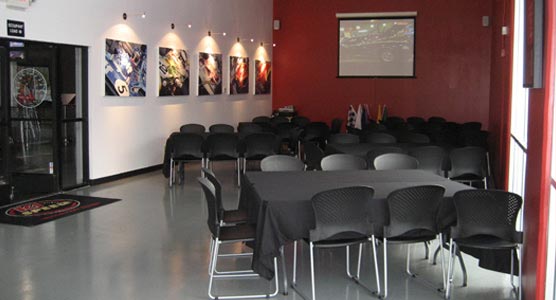 F1 ENTERTAINMENT ROOM
Seating for up to 80
Table, chairs and linens which can be custom arranged to classroom or party style
Wireless Internet
Audio/ Visual equipment
Pool table
Foos-ball table
Leather couch seating
Wooden bar stool
$100.00/Hour
$350.00/Half Day
$600.00/Whole day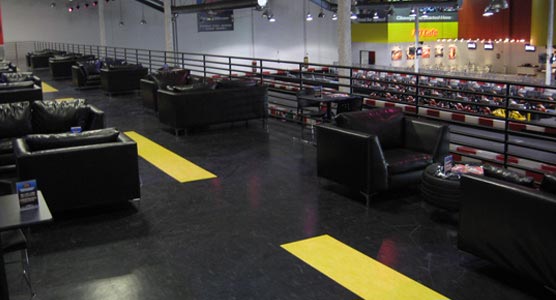 MEZZANINE
Overlooks entire facility
Capacity of 200
Existing seating arrangement for 70 with a combination of leather couches, tables and chairs that can be configured to accommodate larger groups
Large 180″ screen tv with satellite channels
$250.00/Hour
$800.00/Half Day
Please call for Whole Day pricing
START PLANNING
INFO:

     THE ENTIRE FACILITY IS AVAILABLE FOR PRIVATE PARTIES – CALL FOR PRICING 1 (855) 517-7333
Full use of 58,000 sq. ft. facility which includes:
Southern California only asphalt race course which speeds through two tunnels underneath a 3,000 sq. ft. Mezzanine
Racing times displayed on giant scoreboard
Live scoring with printable individual racing scores
Night club style lighting and audio
Meeting space/ Party room available including a 3,000 sq. ft Mezzanine
Free use of large 150 car lot capacity
17 flat screen tv's through out facility so your groups can view others racing times as well as satellite channels
Electric European Karts
10,000 sq. ft. main lobby overlooking racing action
Existing seating arrangement for 36 with a combination of bar stools and chairs
Video games and air hockey table
Pit Cafe
Authentic racing memorabilia
3,000 sq. ft. Mezzanine
Overlooks entire facility
Existing seating arrangement for 70 with a combination of leather couches, tables and chairs that can be configured to accommodate larger groups
Large 180″ screen tv with satellite channels
1,500 sq. ft. F1 Room
Seating for up to 100
Table, chairs and linens which can be custom arranged to classroom or party style
Wireless Internet
Audio/ Visual equipment
Pool table
Foos-ball table
Leather couch seating
Kitchen and prep area
Plenty of seating with a combination of tables and chairs
Great for Catering setup
INFO:

     Height requirement for ADULT karts is 4ft 10in (58″). All JUNIOR racers must be a minimum of 4ft (48″) tall to race. No mixed JUNIOR and ADULT races.