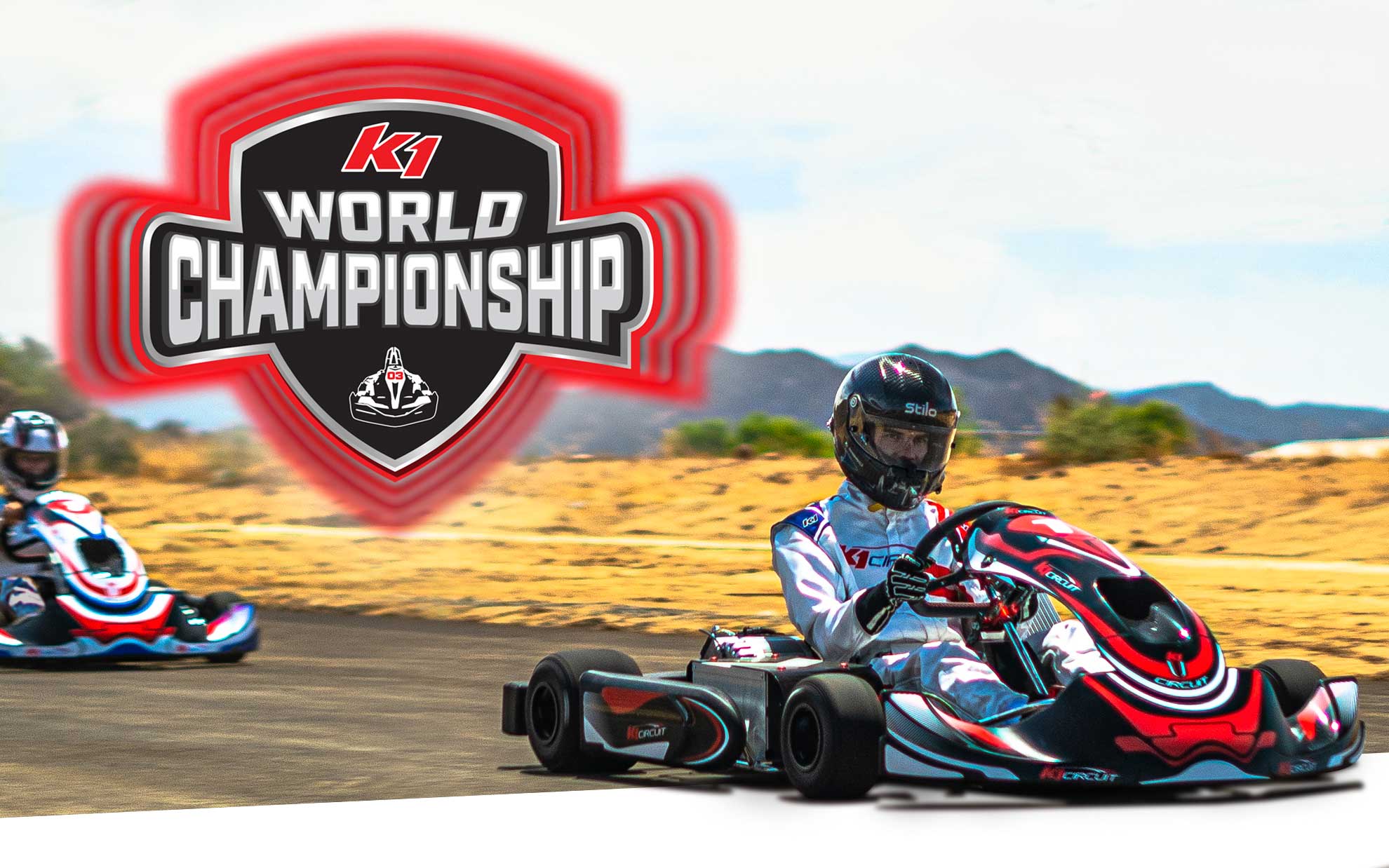 K1 Speed E-World Championship Registration
K1 Speed U.S. World Championship: Friday, July 21, 2023
K1 Speed World Championship Finals: Saturday, July 22, 2023
Location: K1 Circuit**, Winchester, California
Congratulations for Qualifying!
Congrats! You've made it for a chance to compete in the 2023 K1 Speed E-World Championships! This means you've scored at least 4,000 K1RS points for at least one of the past four years, and were at least 14 years of age at the time of your qualification.
We apologize for the VERY long wait many of you have had to endure ever since we had to cancel our 2020 World Championship just two weeks before the event. But now we're back and better than ever!
Your First Challenge: The U.S. Championship
Your first challenge on the road to the E-World Championship will be the K1 Speed U.S. Championship.
Now, when we first held our World Championship, we made our qualifiers compete at a city and state level before they were invited to the U.S. Championship. But for this very unique championship, we're inviting you all out to the U.S. Championship for your shot at representing the United States in the 2nd K1 Speed E-World Championship!
This means the competition will be FIERCE, with many more racers expected to attend. This also means that you'll have the chance to meet and race many racers from all over the country that you've read about on our website or seen on our scoresheets the last several years. So consider this a sort of K1 Speed festival!
Not One, But FOUR Drivers Will Represent the United States in the E-World Championship
Another tweak to this year's championship is the number of racers who will go on to fight in the World Championship finals. In 2019, only ONE driver went on to compete for the United States in the World Championships. But since we're making up for four years' worth of missed championships, the top FOUR from the U.S. Championship will move on to the E-World Championship.
The U.S. Championship Format
The final format for the U.S. Championship will be posted sometime before the event, however this will be run similar to our Challenge GP, and not like our King of Speed competition (that we ran in 2019). So you'll have to race wheel-to-wheel successfully to move on to the world championship finals.
When and Where Will the U.S. Championship Be Held?
The K1 Speed National Championships will be held at our all-new outdoor kart track, K1 Circuit, located in Winchester, California on Friday, July 21, 2023. The starting time is yet to be confirmed, however, this will take place in the evening sometime, likely starting around 5 or 6pm to allow the air temperatures to cool from the hot summertime highs. When we have an exact time, we'll send out an email to our registered racers.
Note: the U.S. Championship and World Championship will race on different course configurations announced the day of the event.
The Final Step: The 2023 K1 Speed E-World Championship
The 2023 K1 Speed E-World Championships will see the national champions from up to seven countries compete for the title of 2023 K1 Speed E-World Champion. These countries include the United States, Canada, Mexico, Puerto Rico, France, China and Korea. There will be up to four racers per country competing, which means we could have up to a 28-driver field racing on the track!
Again, only the Top 4 from the United States Championship will make it to this final world championship event.
The E-World Championship Format
Like the U.S. Championship, the format for the E-World Championship will be announced sometime before the event weekend. However also like the U.S. Championship, the race format will be similar to a Challenge GP format and will require that drivers race head-to-head for the title.
When and Where Will the K1 Speed E-World Championship Take Place?
The K1 Speed E-World Championship will take place at K1 Circuit the day after the U.S. Championship, Saturday, July 22nd, 2023. Like the U.S. Championship, this will also be held in the evening at a time to be determined well before the event. This way anybody making the trip from outside the Southern California area doesn't have to worry about paying for an additional trip to compete in the World Championships – you'll already be here!
How Much Does it Cost to Compete In This?
There is NO COST to compete in the United States Championship or World Championship finals. However, you are responsible for your own travel-related expenses.
Why K1 Circuit and Not K1 Speed?
So why are we racing at our outdoor track instead of an indoor K1 Speed track? There are several reasons.
The Original Venue for the Championships
The first reason is that K1 Circuit was always intended to be the venue for our E-World Championship, ever since we announced the championship back in 2018. But when the track wasn't ready in 2019, we quickly found an alternate solution for our very first World Championship which was held at various K1 Speed centers in Southern California.
Cut to 2022, when we finally found some relief from COVID, K1 Circuit's construction was in full swing. For the best interests of our patient racers while honoring the CEO's initial vision for the world championship, it was decided we'd wait until 2023 when K1 Circuit was completed.
Start Indoors, Transition to Outdoors
The main reason we're hosting our championships at K1 Circuit is why it was selected in the first place. If you're serious about racing, the natural progression for karting in the modern era is to eventually make your way to outdoor karting. K1 Speed is where you learn and hone your craft: how to drive, how to race, how to pass, how to handle pressure. K1 Circuit is where you'll apply everything you've learned at K1 Speed to take your skills further. Therefore, it only seems right that our best racers from K1 Speed compete at the highest level at our brand new outdoor track.
K1 Circuit is Much Larger Than Any K1 Speed Track
The tracks inside K1 Speed centers are around a quarter of a mile in length, on average. The track at K1 Circuit, meanwhile, is up to 1.1 miles in length – FOUR TIMES as large. Not to mention, the track is much wider than K1 Speed (28 feet wide!). The result is more karts on track at the same time for better efficiency, wider space for plenty more overtaking opportunities, and more space to host you and your support base.
If You Are Participating, Please Register By May 1st, 2023:
*Note: Registration does not guarantee admittance to the World Championship. All registrants will be cross-referenced against our official qualifier list and current K1 Speed status. If you are not on K1 Speed's official list or not in good standing at K1 Speed, you will be sent an email that will notify you of your removal from the registration list. 
**If for any reason the event can not move forward at K1 Circuit, the championships will take place at a nearby K1 Speed location in Southern California with a course configuration that will mitigate home track advantage (but don't worry – all signs point to K1 Circuit being the place!!).