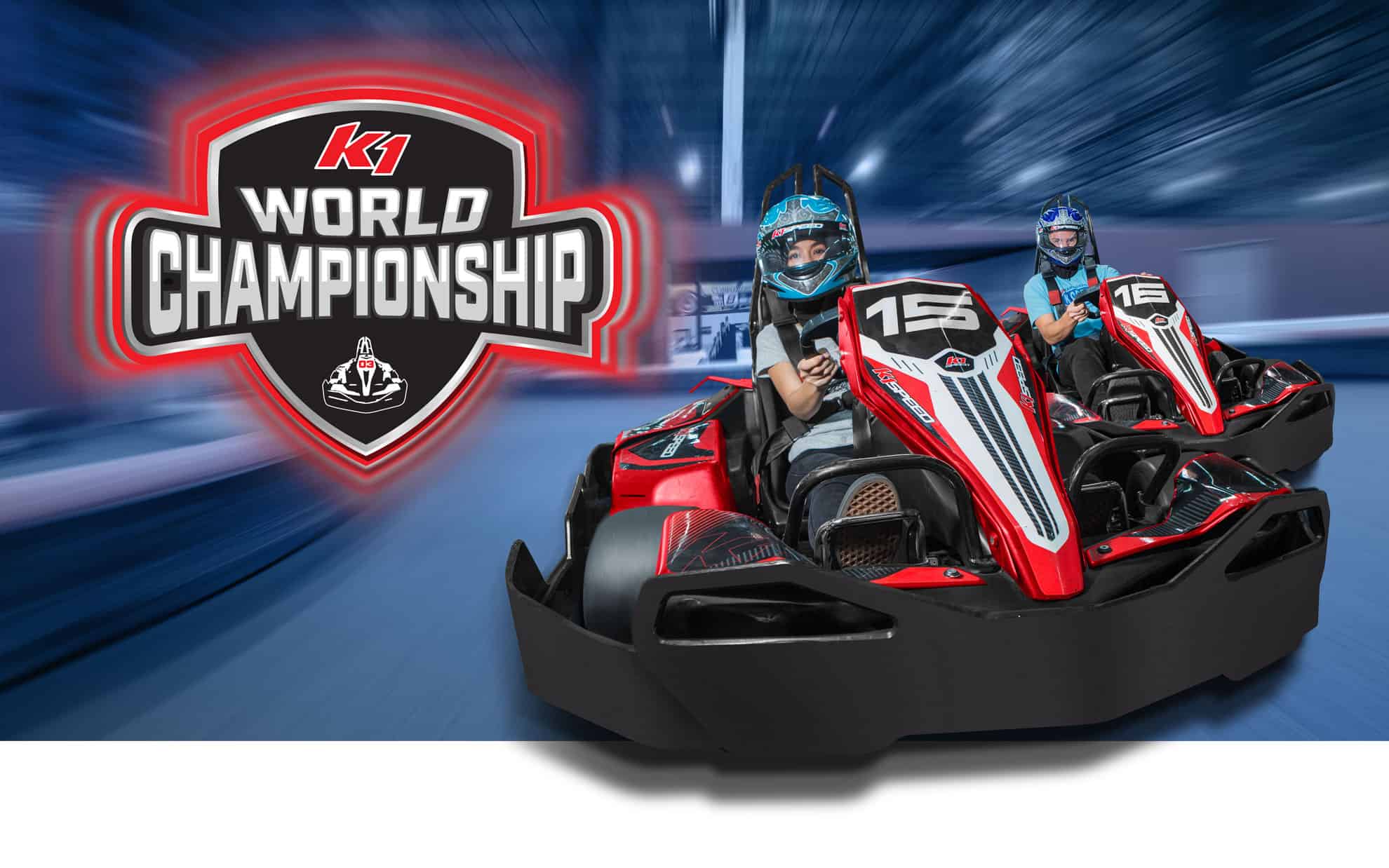 K1 Speed E-World Championship
Update May 2021:
As of this time, the dates for the next K1 Speed World Championship are still to be determined.
The biggest reason for the delay is that this is an international competition – not just national. While the United States appears to be rounding the corner of this pandemic, unfortunately, the same cannot be said for some of our fellow countries that take part in the championship. As a result, there are still many restrictions when it comes to international travel. Until it's safe for everyone to travel to the event – including our international competitors – we won't know the exact the E-World Championship dates.
Rest assured, anyone who qualified for the World Championship in the years prior, (from 2019 on) will be invited when we host our next event.  When we do announce the dates, those who have qualified will be contacted immediately and we will make sure each racer has more than enough time to make the appropriate accommodations.
The next E-World Championship will be well worth the wait. We're going to have many more competitors, LARGER cash prizes, and one heck of an event that'll be sure to please everyone who attends.
We appreciate everyone's patience, support, and understanding during this time. Trust us, we're just as anxious as you to get things underway. But we've got to wait until it's safe for everyone involved, both in the US and around the world, so we can provide you with the kind of event worthy of the time and money you've invested.
Thank you for your understanding.
K1 Speed
The K1 Speed E-World Championship
All qualifiers invited to compete in national championship (K1NG of Speed-style) to determine their country's champion. 
National Champions invited to participate in the K1 Speed World Championship finale held at Irvine.
World Championship format is Challenge GP-style and includes a representative driver from every country that possesses a K1 Speed location. 
K1 Speed World Champion to receive $15,000 cash prize!
With over 40 locations across the world and growing, K1 Speed has solidified itself as the ultimate electric indoor karting experience in the industry. This success has led to an incredible expansion with K1 Speed's International Franchise Program, which has created K1 Speed locations in Mexico, Canada, South Korea, China, France, and Puerto Rico with more to come. This worldwide expansion has influenced K1 Speed's decision to ramp up the K1RS points competition and take our internal competition to new heights.
In 2020, one exceptionally talented racer will be crowned K1 Speed World Champion. In 2019, Peyton Phillips from Austin, Texas won the inaugural championship. Antonio Arias from Puerto Rico finished runner-up, and Daniel Demaras from Toronto, Canada secured third.
To qualify, each racer will need to be at least 14 years of age and possess at least 4,000 K1RS points by the end of the year (every racer starts with 1200 points at the beginning of the calendar year). Each qualifier will be invited to participate in their country's championship – to be held at one of the country's locations.
The US Championship will be at the company's global headquarters in Irvine, CA. The competition will be held as a K1NG of Speed-style format that will determine who the fastest racer is.
The final event that evening will include the US Champion versus our champions from the other countries that host a K1 Speed location. The racer who finishes first in the final race for position will become World Champion!
The top three finishers of the e-World Championship are awarded with incredible cash prizes: $15,000 for first place, $7,500 for second place, and $3,500 for third place. In addition to the cash, other amazing prizes will be presented.
"With the introduction and popularity of electric racing series around the world, I'm ecstatic that K1 Speed has an international series of its own," says K1's CEO. "The K1 Speed World Championship is the first international electric karting championship in the country, and we already cannot wait to see the best of K1 Speed compete against each other during the championship finale."
Those interested should start racing at their nearest location to earn points and practice for the opportunity to partake in this amazing international competition, the largest of its kind and with the biggest money purse to win!
Requirements
Participants must be at least 14 years of age, and must not be an employee of K1 Speed, or the relative of an employee at K1 Speed at any time during the qualifying year.
Participants must possess at least 4,000 K1RS points by end of year
All qualified racers are invited to the United States Championship at Irvine to compete for the title of US Champion.
US Champion will compete against other National Champions for the World Championship in a tournament of three different K1 Speed locations in Southern California.
Cash Prizes: $15,000 for World Champion, $7,500 for runner-up, $3,500 for third place
All racers are responsible for their own travel expenses. Complementary meals will be provided to racers during competition.
For any questions, please email [email protected].