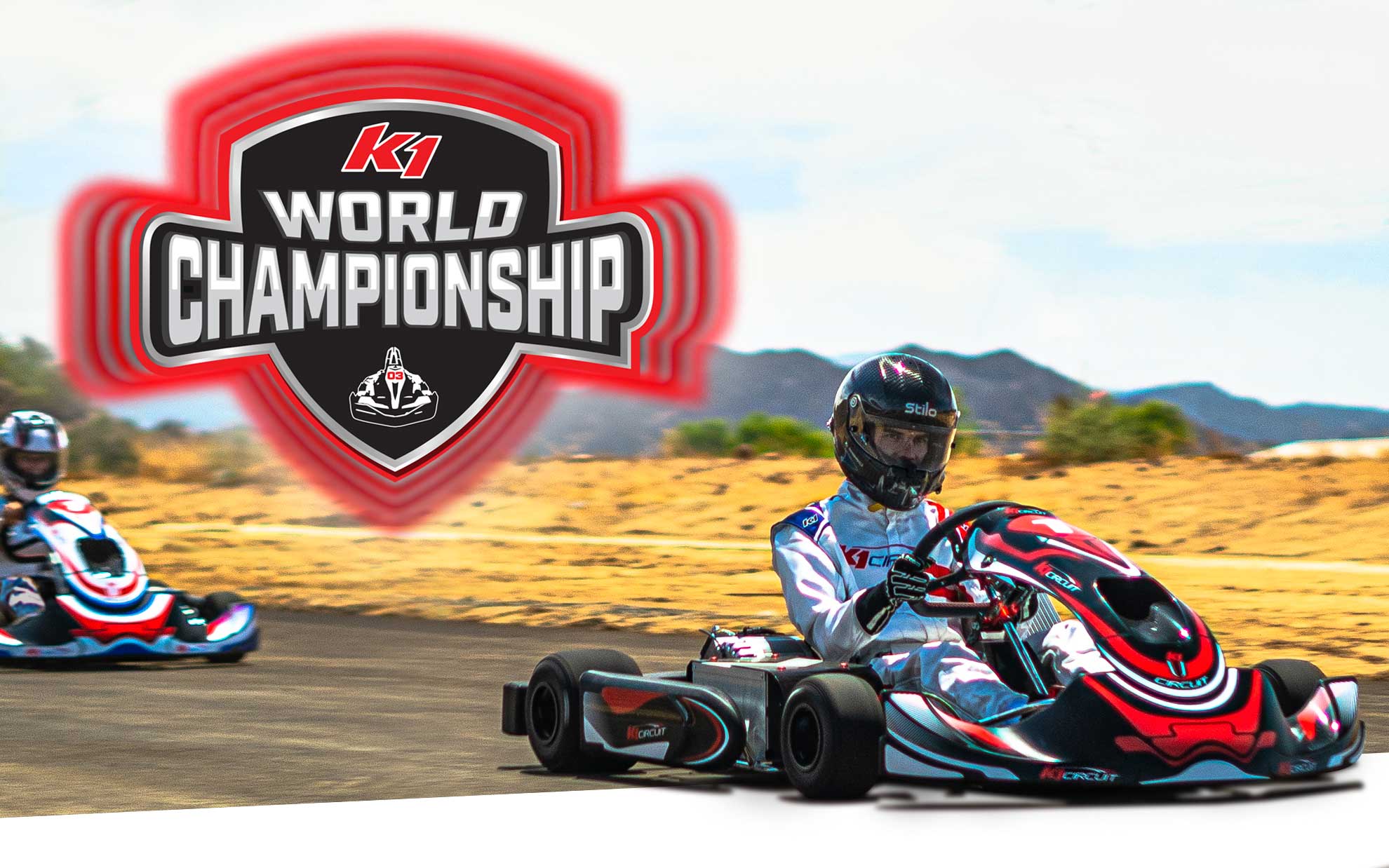 K1 Speed E-World Championship
Top 3 Finishers in Adult, Teen, Junior Challenge GP Leagues Become 2023 City Champions
2023 City Champions to Compete in State Championship in 2024
State Champions to Compete in National Championship at K1 Circuit in 2024
Top 3 United States Finishers in National Championship represent US in World Championship Final!
World Championship Final Held at K1 Circuit the Day After National Championship in 2024
K1 Speed World Champion from all classes (Junior/Teen/Adult) to receive amazing prizes (to be announced)!
With over 60 locations across the world and growing, K1 Speed has solidified itself as the ultimate electric indoor karting experience in the industry. This success has led to an incredible expansion with K1 Speed's International Franchise Program, which has created K1 Speed locations in Mexico, Canada, South Korea, China, France, and Puerto Rico with more to come. This worldwide expansion has influenced K1 Speed's decision to take our internal competition to new heights.
In 2019, Peyton Phillips from Austin, Texas won the inaugural championship. Antonio Arias from Puerto Rico finished runner-up, and Daniel Demaras from Toronto, Canada secured third.
In 2023, a second World Champion will be crowned. All US qualifiers from the 2019-2022 years (those who scored 4,000 K1RS points and were at least 14 years old) to be invited to K1 Circuit for a shot at one of FOUR spots on Team USA to go up against the world's best (emails to be sent to qualifiers sometime in March (previously said February – we're sorry for the delay as we get 4 years' worth of qualifier info together!). 
Qualifying is different in 2023 than in previous years, with an emphasis on racing talent above all else.
New 2023 Qualifying Requirements/Format For 2024 Event
New for next year's K1 Speed E-World Championship event, there will be THREE classes of racers: Junior, Teen and Adult. As a result, there will be THREE World Champions crowned in 2024: Junior World Champion, Teen World Champion, and Adult World Champion. 
As usual, qualification for the Championships is determined the year prior. Therefore to compete in the Championships held in 2024, you'll need to qualify in 2023. 
In the past, people qualified for the Championships by being at least 14 years of age by the qualifying year's end, and had to have at least 4,000 K1RS points in their account.
This year, 4,000 K1RS points will NO LONGER qualify a racer into the championships. 
Instead, we want racers to compete on their way to the Championship. This ensures we have the most talented drivers that can race their way to the top. 
Here's how this will work: 
The 5 Steps to the 2024 K1 Speed E-World Championship at K1 Circuit
Step 1: Compete in One of Three Leagues
First, you're going to need to enter as many of our league races as you can during the course of the year. We have three different leagues you can join depending on your age: Adult Challenge GP for drivers 18 years and older who are 4'10" or taller,  Teen Challenge GP (formally Teen Cup) for drivers 4'10" or taller and 13-17 years old, and Junior Challenge GP (formally Junior League) for kids 48″ or taller up to 12 years old. 
How to Sign Up for a League:
Signing up for our league races couldn't be any easier! Simply sign up at your local K1 Speed center the night of the event, a half-hour before the racing begins. For more information about our leagues, including event dates, pricing, format, and more, click one of the buttons below.
Step 2: Finish the League in the Top 3 & Become a City Champion
Whoever finishes in the TOP THREE in the 2023 Adult Challenge GP, Teen Challenge GP, and Junior Challenge GP will become City Champions. 
For example, the top 3 finishers for Austin's Adult Challenge GP will become the Adult Austin Champions. The top 3 Junior Challenge GP finishers in Boston will become the Junior Boston Champions. 
Step 3: 2024 State Championship
The 2023 City Champions will then progress to the 2024 State Championship, where they will compete against the other City Champions from their State at a location TBD. 
Using the same example, the 3 Adult Austin Champions will compete against the 3 Adult San Antonio Champions, 3 Adult Houston Champions, and 3 Adult Dallas Champions at a center in Texas to be randomly decided.
For states with only one center, the City Champions will automatically become State Champions. 
Using the same example for Boston, the Top 3 Junior Challenge GP finishers in Boston will automatically become the Junior Boston Champs AND Junior Massachusetts Champs. 
Step 4: National Championship
The 3 State Champions from each class and from each state will be invited to the National Championship, held at K1 Circuit in 2024 the day before the World Championship event. 
The Adult Texas Champs will compete against the Adult California Champs, Adult Florida Champs, Adult Colorado Champs, etc. Same for Teen Champs and Junior Champs. 
The Top 3 finishers from each class of the National Championship will go on to compete in the World Championship the next day as representatives of the United States. 
Step 5: The World Championship at K1 Circuit
In the World Championship at K1 Circuit, the three Adult, three Teen, and three Junior US Champions will compete against the other National Champions in their respective classes for the title of World Champion. 
The 3 Teen U.S. Champions will compete against the 3 Teen Mexico Champions, 3 Teen Canadian Champions, 3 Teen Puerto Rico Champions, 3 Teen France Champions etc. for the title of Teen World Champion. 
In the end, we will crown one Junior World Champion, one Teen Champion, and one Adult World Champion.
"With the introduction and popularity of electric racing series around the world, I'm ecstatic that K1 Speed has an international series of its own," says K1's CEO. "The K1 Speed World Championship is the first international electric karting championship in the country, and we already cannot wait to see the best of K1 Speed compete against each other during the championship finale."
Those interested should start racing at their nearest location's racing leagues for the opportunity to partake in this amazing international competition, the largest of its kind and with the biggest money purse to win!
Requirements
Participants must not be an employee of K1 Speed, or the relative of an employee at K1 Speed at any time during the qualifying year.
Participants must place in the Top 3 at the end of the 2023 Adult Challenge GP, Teen Challenge GP, or Junior Challenge GP to become City Champions
City Champions must place in Top 3 of State Championship to move onto National Championship
State Champions to Compete Against Other State Champions in National Championship
National Championship to take place at K1 Circuit in Winchester, California in 2024
Top 3 National Champions from each class to compete in World Championships at K1 Circuit against other National Champions
All racers are responsible for their own travel and accommodation expenses.
For any questions, please email [email protected].