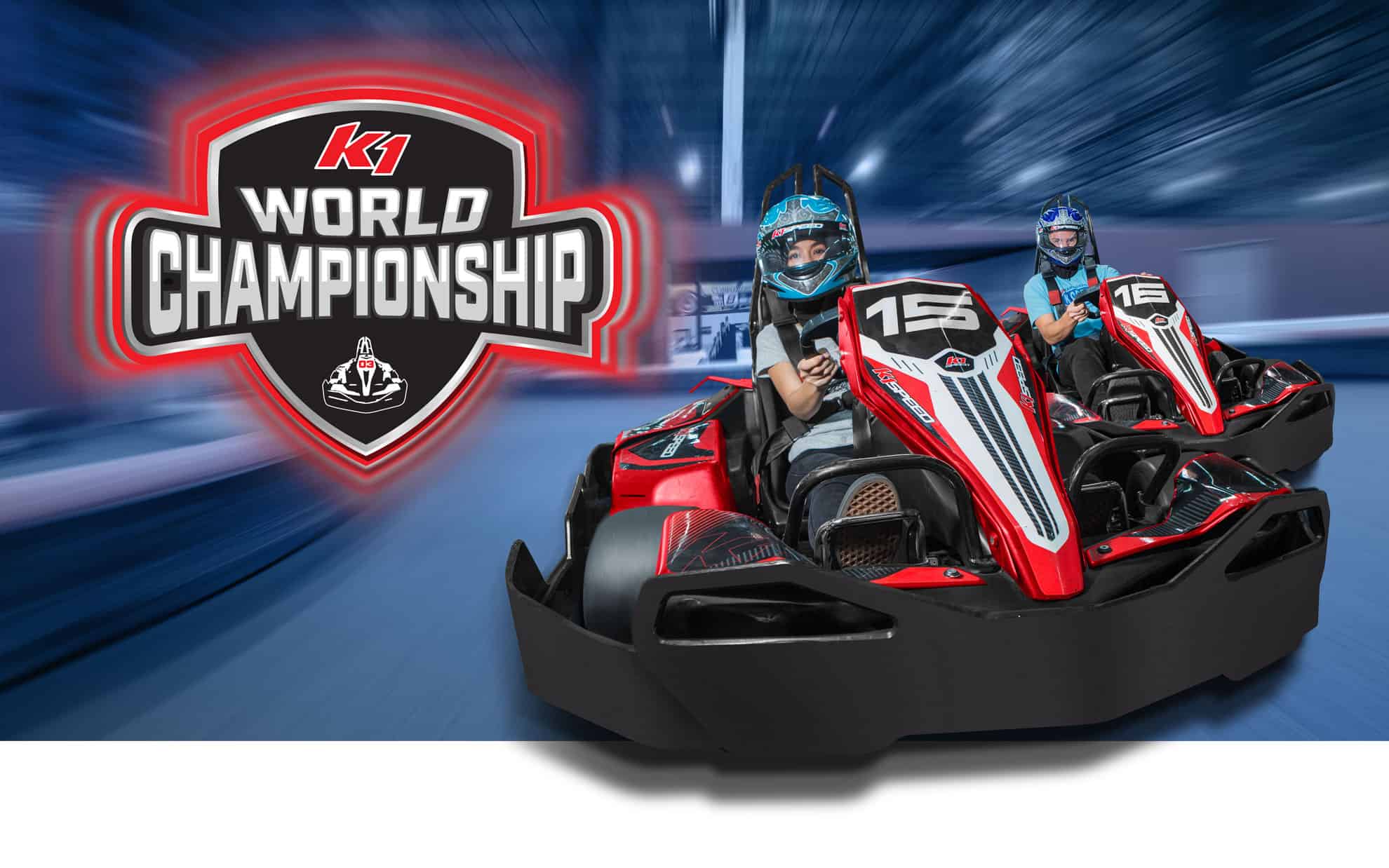 K1 Speed E-World Championship
Update September 2022:
This year's event is getting postponed yet again (cue boos and hisses, pitchforks and torches). That said, we think you'll like the reason why.
Rushing out an event in these closing months of 2022 and hosting it at an existing K1 Speed center didn't sound appropriate after the long wait you've all experienced.
That's why we're beyond excited to announce today that everyone who has qualified since 2019 will be invited out to the K1 Speed World Championship, next year (most likely during the spring months), at none other but the place we were supposed to host the championship from the beginning: K1 Circuit. 
For those who do not know, K1 Circuit is our very first outdoor go kart track. It's taken us years of blood, sweat, tears, (and stacks of money), to get this professional circuit up and running but we've made some serious headway and are getting closer and closer to opening it up at last.
We're working with the CIK-FIA to get this track certified, and the electric karts we'll be using will be nothing like the K1 Speed karts you're driving right now.
We encourage you to check out our videos on YouTube (just search "K1 Circuit" and you'll see them). Here's our latest video, where we talk more about the karts: https://youtu.be/h_-XkfiCiRE . Even more information can be found at k1circuit.com. I hope you all get a little more excited about future updates, now that you know you'll be competing there next year.
Again, we're so sorry for the long delay in this World Championship event, but we haven't forgotten about any of you and our promise still stands regarding invitations. We expect the track to open to the public before the end of this year, at which point we should be able to have some firm dates to give you for the World Championship. We just want to wait on that until we're officially up and running there.
I'm sorry we still don't have definitive dates, and I know some of you have heard this all before, but I can truly say with confidence, THIS IS FINALLY HAPPENING.
So get ready for one heck of a show next year, when we FINALLY host the K1 Speed World Championship – at K1 Circuit!! We look forward to meeting every one of you at our state-of-the-art facility.
Thank you for your understanding.
K1 Speed
The K1 Speed E-World Championship
All qualifiers invited to compete in national championship (K1NG of Speed-style) to determine their country's champion. 
National Champions invited to participate in the K1 Speed World Championship finale held at Irvine.
World Championship format is Challenge GP-style and includes a representative driver from every country that possesses a K1 Speed location. 
K1 Speed World Champion to receive $15,000 cash prize!
With over 40 locations across the world and growing, K1 Speed has solidified itself as the ultimate electric indoor karting experience in the industry. This success has led to an incredible expansion with K1 Speed's International Franchise Program, which has created K1 Speed locations in Mexico, Canada, South Korea, China, France, and Puerto Rico with more to come. This worldwide expansion has influenced K1 Speed's decision to ramp up the K1RS points competition and take our internal competition to new heights.
In 2020, one exceptionally talented racer will be crowned K1 Speed World Champion. In 2019, Peyton Phillips from Austin, Texas won the inaugural championship. Antonio Arias from Puerto Rico finished runner-up, and Daniel Demaras from Toronto, Canada secured third.
To qualify, each racer will need to be at least 14 years of age and possess at least 4,000 K1RS points by the end of the year (every racer starts with 1200 points at the beginning of the calendar year). Each qualifier will be invited to participate in their country's championship – to be held at one of the country's locations.
The US Championship will be at the company's global headquarters in Irvine, CA. The competition will be held as a K1NG of Speed-style format that will determine who the fastest racer is.
The final event that evening will include the US Champion versus our champions from the other countries that host a K1 Speed location. The racer who finishes first in the final race for position will become World Champion!
The top three finishers of the e-World Championship are awarded with incredible cash prizes: $15,000 for first place, $7,500 for second place, and $3,500 for third place. In addition to the cash, other amazing prizes will be presented.
"With the introduction and popularity of electric racing series around the world, I'm ecstatic that K1 Speed has an international series of its own," says K1's CEO. "The K1 Speed World Championship is the first international electric karting championship in the country, and we already cannot wait to see the best of K1 Speed compete against each other during the championship finale."
Those interested should start racing at their nearest location to earn points and practice for the opportunity to partake in this amazing international competition, the largest of its kind and with the biggest money purse to win!
Requirements
Participants must be at least 14 years of age, and must not be an employee of K1 Speed, or the relative of an employee at K1 Speed at any time during the qualifying year.
Participants must possess at least 4,000 K1RS points by end of year
All qualified racers are invited to the United States Championship at Irvine to compete for the title of US Champion.
US Champion will compete against other National Champions for the World Championship in a tournament of three different K1 Speed locations in Southern California.
Cash Prizes: $15,000 for World Champion, $7,500 for runner-up, $3,500 for third place
All racers are responsible for their own travel expenses. Complementary meals will be provided to racers during competition.
For any questions, please email [email protected].