K1 SPEED KART RACING – PERFECT FOR TEEN AND ADULT BIRTHDAY PARTIES
INFO:

 IT ONLY TAKES 8 RACERS* TO BOOK AN EVENT AT K1 SPEED.
* 9 RACERS ON WEEKENDS
Height requirement for ADULT karts is 4ft 10in (58″). All JUNIOR racers must be a minimum of 4ft (48″) tall to race. No mixed JUNIOR and ADULT races.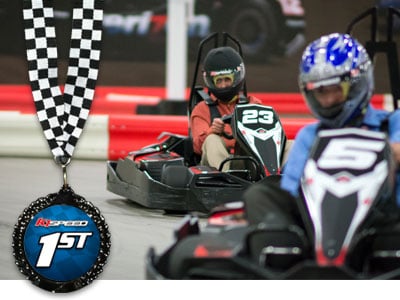 MINI GRAND PRIX

14 Lap Qualifying Race
16 Lap Final Race
Includes medals for top 3 finishers, podium photo and score sheet with K1RS race performance details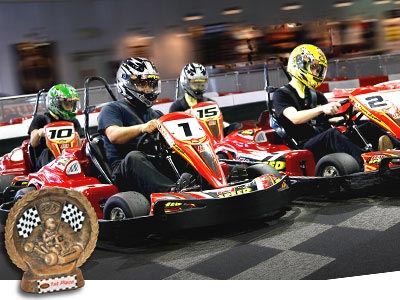 GRAND PRIX

12 Lap Practice
14 Lap Qualifying Race
16 Lap Final Race
Includes trophies for top 3 finishers, podium photo and score sheet with K1RS race performance details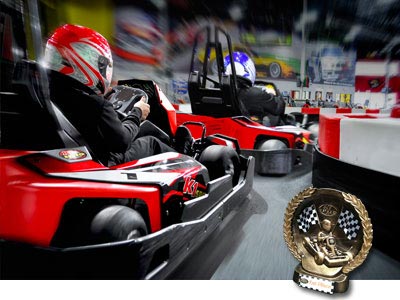 LE MANS ENDURANCE

12 Lap Practice
14 Lap Qualifying #1
14 Lap Qualifying #2
16 Lap Final Race
Includes trophies for top 3 finishers, podium photo and score sheet with K1RS race performance details
At 
K1 Speed
, we know that adult birthday parties can be hard to plan, but a go kart party at one of our Nationwide locations is sure to entertain all involved! Our state-of-the-art 
electric karts
are easy to drive and are smoother, quieter and faster than traditional gas-powered karts. If you are turned off by the smell of gas fumes or the chassis vibration and jerky throttle response of gas-powered karts, then our European electric karts are for you. The real draw of our pro karts is their performance; with 20hp electric motors and instant access to maximum torque, our karts have superb acceleration out of slow speed corners and a top speed approaching 45mph! Needless to say, if you have never experienced the thrill of indoor go kart racing, don't be surprised if you become hooked!
We have a variety of packages to meet your needs, whether you're planning a husband's birthday party or a boss' birthday party, but we can assure you that regardless of what package you choose, the thrill of head-to-head racing with some of your closest friends and family members will make this birthday party one that is talked about for a long time to come! With qualifying sessions and standing-start races available (in which each racer is positioned on the grid based on their previous lap times), we offer an authentic and genuine racing experience that is unlike anything you have done in the past. We know that for many, adult birthday parties can be underwhelming; a go kart party at one of our California, Washington, Florida, Arizona or Texas locations however will be a party that you never forget!
Q:
WHY BOOK A RACE PACKAGE?
A:
No waiting in line, exclusive track time with your group, a Grand Prix style race with qualifying and position race start, podium ceremony, podium photo and awards, no need to purchase a racing license – a $6 savings per person!
The entire facilities are available for private parties.  Call for Pricing.
1 (855) 517-7333
CONVENIENTLY LOCATED IN ARIZONA, CALIFORNIA, COLORADO, FLORIDA, GEORGIA, HAWAII, ILLINOIS, INDIANA, MASSACHUSETTS, NEW YORK, TEXAS, UTAH, AND WASHINGTON
With 7 locations throughout California – Carlsbad in San Diego, Anaheim and Irvine in Orange County, Ontario in the Inland Empire, Torrance in Los Angeles, Santa Clara and San Francisco in the Bay Area, Sacramento – as well as locations in Seattle / Redmond, Fort Lauderdale / Florida, Phoenix / Arizona and Austin and Houston in Texas you're sure to find a K1 Speed location near you. We are dedicated to providing our customers with a fun and exciting experience that they will remember for a long time, and we are confident that you won't be disappointed with your time at K1 Speed. If you are looking for ideas on adult birthday parties in the Southern California, Washington, Florida, Arizona or Texas area, our go kart party is sure to be a hit!
I wanted to take a moment and thank you for helping set up this race event. It was really a great time and overall K1 delivered! I'd like to commend a couple of the employees at the facility and am hoping you can forward me contact information for the manager of the Sacramento track. Thanks in advance and we are all looking forward to next year! Best...
- Karri C.
I'm an "Old Fart" whose turning a whopping 51 years old on May 6th and recently a new grandparent that strives on competition and speed. No matter if their teens or adults, if their in my way look out, this old grandpa will try to find a way to pass them! Congratulations K1 for making the Ultimate Thrill Ride and Stress Reliever. To me K1 Karting is the total package. It's way better than any roller coaster ride because you're the one in total control of...
- Trace N.
I'm writing this email to share my recent experience booking a surprise adult birthday party for my boyfriend at your Redmond, WA location. In this day and age, I've repeatedly been disappointed with customer service at various stores and facilities. I originally had been planning to book a go-kart racing party for my boyfriend at SyKart, a local competitor of K1. I was unhappy with the packages they provided, the inconsistent costs they were quoting me, and...
- Irene.