The National Hockey League is still locked out and cancelling its regular-season schedule through Dec. 30th. But the American Hockey League, serving as the primary developmental circuit for the NHL, is in full force playing out their regular season despite the NHL's lockout.
The Texas Stars Hockey Team chose K1 Speed Austin for their annual "Rookie Day" outing yesterday, Sunday, December 9th. The whole team participated in some fun competitive racing on the track. The veterans made the rookies dress up in crazy costumes for the day and took a group photo on our winners podium. Looking good guys!
The Texas Stars are the top affiliate of the NHL Dallas Stars and play in Cedar Park, Texas, near Austin.

Tanner Foust visits K1 Speed Ft. Lauderdale during NASCAR weekend. Tanner and TOP GEAR USA host Rutledge Wood raced with crew Monday night.
Tanner came in 1st posting a time of 23.544 on Track 1
Rutledge came in 5th posting a time of 24.774 on Track 1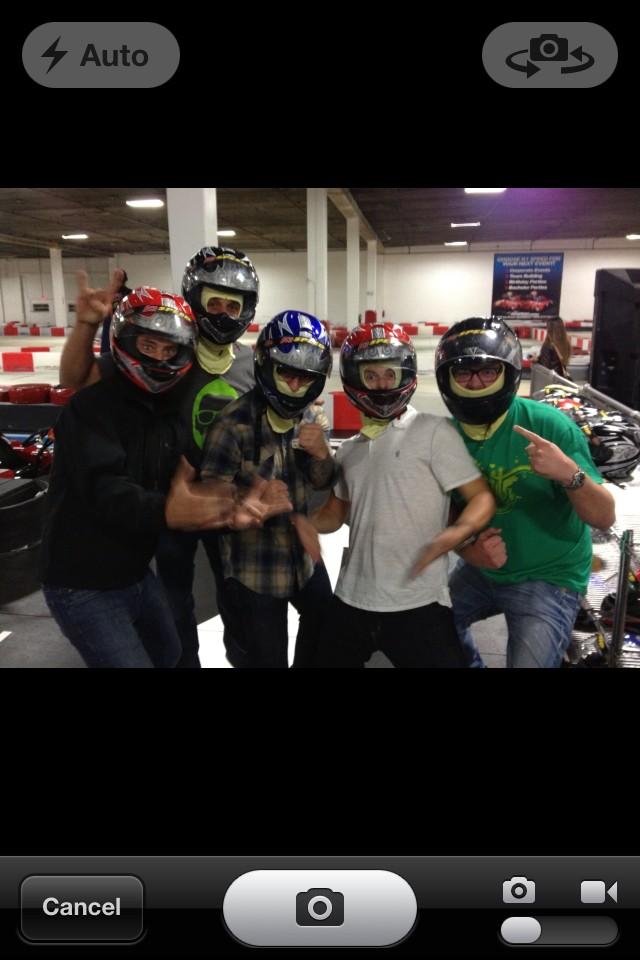 TOP GEAR USA
One of the UK's most popular series since 1977, Top Gear now brings its high-adrenaline action entertainment to America. Top Gear delves into the colorful history of the automobile and showcases an offbeat celebration of the art of driving, featuring super-cars, extreme stunts and challenges, car reviews and celebrity interviews, as well as the eccentric adventures of its hosts with Top Gear's customary wit and humor. Hosted by comedian and car buff Adam Ferrara, champion rally and drift racer Tanner Foust and racing analyst Rutledge Wood, Top Gear explores the history of America, one lap at a time.

Formula 1 Driver Marussia Team, Timo Glock visited K1 Speed Austin Sunday night after the big race.
One of the success stories from qualifying was the performance of Marussia as they held off the Caterham F1 team to take 19th and 20th on the grid. The race for the coveted 10th position in the World Constructor's Championship means millions and Timo Glock, along with his teammate Charles Pic, did their best to keep Caterham on their heels for Sunday's race.
Timo said:
"Another good day today. I think we concentrated on the right things, although it was a challenge through FP3 to get to that point as it is hard to put a good single lap together here. In qualifying I thought I had a strong lap and the tyres were really coming in, but towards the end I had a bit of wheel lift and the rear felt a bit strange."
"I think we could have gone quicker because the tyres were improving so much lap by lap, but because of the yellow flags there was no chance for more improvement. However, we are almost 0.8s ahead of the Caterhams and we have to be very pleased with that. This is great development from the team and although it seems like we remind everyone every race just now, we've managed all that without the advantage of KERS and that is a significant point. I'm very excited for the race and I hope we can continue the good work."
The other good news is that Timo was just over 0.9s behind the Toro Rosso of Daniel Ricciardo. That's quite a performance from Marussia and my hunch is, the efforts of the entire team coupled with the consultative work of Pat Symonds is starting to pay dividends.
Many believed Caterham F1 were the team to watching in 2012 as the first "new team" to make the jump to the midfield instead of being permanent back-markers. Armed with KERS and a Renault engine, the team were supposed to make a big leap but that hasn't happened. Could Marussia be a team that does the impossible?
A Cosworth engine and lack of KERS surely couldn't beat Caterham could they? Actually, yes they can and they will reap big dividends in doing so.
article via Formua1Blog.com
Thank you to all that came out to the official F1B Tweetup on Saturday evening from 7-10PM at the K1 Speed Austin.
Conor Daly
We were joined by America's GP3 driver, Conor Daly, to find out more about his 2012 season. We found out what he's been up to and why he's been in 9 countries in just 19 days. There was an open session which allowed fans to ask Conor questions about his year and future aspirations…they include Formula One.
Would you like to know what it's like being an American driver in a European racing series? How difficult it is to race against the world's finest young drivers and win? Saturday was your chance to meet one of America's best talent in years.
Derek Daly
Derek Daly personifies what it is to persevere from iron ore mining to Formula One racer. Derek is an inspiration to all of us and has written the definitive book on what it means to race and to win. If you've never had the opportunity to hear Derek speak, he is a must see/hear. Derek joined us for a very special engagement and I know you will love hearing his take on F1 and racing.
Go to Formula1Blog.com for more

Sebastien Buemi arrived at K1 Speed Austin on Thursday smiling. Smiling because he knew that he would meeting his fans and racing electric go karts at K1 Speed. The Valero Leadership & Red Bull Augmented Racing Winners received a chance to meet and talk with Buemi in an intimate setting. They asked him questions about his karting and racing experience in Formula 1.
Once the meet & greet was over they headed over to register and started getting ready to go on the track. A crowd gathered around the pit to watch Buemi go through the rules and step into the kart. Buemi then proceeded to hit the track. After a couple laps he got acclimated to the layout and starting clocking some good times. He set the fastest lap of the week. Buemi turned into the pits smiling and then headed over to the Red Bull Augmented Racing Winners to give them some race tips. The guys took their knowledge and raced well. The public then was greeted by Buemi and he started signing autographs and taking photos.
All in all a great event and we thank Red Bull Racing on making this happen. Good luck to everyone heading to the races at the Circuit of the Americas this weekend. K1 Speed will have a booth at the Fan Fest downtown on 4th and Lavaca street in the Kids Zone.
Sebastien Buemi – 26.210
Come into K1 Speed Austin and try to beat Buemi's fast lap!
K1 Speed Austin – ADULT top times for the WEEK