KIDS BIRTHDAY PARTY IDEAS – GO KART PARTY AT K1 SPEED
At 
K1 Speed's
 Nationwide locations, we can help you plan a boys', girls' or teen birthday party! A go kart party at one of our indoor karting centers is a fun, unique and exciting experience that is perfect for families and friends. Racing head-to-head against loved ones or good friends in our 20hp 
electric karts
 or our junior karts* is an adrenaline rush, and we can assure you that it is an experience that you and your children won't soon forget!
INFO:

 IT ONLY TAKES 8 RACERS TO BOOK AN EVENT AT K1 SPEED.
Height requirement for ADULT karts is 4ft 10in (58″). All JUNIOR racers must be a minimum of 4ft (48″) tall to race. No mixed JUNIOR and ADULT races.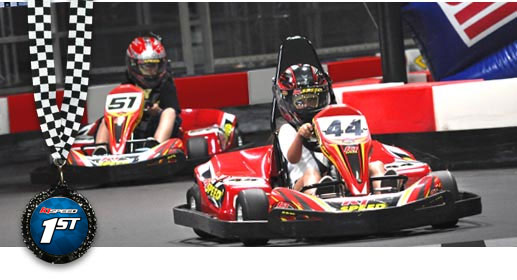 $

44

Per Person - $60 Value!

Junior Mini Grand Prix

12 Lap Qualifying Race
12 Lap Final Race
Includes medals for top 3 finishers, K1RS racing score sheet, podium photo, evite and t-shirt.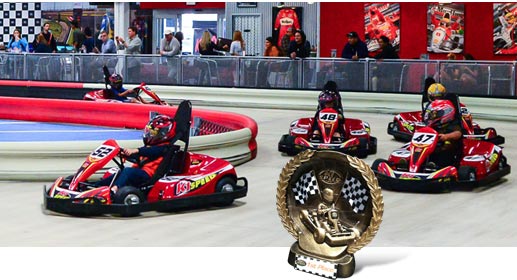 $

60

Per Person - $80 Value!

Junior Grand Prix

12 Lap Practice
12 Lap Qualifying Race
12 Lap Final Race
Includes trophies for top 3 finishers, K1RS racing score sheet, podium photo, evite and t-shirt.
If you are planning a boys', girls' or teen birthday party, we have centers in California, Washington, Florida, Arizona and Texas 
K1 Speed San Diego
 and 
K1 Speed Carlsbad
 in San Diego, 
K1 Speed Torrance
 in Los Angeles, 
K1 Speed Anaheim
 and 
K1 Speed Irvine
 in Orange County (OC), 
K1 Speed Ontario
 in the Inland Empire 
K1 Speed Santa Clara,
K1 Speed San Francisco
 and 
K1 Speed Sacramento
/ Northern California, 
K1 Speed Seattle / Redmond,
 in Washington State, 
K1 Speed Fort Lauderdale
 in Florida and 
K1 Speed Phoenix
 in Arizona and 
K1 Speed Austin
, 
K1 Speed Houston
, 
K1 Speed San Antonio
 and 
K1 Speed Dallas
 in Texas to meet our customers' needs, so please feel free to 
contact K1 Speed
 today to schedule a birthday reservation at your nearest indoor karting center! Racing on our indoor go kart tracks is a blast, and we are confident that you will not be disappointed – in fact, we think that you'll love it! Take a look at our packages below and see which one is right for your family.
*No Junior karts at K1 Speed Seattle
Q:
WHY BOOK A RACE PACKAGE?
A:
No waiting in line, exclusive track time with your group, a Grand Prix style race with qualifying and position race start, podium ceremony, podium photo and awards, no need to purchase a racing license – a $6 savings per person!
The entire facilities are available for private parties.  Call for Pricing.
1 (855) 517-7333
PLAN A GO KART PARTY IN ARIZONA, CALIFORNIA, COLORADO, FLORIDA, ILLINOIS, TEXAS OR WASHINGTON
Our electric karts are ideal for boys', girls' and teen birthday parties not only because they are great fun, but also because they have a variety of safety features to help prevent injury in the event of an accident. With a roll hoop, two-point safety belt that goes over both shoulders, full-frame bumpers and radio controlled speed settings, including automatic shut off, our karts help mitigate a lot of the risks that racers often face in motorsport. If you are interested in planning a boys', girls' or teen birthday party at one of our nationwide indoor karting centers, you can rest assured that we take every precaution to keep our customers safe!
Wow!!! I had some AWESOME comments about your facility. First, let me tell you how much I appreciate everything you and your staff did for our group. They had a BLAST! Everything was perfect and from the bottom of my heart, thank you! I wouldn't be surprised if you see Truckee High renting your facility in the future. Again, thank you for your professionalism and management of K1 Speed in Sacramento. All the best to you,
- Kelly H, Truckee High School Project Graduation Co-chair
Thank you K1Speed! I was concerned about your place being different from RPM especially since you you use electric cars. However, this was a much better experience. Your cars seem just as fast as the previous cars and our kids had a blast. They really didn't notice much of a difference. However, I LOVE that first, second and 3rd place gets a trophy. And just as nice each kid gets a t-shirt. But you way surpassed my expectations. I would highly recommend this place to all of my friends. I will definitely do this again next year and considering doing a party there for myself and husband.
- Lisa S.
I would like to Thank You so much for making Carly's 17th birthday party GREAT!!!! We were there last Wednesday, June 17th with 25 teenagers, and they all had a wonderful time. The facility is fabulous – lots of space to spread out, clean and well maintained, and the staff was so nice and very helpful and accommodating. Alice and Stewart could not have been nicer. They were great with the teens and kept things moving along at a comfortable pace. We Thank You Very Much for making this Carly's "best birthday ever"!!! We will definitely be back in the future. Sincerely,
- Karen W.
I'd like to express our thanks and gratitude to your staff for exemplifying the courtesy, deportment and professionalism expected of any business or organization. We arrived for a scheduled party for 7 children and were assisted with confirmation and courteous direction. There were minor glitches that were immediatley addressed and resolved. Your track safety staff were extremely helpful and answered the questions and concerns that some of our children had; assuring them that they would have a good time. Your track safety team displayed their skilled proficiency when the children either spun out or were too slow by taking precautions to ensure everyone was safe and back in sync. This experience left these children wide eyed, full of laughter and with happy chatter on the drive back to their parents. As a Police Officer and parent, there is nothing more gratifying then the contentment and safety of our children. In summary, when you merge these events, it architects itself into a great experience that was a direct result of a staff with an outstanding work ethic. I spoke with Matt and expressed our appreciation to a hands-on manager. Kudos to Matt Burgos and his staff. Cordially,
- Louis R.
To K1 Speed & Staff- The Hoyle Family just wanted to say "THANK YOU!" for such a great party for our son on 3/6/11! Everything was AWESOME! The kids had a wonderful time as well as the parents. We (& every parent who attended) were extremely impressed with the entire facility from the racing tracks, go carts, track safety staff, gaming area, private party room and entire party package. The staff all around was EXCELLENT, very hospitable, and very professional! Ryan as well as Candice did a great job of making sure we were attended to in every aspect. We will most definitely be back! It left all seven children in the party talking for days about how awesome their experience was and that alone is PRICELESS. Not to mention, our son has determined that this will be where he has his birthday every year icon smile Child Birthdays There is no doubt this is absolutely, by far the BEST PLACE EVER for any kind of party!!!!!!!!!!!!! Thank you again! Sincerely,
- The Hoyle Family