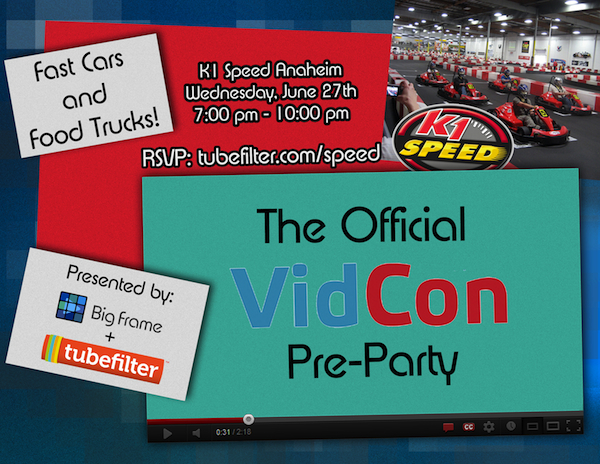 Come join us at the
Official Pre-Party for VidCon 2012
: Go Karts and Food Trucks at
K1 Speed
indoor kart racing in Anaheim!
Tubefilter and Big Frame are taking over the racetrack for the official VidCon kickoff party. Drop in, hang out, and race with some of the biggest names on YouTube!
RSVP here: tubefilter.com/speed
Enjoy discounted racing during the event! You won't want to miss out!
Official Pre-Party of VidCon 2012
Go Karts and Food Trucks
Hosted by Tubefilter and Big Frame
Wednesday, June 27, 2012
7:00 pm to 10:00 pm
K1 Speed – Anaheim
1000 North Edward Ct
Anaheim, CA 92806
We'll have food trucks, KogiBBQ, The Burnt Truck, Dogzilla and Archie's Ice Cream confirmed (updates to come) as well as other surprises. Here's a video from DeStorm Power to get you in the mood:
RSVP at tubefilter.com/speed before tickets run out!
VidCon Schedule:
Wednesday – Official VidCon Pre-Party at K1 Speed Anaheim
Thursday – Industry Day – June 28, 2012 (Held at the Anaheim Hilton)
Friday – VidCon Day 1 – June 29, 2012
Saturday – VidCon Day 2 – June 30, 2012
Sunday- Disney Day – July 1, 2012
[Find out more about VidCon 2012 and other online video industry events by signing up for Tubefilter Radar, a digest of all the events that you should be tracking.]
Join us Thursday, June 7th from 6pm-9pm for K1 Speed Austin's Grand Opening Celebration. Enjoy live entertainment and racing! Keep an eye out for Red Bull handing out FREE energy drinks! Local vendors in attendance: The Austin Grand Prix, Formula Expo, Fiat of Austin, Wahoo's Fish Taco and many more! Portion of the proceeds go to the LIVESTRONG Foundation.
K1 Speed Austin
2500 McHale Court Ste. C
Austin, TX 78758
Located in North Austin just south of THE DOMAIN off Burnet Rd and McHale Court.

Come celebrate this charitable day and help children who are in need across the U.S.
Donate $10 and receive a collectible NASCAR DAY Pin or wristband and one FREE Go-Kart Race!
LIVE broadcast from KDAY 93.5 FM with Brandi Garcia from 10am-3pm
NASCAR FOUNDATION – foundation.nascar.com
KDAY 93.5 FM – www.935kday.com

FREE ADMISSION
Saturday, May 19th
12pm – 7pm
AM830 Radio Live Broadcast hosted by Gordon "Lug Nutzz" Stewart!
Pre-Race Party with food, drinks and music in the LuxeLounge!
NASCAR Video Game Challenge on a 65-foot movie screen!
Live Broadcast of the NASCAR Sprint Cup All-Star Race on the UltraMaximum 65-foot screen, with crystal-clear digital projection!
REV IT UP WITH ALL-DAY ACTIVITIES!
- Authentic Stock Car Display and Photo Opportunities!
(NASCAR Street Tour, Rusty Wallace Racing Experience and Telemundo Racing)
- NASCAR Art Walk – proceeds benefit the NASCAR Foundation
- Contests and NASCAR prize giveaways!
- Music, food, drinks and fun for the entire family!