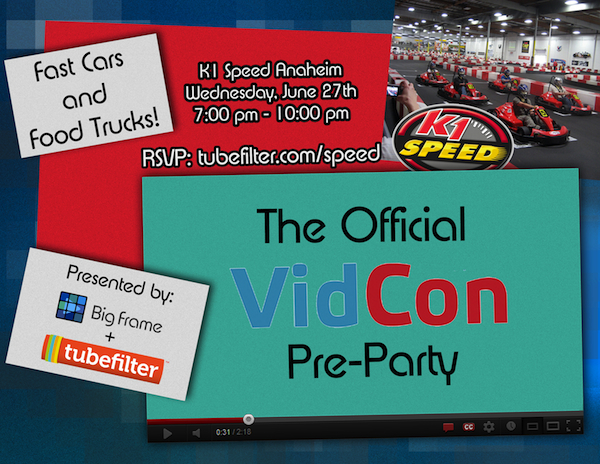 Come join us at the
Official Pre-Party for VidCon 2012
: Go Karts and Food Trucks at
K1 Speed
indoor kart racing in Anaheim!
Tubefilter and Big Frame are taking over the racetrack for the official VidCon kickoff party. Drop in, hang out, and race with some of the biggest names on YouTube!
RSVP here: tubefilter.com/speed
Enjoy discounted racing during the event! You won't want to miss out!
Official Pre-Party of VidCon 2012
Go Karts and Food Trucks
Hosted by Tubefilter and Big Frame
Wednesday, June 27, 2012
7:00 pm to 10:00 pm
K1 Speed – Anaheim
1000 North Edward Ct
Anaheim, CA 92806
We'll have food trucks, KogiBBQ, The Burnt Truck, Dogzilla and Archie's Ice Cream confirmed (updates to come) as well as other surprises. Here's a video from DeStorm Power to get you in the mood:
RSVP at tubefilter.com/speed before tickets run out!
VidCon Schedule:
Wednesday – Official VidCon Pre-Party at K1 Speed Anaheim
Thursday – Industry Day – June 28, 2012 (Held at the Anaheim Hilton)
Friday – VidCon Day 1 – June 29, 2012
Saturday – VidCon Day 2 – June 30, 2012
Sunday- Disney Day – July 1, 2012
[Find out more about VidCon 2012 and other online video industry events by signing up for Tubefilter Radar, a digest of all the events that you should be tracking.]
Join us Thursday, June 7th from 6pm-9pm for K1 Speed Austin's Grand Opening Celebration. Enjoy live entertainment and racing! Keep an eye out for Red Bull handing out FREE energy drinks! Local vendors in attendance: The Austin Grand Prix, Formula Expo, Fiat of Austin, Wahoo's Fish Taco and many more! Portion of the proceeds go to the LIVESTRONG Foundation.
K1 Speed Austin
2500 McHale Court Ste. C
Austin, TX 78758
Located in North Austin just south of THE DOMAIN off Burnet Rd and McHale Court.

The largest indoor karting company in the country – K1 Speed, Inc. – is opening its newest location in Houston, Texas.
Irvine, California (June 1, 2012) – With a dozen indoor karting centers currently in operation or under construction throughout the United States, K1 Speed is the largest indoor go-kart racing company in the country. With the opening of its newest center in Houston, Texas, the company is introducing the thrill and excitement of karting to a whole new audience. Founded in 2003, the company has built a reputation for thrills and excitement, and its newest center is sure to continue this tradition.
Indoor Karting – The K1 Speed Difference
K1 Speed represents a revolution in karting. Unlike the outdoor tracks that most people are accustomed to, K1 Speed's tracks are professionally designed and indoors, allowing for racing every day of the year in any weather. Rain or shine, during hot weather or cold, novice and veteran racing enthusiasts can experience the thrill of wheel-to-wheel racing at K1 Speed in comfort and safety.
The other distinguishing feature of K1 Speed is its karts. Most outdoor kart tracks have anemic, poorly maintained, gas-powered karts that are loud, noxious, and lethargic. K1 Speed utilizes zero-emission, all-electric European karts that can reach speeds approaching 45mph. With chassis designs mirroring those of world champion racing karts, these machines have superb handling, braking, and response. They can push you back in your seat under acceleration and the experience of racing them around the challenging tracks is a genuine thrill!
Racing Packages – Public and Private Racing Available
K1 Speed is open to the public 365 days a year. Houston residents will be able to satiate their adrenaline needs without a reservation or appointment by taking advantage of our Arrive & Drive race program. A 14-lap race against the clock with up to 11 other people, Arrive & Drive races are the most popular option, as they are affordable and accessible for racers of all skill levels.
If racing with a party of 8 or more people, you may be interested in taking advantage of the racing packages. With a variety of packages to choose from, including the popular Grand Prix challenge and the Le Mans Endurance event, you're sure to find a package that suits your needs. These race packages, which feature qualifying sessions, wheel-to-wheel racing, and podium ceremonies for the winners, are perfect for birthday parties, bachelor parties, team building exercises, and corporate events.
Indoor Karting Centers
K1 Speed aims to create world-class entertainment venues, not simply indoor go kart tracks. The centers feature museum-quality collections of racing memorabilia, artwork, and real racecars, and the lounges are adorned with plasma screen televisions, leather couches, and a Pit Café snack bar. We want you to have as much fun off of the track as you do on the track. So come in and enjoy K1 Speed's newest center, opening in the heart of Houston!
K1 Speed Houston
14900 NW Freeway
Houston, TX 77040

At K1 Speed, we've found that once people try our electric karts and experience the thrills of indoor karting at our Nationwide locations, they are hooked. Our tracks are open to the general public 7 days a week and we stay open until 11PM on Friday and Saturday to accommodate late-night racers! We invite you to drop in to race against the clock or against a friend. Each Arrive and Drive session lasts for roughly 10 minutes and may include as many as 12 drivers. Racing helmets, head socks, and instruction for first time racers is provided, and our staff oversees every race to ensure individuals are driving safely and obeying the rules.
The K1 Speed app keeps you up to date and in-touch with everything K1 Speed.
Features:
- Check the K1 Speed Leaderboard
- Access the latest Racing videos
- Tour your favorite K1 Speed Center
- Shop the K1 Speed Store
- Connect with K1 via Social Media
- Learn more about K1 Speed
- Hours of Operation & Pricing
- Rules & FAQ
- Party Reservations
- Contact Info and More
CLICK HERE to visit the iTunes App Store and download the K1 Speed App