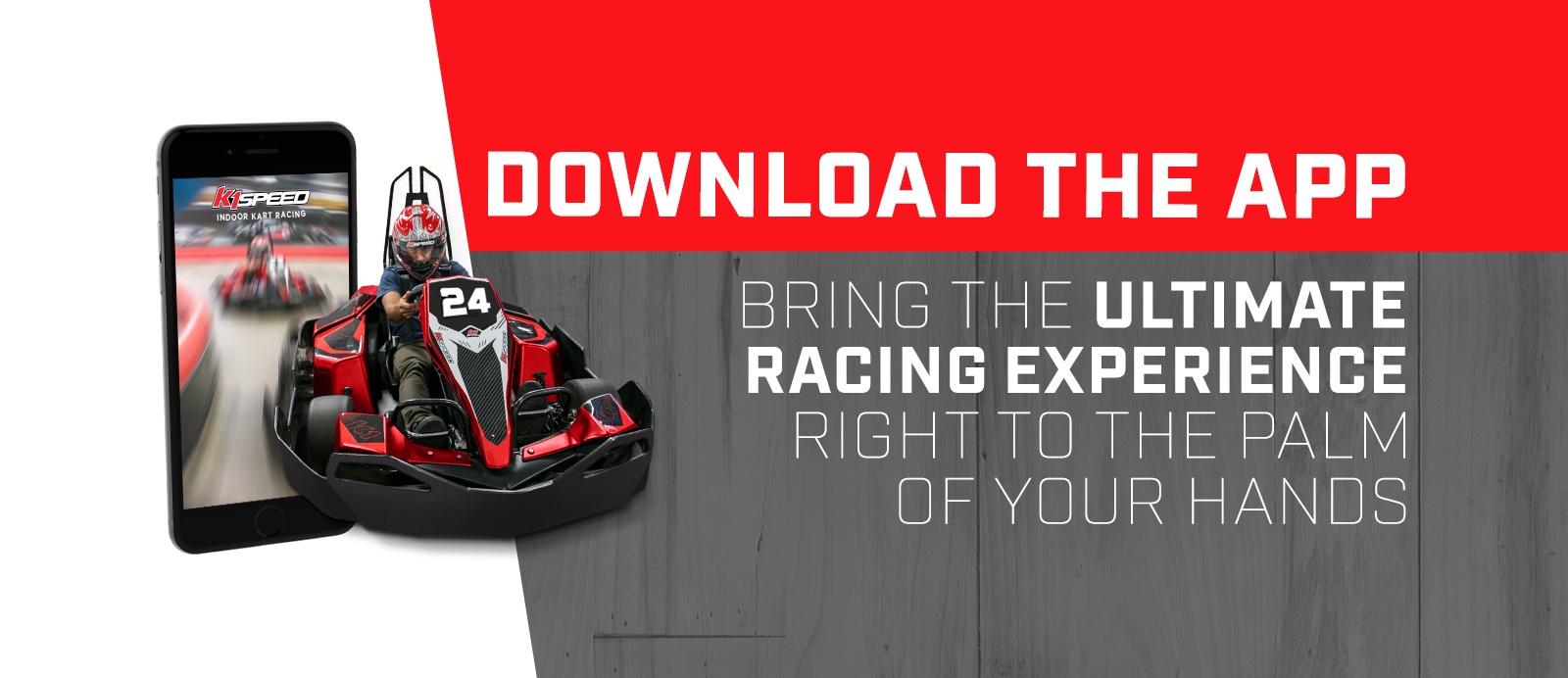 Every lap, every race, and every
win, we have it stored and now
you can check your performance
right on your phone.
Challenge your friends to prove who
is the best racer. Win Fastest Lap,
Fastest Average Lap Speed, and
Most Laps Led to take the
checkered flag
Every aspect of the app gives you
a chance to earn rewards you can
put towards free races and
K1 Speed merchandise
K1 RACING GAME
Learn the track for each location.
Test your speed against time.
Get a feel of the K1 Speed racing experience.
Challenge your friends and take the K1 Speed racing experience with you.
KARTING ACADEMY
Let our experts brief you on how to have the best racing experience while maintaining safety. You'll be amazed with just a few short minutes will teach you how you can improve your speed.
If karting is your passion, then visit our K1 Speed Karting Academy, or download the book, "The Perfect Lap".
PHOTO BOOTH
Take fun interactive photos on cool racing backgrounds.
Automatically replace the background with custom themes in the racing world and extreme sports.
Put yourself and your friends on the coolest places on earth where racing and fun happens.
Unlock your camera roll for even more backgrounds.
INTERACTIVE RACE PHOTO
Enjoy a souvenir of you racing on track.
Download high resolution image.
Send it to our printer.
Share your racing fun with your friends on social media.
RACING SCORES
Get instant results after your race.
Purchase another race and beat the registration lines.
Get LIVE scoreboard to not miss the action.
ABOUT K1 SPEED
Update your account.
Create your racing profile and upload your photo.
Check your K1RS points.
And more…
REDEEM POINTS AT THE REGISTRATION DESK
FREE RACE

–

1000 POINTS

K1 HAT

–

750 POINTS

K1 FLASHLIGHT

–

300 POINTS

K1 T-SHIRT

–

1000 POINTS

K1 BALLPOINT PEN

–

450 POINTS

K1 SWEATSHIRT

–

1500 POINTS

K1 LICENSE FRAME

–

500 POINTS

K1 BACKPACK

–

2500 POINTS

 K1 NECK BRACE –

2500 POINTS

K1 RACING JACKET - 

3500 POINTS

K1 CHRONO WATCH –

5000 POINTS

K1 GEAR BAG - 

7500 POINTS
* Points, Values and prizes are subject to change at any time in accordance to our K1 Kash Terms and Conditions.