Corporate Events
Birthday Parties
Arrive & Drive

Fun for the
Whole Family!

BOOK NOW
WE MAKE IT EASY TO PLAN
YOUR PARTY AND CELEBRATE
WITH FRIENDS!
Birthday Fun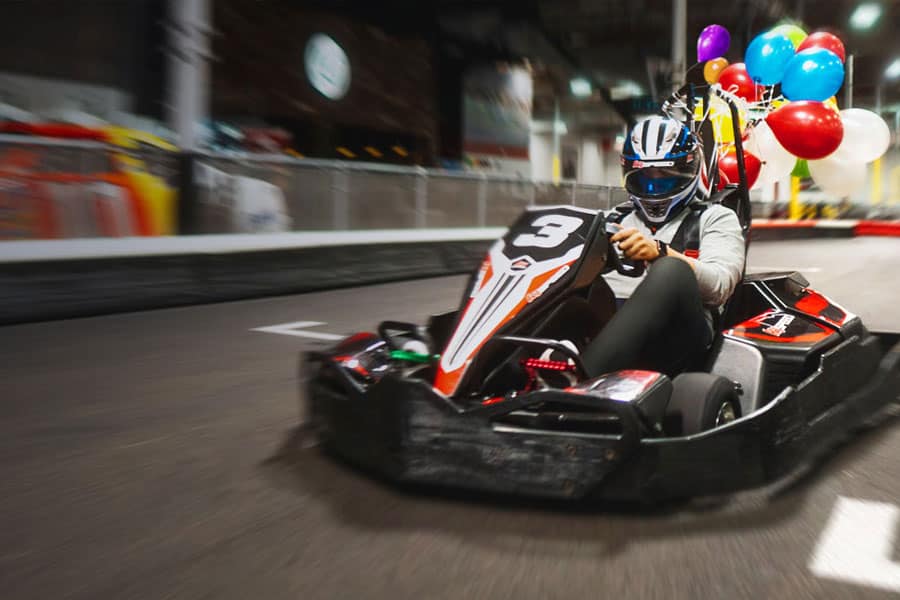 BOOK NOW
WE MAKE IT EASY TO PLAN
YOUR PARTY AND CELEBRATE
WITH FRIENDS!
Birthday
Fun!

NOW ACCEPTING PRIVATE GROUP RESERVATIONS
The Best Indoor Go Kart Racing in Orlando!
With the best indoor go kart racing in Orlando, K1 Speed is the place for thrills and excitement! Open to the public every day of the year, there is no better place to experience wheel-to-wheel racing. After all, our center is safe, convenient and affordable. And that's not all!
Our Orlando indoor karting center is a great place to host a birthday party, special occasion or corporate event. We have designed our indoor go-kart track with the needs of the public in mind, and you will find they have far more to offer than you might expect! In addition to our professionally designed track, we also have 50+ arcade games, a prize redemption area, bowling alley, a restaurant and bar, plus lots of authentic racing memorabilia on display.
At K1 Speed Orlando, we have your needs met! Call today if you have any questions; otherwise, come on in. No reservations are required!
The Fastest Go Karts in Orlando
We may be biased, but we believe that our indoor go kart center offers the best racing in Orlando. But don't take our word for it – come in and see for yourself! If you've never been to a K1 Speed center before, you're in for a treat. A day at K1 Speed will redefine what you come to expect out of a go kart track.
All-electric Karts
If you're accustomed to the lawn mower-powered go karts at your local amusement park, we think you'll be quite impressed with the performance of our all-electric go karts. Designed in Europe, the heart of go-kart racing, these machines are designed with the enthusiast in mind, and are true performance machines. Capable of 45mph, they can push you back in your seat under acceleration – try that in traditional 5hp kart!
Beat The Heat With Our Indoor Kart Track!
The last thing you want to do on a hot summer day in Orlando is go to an outdoor go kart track. Before your first heat even starts, you'll already be feeling it! Our indoor track makes it possible to race year-round, rain or shine, hot or cold. And if there are two things that Orlando is known for, it's rain and heat! Believe us when we say that once you race at our indoor karting center, you'll never see karting the same way!
Arrive and Drive Go Kart Racing
Indoor karting at K1 Speed Orlando is something that nearly everyone can enjoy.* All you have to do to take part is show up – there are no reservations required, and we provide everything you need, from helmets to instruction. It's that easy!
Once you arrive, you can sign up for one of our popular Arrive & Drive races. With a dozen other competitors on the track vying for the same piece of tarmac, all of whom are trying to set the fastest lap possible, the racing can get intense! You won't be disappointed! In fact, don't be surprised if you find it to be a bit addicting!
Special Events and Corporate Packages
You will find that K1 Speed Orlando is much more than an indoor karting location – it's a world-class entertainment venue. In addition to go-kart racing, our location can also host a wide variety of special events, including:
K1 Speed Orlando has a number of private room rentals available to host special events, corporate functions and private parties, and catering can be arranged as well. Whatever your party needs may be, we would be happy to arrange them – just get in touch today to book your reservation.
Don't wait another minute! Experience indoor go-kart racing at K1 Speed Orlando today – we are located near Hunters Creek, in driving distance of The Florida Mall SeaWorld Orlando, Walt Disney World Resort, Universal Studios , Crayola Experience, Orlando International Airport, and all Central Florida.
Best place not crowded at all.

La mejor experiencia para los visitantes en Orlando. Recomendado. 👍🏻

Roberto Elías Cardenas Y.
16:03 04 Jun 23
Awesome place, great track.

Fun go carts, kids loved it

It was fun, but a very short ride a little overpriced. You have to pay an extra $8 dollars. for membership 🙄 for that one time.

Josh and his team made it a great time! We will be back!

Nona Adventure P.
19:34 23 May 23
Super fun place to race! Good food.


Amazing as always. Had a BLAST.

Been a group of 12 Drivers 6 Adults and 6 young They add two Drivers instead of give us a better experience with out the extra divers, and the race ends as soon the fastest racer 12 race laps , the lowest players get stopped with 7 or 8 laps, The facilities and the quality of the go-karts is very good, a recommended activity

GERARDO N.
16:51 18 May 23
Staff is amazing and very pleasant. We went back 2 days in a row because it was so fun! A little bit of everything fun in one place!!

A lot of fun. Accommodating when we couldn't finish our racing. Ty. We were sad we. Couldn't do the Slingshot. It was our main reason for coming. But had fun.

Renee's L.
11:19 12 May 23
Orlando Newsletter Sign Up
Be the first to know about special events and promotions.