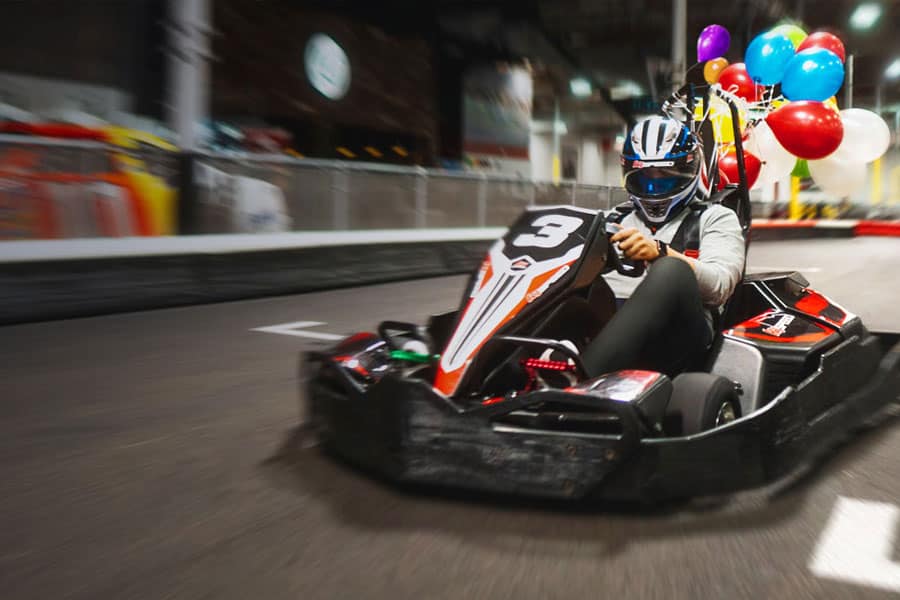 BOOK NOW
WE MAKE IT EASY TO PLAN
YOUR PARTY AND CELEBRATE
WITH FRIENDS!
Birthday
Fun!

NOW ACCEPTING PRIVATE GROUP RESERVATIONS
The Best Indoor Go Kart Racing in Orlando!
With the best indoor go kart racing in Orlando, K1 Speed is the place for thrills and excitement! Open to the public every day of the year, there is no better place to experience wheel-to-wheel racing. After all, our center is safe, convenient and affordable. And that's not all!
Our Orlando indoor karting center is a great place to host a birthday party, special occasion or corporate event. We have designed our indoor go-kart track with the needs of the public in mind, and you will find they have far more to offer than you might expect! In addition to our professionally designed track, we also have 50+ arcade games, a prize redemption area, bowling alley, a restaurant and bar, plus lots of authentic racing memorabilia on display.
At K1 Speed Orlando, we have your needs met! Call today if you have any questions; otherwise, come on in. No reservations are required!
The Fastest Go Karts in Orlando
We may be biased, but we believe that our indoor go kart center offers the best racing in Orlando. But don't take our word for it – come in and see for yourself! If you've never been to a K1 Speed center before, you're in for a treat. A day at K1 Speed will redefine what you come to expect out of a go kart track.
All-electric Karts
If you're accustomed to the lawn mower-powered go karts at your local amusement park, we think you'll be quite impressed with the performance of our all-electric go karts. Designed in Europe, the heart of go-kart racing, these machines are designed with the enthusiast in mind, and are true performance machines. Capable of 45mph, they can push you back in your seat under acceleration – try that in traditional 5hp kart!
Beat The Heat With Our Indoor Kart Track!
The last thing you want to do on a hot summer day in Orlando is go to an outdoor go kart track. Before your first heat even starts, you'll already be feeling it! Our indoor track makes it possible to race year-round, rain or shine, hot or cold. And if there are two things that Orlando is known for, it's rain and heat! Believe us when we say that once you race at our indoor karting center, you'll never see karting the same way!
Arrive and Drive Go Kart Racing
Indoor karting at K1 Speed Orlando is something that nearly everyone can enjoy.* All you have to do to take part is show up – there are no reservations required, and we provide everything you need, from helmets to instruction. It's that easy!
Once you arrive, you can sign up for one of our popular Arrive & Drive races. With a dozen other competitors on the track vying for the same piece of tarmac, all of whom are trying to set the fastest lap possible, the racing can get intense! You won't be disappointed! In fact, don't be surprised if you find it to be a bit addicting!
Special Events and Corporate Packages
You will find that K1 Speed Orlando is much more than an indoor karting location – it's a world-class entertainment venue. In addition to go-kart racing, our location can also host a wide variety of special events, including:
K1 Speed Orlando has a number of private room rentals available to host special events, corporate functions and private parties, and catering can be arranged as well. Whatever your party needs may be, we would be happy to arrange them – just get in touch today to book your reservation.
Don't wait another minute! Experience indoor go-kart racing at K1 Speed Orlando today – we are located near Hunters Creek, in driving distance of The Florida Mall SeaWorld Orlando, Walt Disney World Resort, Universal Studios , Crayola Experience, Orlando International Airport, and all Central Florida.
first time in electrics. malik great. other employees good, but could use a personality class

I had a great time racing other people. So much fun and at some point I will do it again when I move over to Orlando Florida.

Our party of 14 had a fantastic time at K1Speed Orlando. We did the three race package (3 races of 12-15 laps) and spent about 2 hours total there across the prep and races. 12 can race max at one time, so we swapped out a few racers between race 1 & 2.The staff was extremely friendly from check-in to finish. The facility was very clean. Helmets and face masks where very clean and came in all sizes to fit our party. During your break between races, K1Speed does put out other racers to compete. This allows the karts to be re-charged as needed. So the races are not one after another, you get 15 minutes or so between races.Karts where in excellent shape, fast and well handling for the course. Course was clean and challenging enough for our party. Only issue we had was during the championship race our lead driver broke his chain after lap 2 and was not able to finish.Even had a chance to meet "Flash" a young racer who holds the local track records. Overall we had a blast, would come back here again as a small or large group.

Had a great time. Staff keep the races moving fast

had a blast with the family

Awesome!! Really well done experience all around. Corporate Team Building event. Staff are great. Racing is a LOT of fun. Conference room was spacious. Good Bar with view of track and good food menu. Prices were also very reaonable.

Place is awesome. Carts are fast. And they have a nice bar to grab a drink after you race. Go with a group though. It was only myself and a coworker for the first race and that was a little boring.

Boys night! Everyone had a great time.

Loved it! Would return for that great experience,

Wow, my first time on those kinds of karts....Really fast and FUN. I just wished it lasted longer. I will definitely be back... Oh, and what a game room...Holy cow....Lots of fun.

Es muibueno y me gusto mucho

Exciting, fast snd extreme fun. Hold on to your hat!!

Orlando Newsletter Sign Up
Be the first to know about special events and promotions.