2016 K1 Speed/BWR Engines/SSi Decals Roster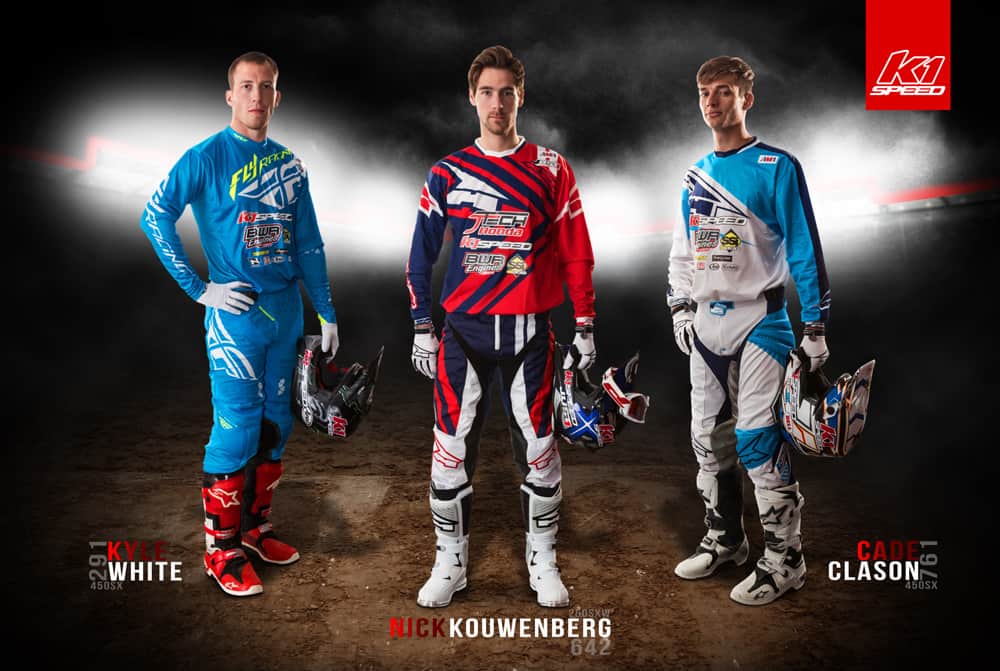 Freeport, IL –­ Team K1 Speed / BWR Engines / SSi Decals announces two new riders to compete in the 2016 AMA Supercross Series aboard K1 Speed / BWR Engines / SSi Decals, Hondas. The 2015 European Motocross & Supercross Lites Champion #644 of Nick Kouwenberg will be riding the 250 West Coast events; joining the #761 of Cade Clason and returning rider of the #291 Kyle White riding the 450 class for all 17 rounds. After a strong inaugural supercross season in 2015, the Team K1 Speed / BWR Engines / SSi Decals team has high expectations for 2016 with the addition of Kouwenberg and Clason.
Brian White – Team Operator and Owner of BWR Engines
"Being a former Arenacross operation and West Coast AX Lites Championship winning organization, we have a great foundation and know how to win. We were incredibly thrilled with how 2015 supercross season was executed and the results that we achieved as a first year program.  However, we are in a great position for the 2016 Supercross season by adding an incredible talent in Nick Kouwenberg atop one of our 250SX machines. In addition to that, we added Cade Clason to our 450SX program alongside Kyle White. We have K1 Speed returning as a partner for 2016 and they have been incredible to work with; they really believe in the sport and the program that we have put together with them. The team's offseason prep has been  incredible and we are really hitting stride with all of our riders. We all can't wait for the season to get going here shortly."
Randall Hoppe – K1 Speed Advertising and Brand Marketing Manager
"Everyone at K1 Speed has been incredibly thrilled by the partnership that we have built with Brian and the entire team…Not to mention, everyone from BWR Engines, SSi Decals, Race-Tech, and all the great partners that help the team operate. We are huge fans and believe wholeheartedly in the sport; which is why we understand the importance of being involved in it. Motocross/Supercross has a large fan base and it continues to prove to be a viable avenue for us to expose our brand and show our support for the sport that we all love so much."
Complete List of Team Riders
West Coast:
Kyle White #291  – 450SX
Cade Clason #761 – 450SX
Nick Kouwenberg #644 – 250SX
Complete Team Sponsor List
K1 Speed, BWR Engines, SSi Decals, Race-Tech Suspension, Freeport Honda Kawasaki, Rekluse Motorsports, Performance Electronics, Bel-Ray, TuBliss, Works Connection, No-Toil, Evans Waterless Coolant, MotoSeat, Yoshimura, RK-­Excel, Dunlop.
Contact