Corporate Events
Birthday Parties
Arrive & Drive

Fun for the
Whole Family!

BOOK NOW
WE MAKE IT EASY TO PLAN
YOUR PARTY AND CELEBRATE
WITH FRIENDS!
Birthday Fun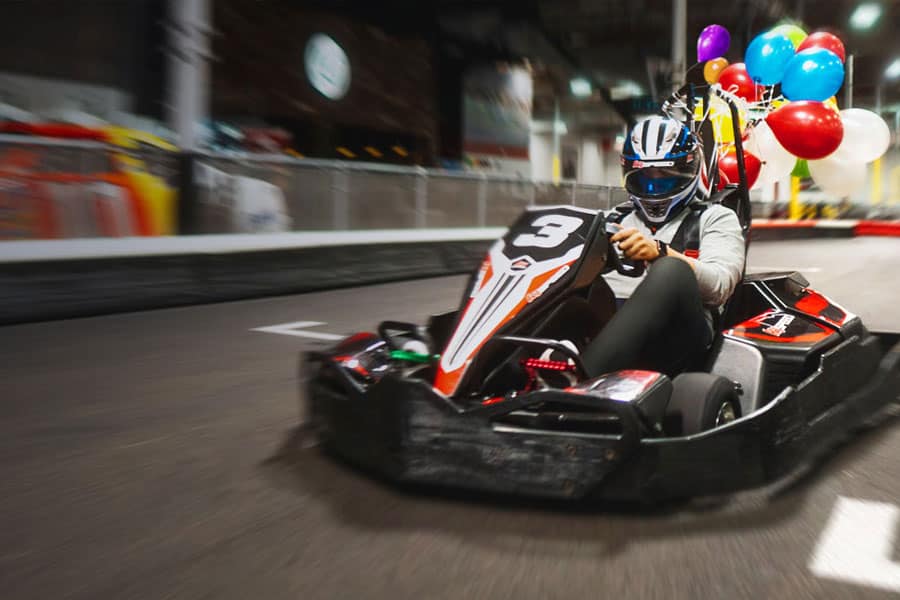 BOOK NOW
WE MAKE IT EASY TO PLAN
YOUR PARTY AND CELEBRATE
WITH FRIENDS!
Birthday
Fun!

NOW ACCEPTING PRIVATE GROUP RESERVATIONS
The Best Indoor Go-Kart Racing in Greater Boston!
If you're visiting Boston, take a break from visiting historic U.S. sites, and come in for some revolutionary go-karting in the New England area! Our K1 Speed Boston location is located in Wilmington in the Greater Boston Area, and is located near the neighborhoods of Reading, Wakefield, Stoneham, Burlington and Woburn. At K1 Speed, Boston, we have not just one, but two tracks for you to master! Our two meeting rooms are capable of hosting between 40-70 people, and are perfect for company functions, corporate events, or special occasions. While not racing, enjoy our video games and air hockey table, or refuel at our Pit Stop Café which offers an assortment of snacks and refreshments. Our authentic racing memorabilia on display through the facility adds an almost museum-like experience to your day. So, whether you're planning a birthday party for your child, corporate event, or needing a new destination for a team building exercise in the Boston area, look no further than K1 Speed, Boston!
The Best Karting in New England
K1 Speed is America's largest karting company because we strive for excellence in everything that we do. We are committed to providing a genuine and thrilling racing experience that will satisfy the novice and professional alike. We assure you that once you get a taste of the K1 experience, you'll be hooked.
But what makes indoor go-kart racing at K1 so special? Find out for yourself! We encourage you to explore all that K1 Speed Boston has to offer.
Unlike most go-kart tracks, which use lawn mower-powered machines, our karts are fully electric. This not only makes for a unique driving experience, but also allows K1 Speed to lower its environmental footprint and provide our customers with a clean and inviting atmosphere (literally and figuratively). If you've never driven an electric kart before, you're in for a treat. We promise, you won't be disappointed with the performance! In fact, with maximum torque available from zero RPM, our karts shoot out of corners like rockets!
K1 Speed Boston, like every K1 Speed location, features indoor go-kart racing. Though in Southern California, where K1 Speed was founded, such a precaution may not be strictly necessary, in New England, the benefits are self-evident! With our indoor race tracks, we are able to offer racing year-round, regardless of whether it's raining, snowing, or even hailing! If you feel the need for speed, we're here to satisfy that urge! But our locations are much more than simple go-kart tracks. Upon walking through our doors, you'll find a spacious lobby, leather couches, extensive collection of authentic racing memorabilia, and a snack bar.
Our most popular option with racers, our Arrive & Drive package, allows individuals to come in any day of the week, any time of day, and sign up for a race – no reservation necessary. However, we can accommodate large groups looking to book a private event as well. If you have a party of eight or more people, we can help you plan a kid's birthday party, teen's birthday party, adult birthday, bachelor party, corporate function, or team building event. Whichever it is, we have a package that suits your needs! We even have private meeting rooms available should you want someplace to relax during your heats. To book a race package for your event, contact K1 Speed today.
For a thrilling experience that you won't soon forget, head out to K1 Speed Boston today for indoor go-kart racing! Located in Wilmington, MA, our location is a short drive from Burlington Mall,  Faneuil Hall Marketplace  or pretty much everywhere in the greater Boston metropolitan area. Once you hit the track and race at speeds approaching 45mph in near silence, you'll be a believer!
Came here for my son's 8th birthday surprise. Everyone from the front desk, the manager, and especially Rick the track host went the extra mile to make our visit special. Really appreciated it. Thanks for a great day!

Company outing. "Team building" which was an excuse to have fun. And it was so much fun with great staff. I didn't give 5 stars because the cars do need a bit of maintenance and the computer system failed. No big deal.

Benjamin L.
02:08 29 Sep 22
I've taken my 8yo son here a couple times and he really enjoys the karts. Each time the staff was friendly and offered a lot of encouragement.

Hi, it was a lot of fun. The course is intense and nerve racking. The people who were helping us were professionals. Thanks for a great time.

Wallace T.
20:10 26 Sep 22
My grandson and nephew loved it and your wonderful staff. Rich and Jerry were fantastic and so helpful. They were right on target with rules and safety.

Deborah K.
22:17 25 Sep 22
Smaller than what I expected race track. I didn't play on the track due to a party and the wait was up to 2 hours. You can't reserve anything so have someone be there ahead of time. Some arcade games there that are fun. Staff were really nice but it was just the wait time or me or at least be able to reserve a time slot. I left because it was late but will try to go again soon.

Lots of fun , and good crew

This place is amazing! Fun atmosphere and the staff is wicked friendly.

Pretty sick place. Show up a bit early to register. Staff is very friendly

great time overall, some negative moments (generally the fault of inexperienced/asinine drivers). carts cut out a couple times (once to me in my second race and twice to someone else in my third) but staff was helpful about getting that fixed as promptly as can really be expected. pricing was fairly reasonable (at least to myknowledge, this was my first "real" go karting experience and 64.95 for three races seems pretty fair for the experience we received). looking forward to coming back and improving my racing!

One hell of a time!!!! Carts are crazy fast and the employees were super!!!

Fun karts and we got 4 races in pretty quickly after walking in. The only downside is that when using the arrive and drive model, you sometimes get a wide variation of skill in your races. Some drivers can be much slower than the top guys making racing for top times a little challenging.

Boston Newsletter Sign Up
Be the first to know about special events and promotions.