Corporate Events
Birthday Parties
Arrive & Drive

Fun for the
Whole Family!

BOOK NOW
WE MAKE IT EASY TO PLAN
YOUR PARTY AND CELEBRATE
WITH FRIENDS!
Birthday Fun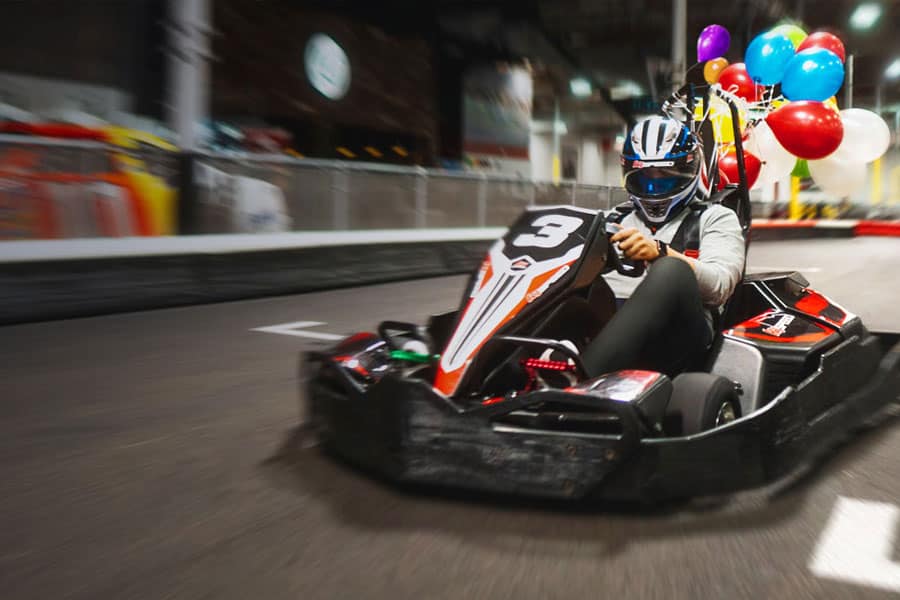 BOOK NOW
WE MAKE IT EASY TO PLAN
YOUR PARTY AND CELEBRATE
WITH FRIENDS!
Birthday
Fun!

NOW ACCEPTING PRIVATE GROUP RESERVATIONS
  Open for Fun Since 2015
  Adult and Junior Electric Karts
  Pit Café Serving Snacks & Drinks
  Nightclub-Style Lighting
The Best Indoor Go-Kart Racing in Greater Boston!
If you're visiting Boston, take a break from visiting historic U.S. sites, and come in for some revolutionary go-karting in the New England area! Our K1 Speed Boston location is located in Wilmington in the Greater Boston Area, and is located near the neighborhoods of Reading, Wakefield, Stoneham, Burlington and Woburn. At K1 Speed, Boston, we have not just one, but two tracks for you to master! Our two meeting rooms are capable of hosting between 40-70 people, and are perfect for company functions, corporate events, or special occasions. While not racing, enjoy our video games and air hockey table, or refuel at our Pit Stop Café which offers an assortment of snacks and refreshments. Our authentic racing memorabilia on display through the facility adds an almost museum-like experience to your day. So, whether you're planning a birthday party for your child, corporate event, or needing a new destination for a team building exercise in the Boston area, look no further than K1 Speed, Boston!
The Best Karting in New England
K1 Speed is America's largest karting company because we strive for excellence in everything that we do. We are committed to providing a genuine and thrilling racing experience that will satisfy the novice and professional alike. We assure you that once you get a taste of the K1 experience, you'll be hooked.
But what makes indoor go-kart racing at K1 so special? Find out for yourself! We encourage you to explore all that K1 Speed Boston has to offer.
Unlike most go-kart tracks, which use lawn mower-powered machines, our karts are fully electric. This not only makes for a unique driving experience, but also allows K1 Speed to lower its environmental footprint and provide our customers with a clean and inviting atmosphere (literally and figuratively). If you've never driven an electric kart before, you're in for a treat. We promise, you won't be disappointed with the performance! In fact, with maximum torque available from zero RPM, our karts shoot out of corners like rockets!
K1 Speed Boston, like every K1 Speed location, features indoor go-kart racing. Though in Southern California, where K1 Speed was founded, such a precaution may not be strictly necessary, in New England, the benefits are self-evident! With our indoor race tracks, we are able to offer racing year-round, regardless of whether it's raining, snowing, or even hailing! If you feel the need for speed, we're here to satisfy that urge! But our locations are much more than simple go-kart tracks. Upon walking through our doors, you'll find a spacious lobby, leather couches, extensive collection of authentic racing memorabilia, and a snack bar.
Our most popular option with racers, our Arrive & Drive package, allows individuals to come in any day of the week, any time of day, and sign up for a race – no reservation necessary. However, we can accommodate large groups looking to book a private event as well. If you have a party of eight or more people, we can help you plan a kid's birthday party, teen's birthday party, adult birthday, bachelor party, corporate function, or team building event. Whichever it is, we have a package that suits your needs! We even have private meeting rooms available should you want someplace to relax during your heats. To book a race package for your event, contact K1 Speed today.
For a thrilling experience that you won't soon forget, head out to K1 Speed Boston today for indoor go-kart racing! Located in Wilmington, MA, our location is a short drive from Burlington Mall,  Faneuil Hall Marketplace  or pretty much everywhere in the greater Boston metropolitan area. Once you hit the track and race at speeds approaching 45mph in near silence, you'll be a believer!
My son had a blast here for his 10th birthday party. All of his friends were also excited. The racing was a unique experience for them, plus I felt confident that the staff prioritized safety. The activities in the arcade area kept them happy and entertained. It was a nice bonus that the party room had a big TV and then tuned into a game while they ate pizza. A successful party all around.

Rosalyn N.
19:41 14 Sep 21
Lots of fun! Kids an myself loved it!

William G.
17:57 10 Sep 21
My kids had so much fun! The staff were shorthanded but remained courteous and professional! Keep up the good work!

La verdad el sitio esta muy limpio y lo mantienen desinfectado. El sitio es muy bueno hay un poco de fila y los precios son elevados pero lo recomiendo.

Tall people beware. If you are 6ft+ you will be driving with your knees bend up quite a bit. Overall its a great place for groups and small events. My group had a great time being competitive and just releasing the stress on the track.

Cars are fast and track is challenging.

Richard C.
17:32 19 Aug 21
Karting is great fun! But we were there for more than three hrs to complete our group three races. I think that could be better organized, at some point we waited over an hr between races as they let other groups race between us. Also at some it looks like there was just one guy running everything so it looks like they're still understaffed.

Ricardo V.
14:12 18 Aug 21
I had an awesome experience, went with a friend and gotten the drifting race and a normal race, it was harder than I thought.Staff was very professional and helpful.Cars are fast and can be slippery at times.No food available at this time( maybe because of covid).Be aware that you cannot record the race on your own device.

Joseph Bou S.
05:55 17 Aug 21
Fun. Staff was awesome!!!!

This was my first experience with electric karts and I have to say I was impressed. I am used to the gas powered ones from the other well known karting facility in Braintree, so I was skeptical that the electric ones would live up to my expectations. I have to say I was pleasantly surprised. The courses at K1 are definitely a little small for my liking, but overall the experience was awesome. I will definitely be going back and brining friends!

I had my daughters 9th Birthday party at the Wilmington MA location. The staff was AWESOME! They were so accommodating to all my requests. The kids attending the party had never been on go karts before . Some were very scared at the beginning of the race . The guys in charge were the BEST they did such a good job keeping them calm . (And reassuring the parents) They know what they are doing ! The party was a BLAST !! I love how they let my party do our thing never rushed us. Thank you Wilmington MA K1 Speed you made Saturday July 24th 2021 the best day ever!

Kirsten R.
21:12 28 Jul 21
Great place to bring the family for a little competitive fun.

Michael B.
01:28 28 Jul 21
Boston Newsletter Sign Up
Be the first to know about special events and promotions.