Corporate Events
Birthday Parties
Arrive & Drive

Fun for the
Whole Family!

BOOK NOW
WE MAKE IT EASY TO PLAN
YOUR PARTY AND CELEBRATE
WITH FRIENDS!
Birthday Fun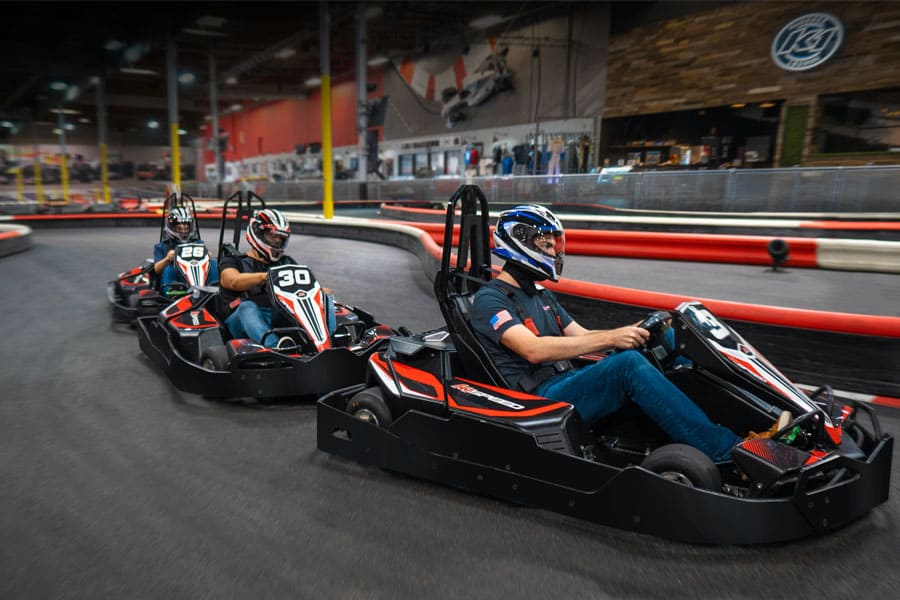 Corporate Events
Birthday Parties
Arrive & Drive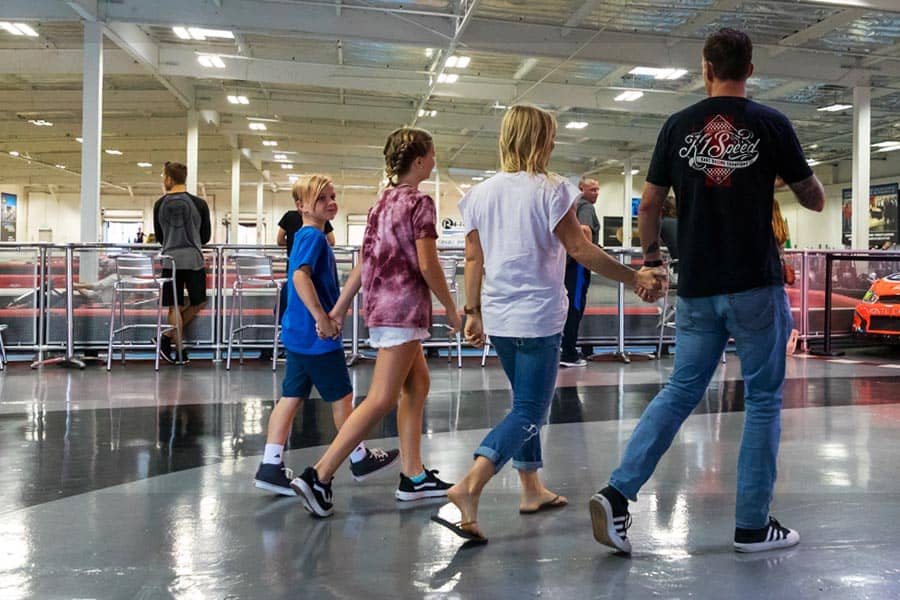 Fun for the
Whole Family!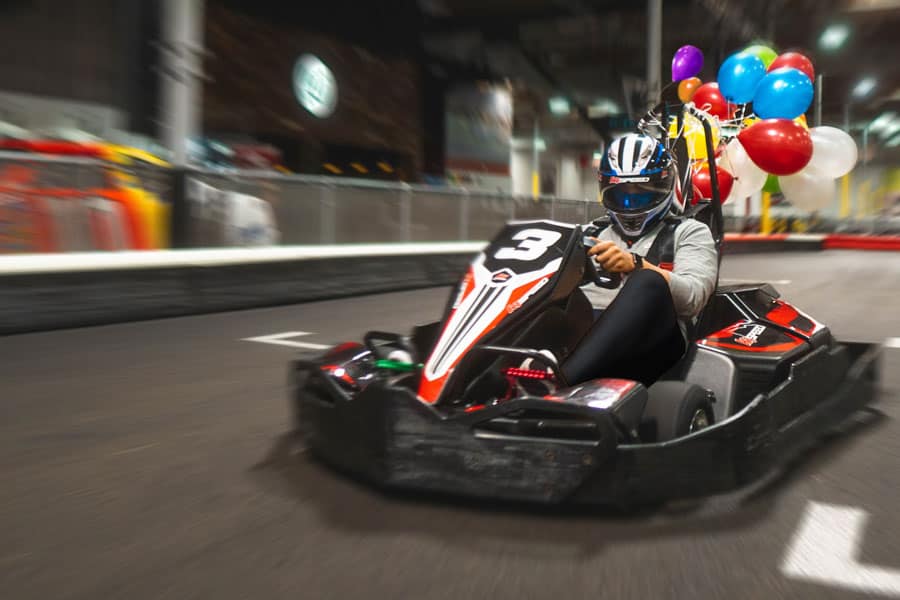 BOOK NOW
WE MAKE IT EASY
TO PLAN YOUR PARTY
AND CELEBRATE
WITH FRIENDS!
Birthday Fun

NOW ACCEPTING PRVATE GROUP RESERVATIONS
Indoor Go Kart Racing Chicago – Addison
If you live in the greater Chicago metropolitan area, Looking for things to do tonight with Friends and Family and you have not one K1 Speed location to choose from but two! In addition to our Buffalo Grove location, we also have an indoor go-kart racing location in Addison to meet your needs. Our K1 Speed Chicago locations are world-class entertainment venues that are designed to keep you entertained and engaged, whether you're on or off the track. If you want to experience indoor karting yourself, are interested in hosting a fun and memorable party for a friend or loved one, or would like to plan a unique corporate function, we can help.
K1 Speed Addison is a fun thing to do near Glendale Heights, Bloomingdale, Lombard, Wheaton, Woodfield Mall, Eaglewood Resorts, and Chicago O'Hare airport.
Indoor Go Kart Racing – The K1 Speed Difference
So what makes K1 Speed unique? Well, where do we start?! First off, every one of our locations, located throughout the United States from Southern California to Southern Florida, is entirely self-contained. Our indoor go-kart racing locations, including our Addison location in Chicago, allows individuals to race every day of the year, regardless of weather. Rain, snow, sleet, or blistering heat, driving enthusiasts can come to K1 Speed, escape the weather, and start racing!
The other difference that sets K1 Speed apart from the competition, and the feature that we have grown and built our reputation on, is our use of 100-percent, all-electric karts. Forget about the lawn mower-powered go-karts of your youth. Our European-style electric karts are high-performance machines, producing tremendous torque and horsepower from advanced electric motors. These zero-emission karts outperform their gas-powered counterparts while being better for the environment, quieter, and arguably, easier to drive. With our karts, you don't have to worry about stalling the engine or dropping out of the power band in a tight corner – our electric motors produce maximum torque at all speeds! Race wheel-to-wheel at speeds approaching 45 mph on an indoor track!
Birthdays, Bachelor Parties, Company Events & More
We offer far more than just our Arrive and Drive racing package. Regardless of your needs, we have them met. We have a number of packages to choose from, including:
If you are interested in planning a party at our indoor go-kart racing location in Addison, Chicago, we can help. We offer catering options, private room rentals, and custom race packages. Schedule an event today – you won't regret it!
Very clean and well kept. I feel like there was a severe lack of instruction and it was kinda just ran haphazardly. As far as the racing: I raced 2 races. First one, the karts were limited to around 50-60% speed. You could run the whole course essentially flat out and didn't have to lift or brake. Basically, very boring, there was no passing. They cleared my limiter briefly when I finally caught someone and was able to pass. The 2nd race, I believe they took the limiters off and man!! That was fun! I can see why they'd limit them, because you can get in trouble quick with then going that fast. I feel like they need to implement something like a skill level rating and group people together with that. I'd go back if the I knew the limiter was off, but I'm not paying for limited races.

Great time! The staff was very helpful after a mixup with my reservation.

So much fun! Highly recommended for indoor go carting!

i've been coming here for a few months and it's always a good time. the lady who wrote the review saying staff was rude must have been rude first. never had any issues with staff and the races are always fun. tn was my friend's birthday and he enjoyed it. Highly recommend. You get what you pay for

Quite the fun…exhilarating the first couple laps around the track.

I got first but still got 4th in my paper that I picked up but overall great

Been going here for over 10 years, even before it was k1. Always a great time, knowledgeable staff.

Threads Big and T.
16:41 24 Jan 23
So much fun! If you feel the need for speed n fun... then this is the place for you. It gets your adrenaline going! ❤️‍🔥⚡💯

First time at K1 Speed as part of a group event. Overall, it was very well done. The equipment appears to be in good shape, including the helmets. The bar and eating areas were all clean and well lit. Areas for improvement: 1) Digital Signage and/or text message for gathering the riders when it is time to start, paging names over a PA is so 1970's and totally unintelligible. 2) Kill the music in the on-deck area where the safety overview is performed. Very hard to hear while the instructor is going over things. Even in the party areas, dial the music back. (No PA would also help). Having a gathering and having to talk over the background noise is not the best experience. Pretty straightforward changes. Other than that, I can see returning.

Richard N.
00:42 24 Jan 23
For cart racing, it meets the need for speed. carts and track are in good shape. the place is clean and really well maintained. wasn't too crowded. I booked two parties there for two different age groups. the staff was really helpful and everyone had a great time.I'd love to see them be able to get people in and out a little more smoothly. I'm not sure why guest need to register and sign the waivers at the PC then again at the desk. they really should allow all of that to be done online before arrival. also I'm not sure how the guys at the track figure out who's racing and who's not, but when it works out works well, when it doesn't, it gets chaotic.

This was my first time at this place which was really fun the only thing that made it a bit of a bummer was car #24. It kept shaking, not turning properly, make me spun out and kept moving my seat belt up and undone. This was my second time for a race and my first one never did that. It made me uncomfortable and the experience less fun. Plus on my first race there was a group with ours that kept not following the rules of not bumping, they kept doing 4 times that making my friend ended up spinning out and the flagger or staff didn't kick the group out.

Jessica R.
07:26 22 Jan 23
Omg so much fun!! It's challenging, yet it is a safe course. My 12yo had a blast!

Addison Newsletter Sign Up
Be the first to know about special events and promotions.