Corporate Events
Birthday Parties
Arrive & Drive

Fun for the
Whole Family!

BOOK NOW
WE MAKE IT EASY TO PLAN
YOUR PARTY AND CELEBRATE
WITH FRIENDS!
Birthday Fun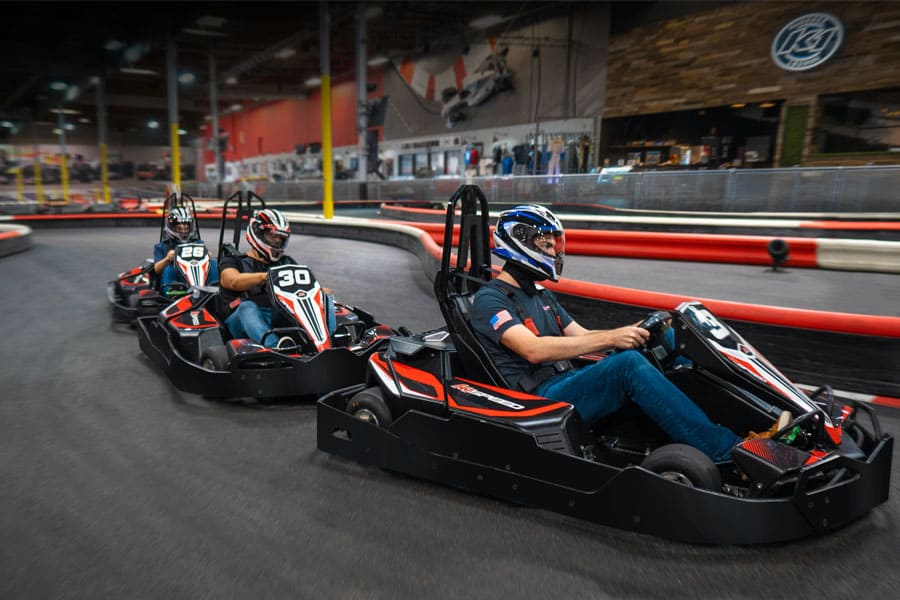 Corporate Events
Birthday Parties
Arrive & Drive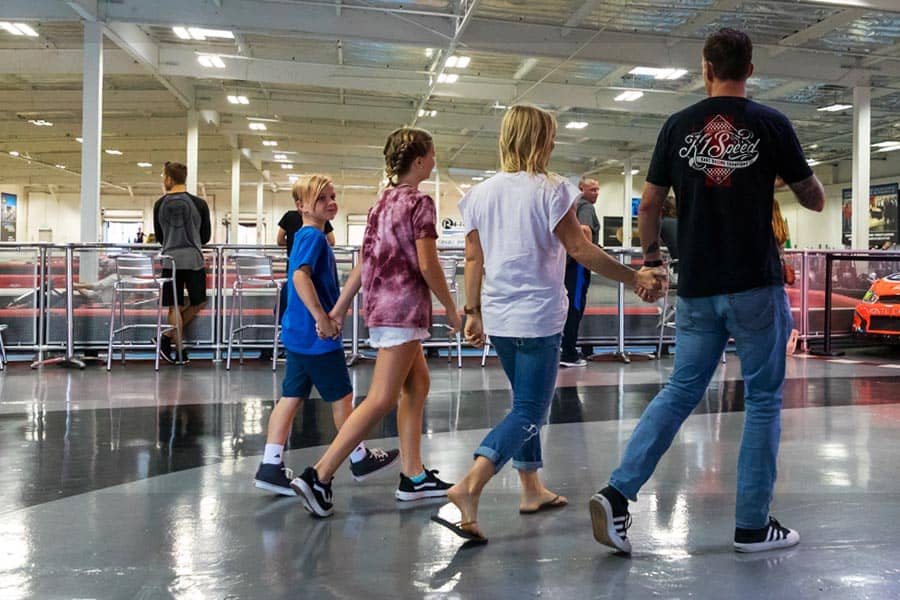 Fun for the
Whole Family!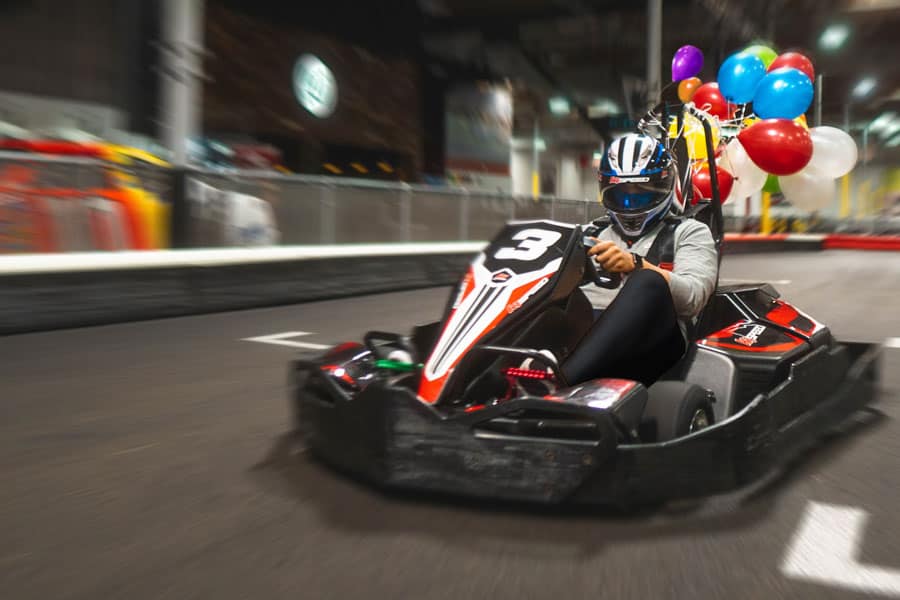 BOOK NOW
WE MAKE IT EASY
TO PLAN YOUR PARTY
AND CELEBRATE
WITH FRIENDS!
Birthday Fun

NOW ACCEPTING PRIVATE GROUP RESERVATIONS
Indoor Karting Buffalo Grove
Indoor Go Kart Racing Chicago
With Chicago being the third largest city in the United States, we knew one location in Addison wasn't enough to satisfy the legions of motorsport enthusiasts and speed freaks we love to accommodate. That's why we created our Buffalo Grove facility. Conveniently located near Highland Park, Northbrook, Palatine, and Arlington Heights, our Buffalo Grove location is the ultimate destination for special occasions, corporate events, or company functions. Both of our two tracks offer high speeds with tight, twisty sections to allow for plenty of overtaking opportunities. Our Paddock Lounge restaurant overlooks these two tracks, providing the perfect environment to enjoy our varied menu and extensive beverage selection. When not racing, our Billiards Room will keep the competitive spirit alive. The five meeting rooms inside our Buffalo Grove location can accommodate groups from 12 to 150 in a world-class setting, with some rooms offering picturesque views of the nearby lake. If you're in the Greater Chicago Area, a stop at K1 Speed Buffalo Grove is a must for your next birthday celebration, corporate event, team building event, or casual outing.
Indoor Go Kart Racing – The K1 Speed Difference
Have you been go-kart racing before? Were you unimpressed? Most kart tracks fail to impress us too, which is why we set out to create the best karting experience in America, using only the best kart tracks and best go-karts. We can assure you that karting at K1 Speed will change your opinion on go-kart racing, and will give you a whole new outlook on the sport. At K1 Speed, every single one of our tracks is professionally designed and built, and every location is indoors so that people can race regardless of the weather. Though this may not make much of a difference at our Southern California locations, as you know, weather in Chicago can have a mind of its own!
What further separates K1 Speed apart from the competition is our high-performance, all-electric go-karts. When put side-by-side with the anemic, heavy, lawn mower-powered karts of your youth, there is simply no comparison. Our karts are designed in Europe, the heartland of modern kart design, and are powered by environmentally friendly, zero-emission electric motors. With maximum torque available from 0 rpm and the equivalent of 20hp, our karts can achieve a top speed approaching 45mph in mere seconds. The performance is enough to push you back in your seat under acceleration, and extracting maximum performance from these machines takes real talent. However, with power that's adjustable based on the needs of the driver, our karts are accessible to individuals of all skill sets and experience, from novices to veteran racers.
Arrive & Drive Racing, Special Events, and Corporate Functions
There is a multitude of ways to experience indoor go-kart racing at our Chicago locations. However, our most popular option is Arrive & Drive racing. Whether you and your co-workers want to go racing after work or you'd like to come by with friends and family on a Sunday afternoon, our Arrive & Drive program allows you to race our karts any day of the week, any time, without a reservation.* During each Arrive & Drive race, competitors hit the track with up to 11 other racers in a heat. During this race, competitors race against the clock, rather than directly against each other, to see who can set the fastest lap time. Racing in equal machinery, the winner is determined based on talent, skill, and strategy, rather than luck of the draw or your position on the track. To ensure accuracy, we utilize a data logger on every one of our karts, which transmits wirelessly lap times to a large display overlooking the track. This allows racers to keep track of their performance, and that of their competitors, in real time. The experience is thrilling and immersive.
In addition to our Arrive & Drive racing option, we also offer race packages, which provide exclusive use of the track during race heats, reserved race times, and a medal ceremony for winners. Perfect for groups of 9 or more people, these indoor karting packages, available at both Chicago K1 Speed locations, are ideal for:
Whichever option is right for you, we are confident that you will not be disappointed in your experience. Quite the contrary in fact! Once you try indoor go-kart racing at our Chicago location, don't be surprised if you become a regular visitor! Speed is thrilling and for many of our guests, they simply can't get enough!
*Please inquire about private rentals and height requirements.
I'm 76 and I LOVED this. Safe but challenging and really fun. Very well run. No contact with other carts or you're gone. Carol H

Maria and staff are awesome!! The carts are top notch and super quick. We'll be going again very soon!!!

Sowbylol5569
00:52 12 Mar 23
Very cool experience! First place babyyyyyy!

Polite and helpful employees. The facility is well heated. Extra questions were answered in a friendly manner. I will go there again.

Gerhard M.
18:12 18 Feb 23
Very fun, good attentive staff.Will definitely return.

It was pretty dead today but it was fun just racing with my girlfriend I well definitely do this again and the workers where great especially the race Instructor was awesome.


Very nice place to sped time with the Children… we enjoyed a lot with the family…

Nicolas S.
19:00 29 Jan 23
we were at the Addison location. This time David the regional manager was there and thing were running a lot smother than usual. for the first time in about a year the karts seemed to be running better.

Had a blast, would visit again.

Heather R.
12:10 16 Jan 23
All the crew (at the counter and on the track) was positive and patient with the nervous and the over-eager ones, as well as everyone in between. I think we all had a good time.

Michael L.
04:12 08 Jan 23
Took the grandkids today and they had a blast. Felt safe and fun and clean. Kids did two races and really enjoyed themselves.

Marianne J.
23:12 05 Jan 23
Buffalo Grove Newsletter Sign Up
Be the first to know about special events and promotions.