The History of Go Kart Racing: From Invention to Global Sport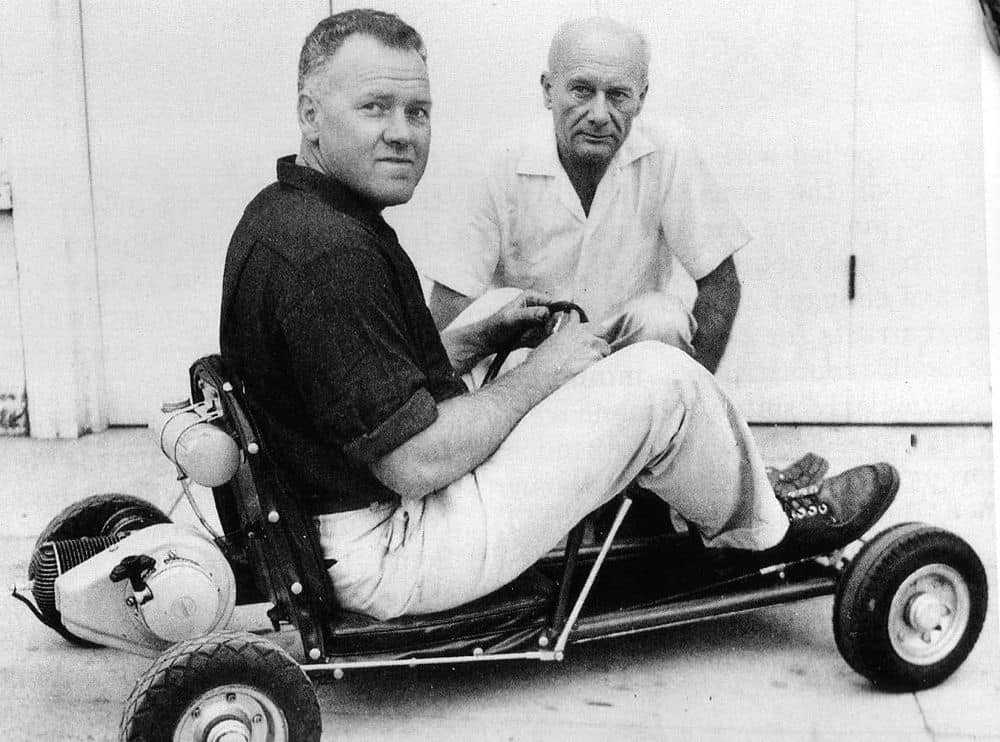 Art Ingels (left) and Lou Borelli with the very first go-kart outside Ingels' garage in Echo Park. 
The History Of Go Kart Racing
The history of go kart racing begins in the 1950s in Southern California. What started as an amazing idea and fun hobby is now an international professional sport. Learn all about the history of go kart racing in this blog post, including who invented the go kart, where races were originally held, and what came after.
Who Invented the Go Kart?
Art Ingels invented the first go kart in Southern California during the summer of 1956. The go kart was inspired by the racing cars he helped construct at Kurtis Kraft. The chassis was crafted from steel tubing and was lightweight yet strong enough to support adult passengers. The chassis was also designed to be low to the ground and featured a wide track to improve stability. Ingels' friend Lou Borelli then mounted a surplus two-cycle West Bend 2.5hp lawnmower engine manufactured by McCulloch on the chassis. Thus, the world's first go kart was born.
But what happened next? And how did this experimental toy go on to become the first step to professional series like F1? Read on!
About Art Ingels
Art Ingels was a fabricator at Kurtis Kraft, the renown racing company responsible for building five winning Indy 500 cars, plus a host of successful midget cars, Bonneville speed record cars, and sports cars.
The Debut
After an initial test/modification, Ingels proudly debuted his go kart in the pits at Pomona Raceway, and it turned plenty of heads – including Duffy Livingston. Livingston, a local muffler shop owner, was enamored with the kart, and with permission from Ingels, created his own. Livingston's business partner, Roy Desbrow, then created his own version.
The Explosion of Go Karting and Competition
This snowballing interest for homebuilt go-karts led to the very first kart races which were held at supermarket parking lots – a good source of flat, open pavement. They instantly attracted audiences, but it wasn't long before the police caught on, and so the pioneering kart racers looked for another venue.
In 1957, they found their next racing venue at the enormous parking lot of the Rose Bowl in Pasadena, where even the local police didn't mind the grassroots racing.
Soon, races began to pop up at other locations, even on dirt surfaces. Dean Moon of the famous Mooneyes brought racers and friends together for the dirt-surfaced "Moonza" (a clever play on words of Italy's famous Monza circuit) near their shop.
The interest was great for the little cars, but many lacked the mechanical/technical know-how to build their own. So, later that year, Livingston, Desbrow, and Bill Rowles (a frequenter to Livingston and Desbrow's muffler shop), created the Go Kart Manufacturing Co. in Monrovia, CA, to meet this newfound demand.
The "Go-Kart" name was termed by Lynn Wineland, a former editor of Hot Rod Magazine. The first production go-kart, the Go Kart 400 racer, sold for $129.50 (around $1,100 in today's money). As payment for the Go Kart name, Wineland received $2 per kart sold. In short time Wineland was able to purchase a house with his earnings from the royalty.
Kurtis Kraft had declined to create their own go-kart manufacturing division, despite Ingels creation, so Ingels soon left to create the Ingels & Borelli Kart Company, who manufactured impeccably hand-built go-karts called the Caretta, building just six magnificent karts in time for the 1958 Christmas season.
With other go-kart companies popping up to get in on the action, an American Kart Manufacturer's Association was formed to govern the quality and to work alongside the GKCA.
Eventually, the competition needed a little more technical regulation and governance. Enter attorney/racing driver/kart-racer Don Broberick who drafted up the regulations, inspired by those found in the Sports Car Club of America, and along with 12 others, he formed the Go Kart Club of America (GKCA: now the International Karting Federation).
Meanwhile Go Kart Manufacturing Co. expanded with their success and moved to much larger headquarters in Azusa, CA where they built the first permanent karting circuit in 1959 that could be used for testing and competition.
In July '59, GKCA hosted its first Grand National event at the new Go-Kart Raceway, and further increased the new sports' visibility and sparked more and more hot rod/car publications to write about the burgeoning hobby, eventually leading to dedicated karting magazines.
Epilogue
From here, karting grew from being a Southern Californian hobby to a nationwide, then worldwide sport (reminds us of our company and indoor electric go-karting!). Go-karts would continue to evolve to the kinds of go-karts you see today, but all carry the noticeable influence from Art Ingels' first creation, including K1 Speed's all-electric go-karts.
Over time, Go Kart Manufacturing would go out of business, along with Ingels & Borelli, but their contribution to the world of karting and motorsport will never be forgotten.
From all of us at K1 Speed, here's a massive thank you and happy birthday to the man who started it all, Art Ingels! Let's make every May 14th Art Ingels Day and celebrate with some go-karting to remember the father of the sport.