Formula Smiles Foundation Charity Kart Race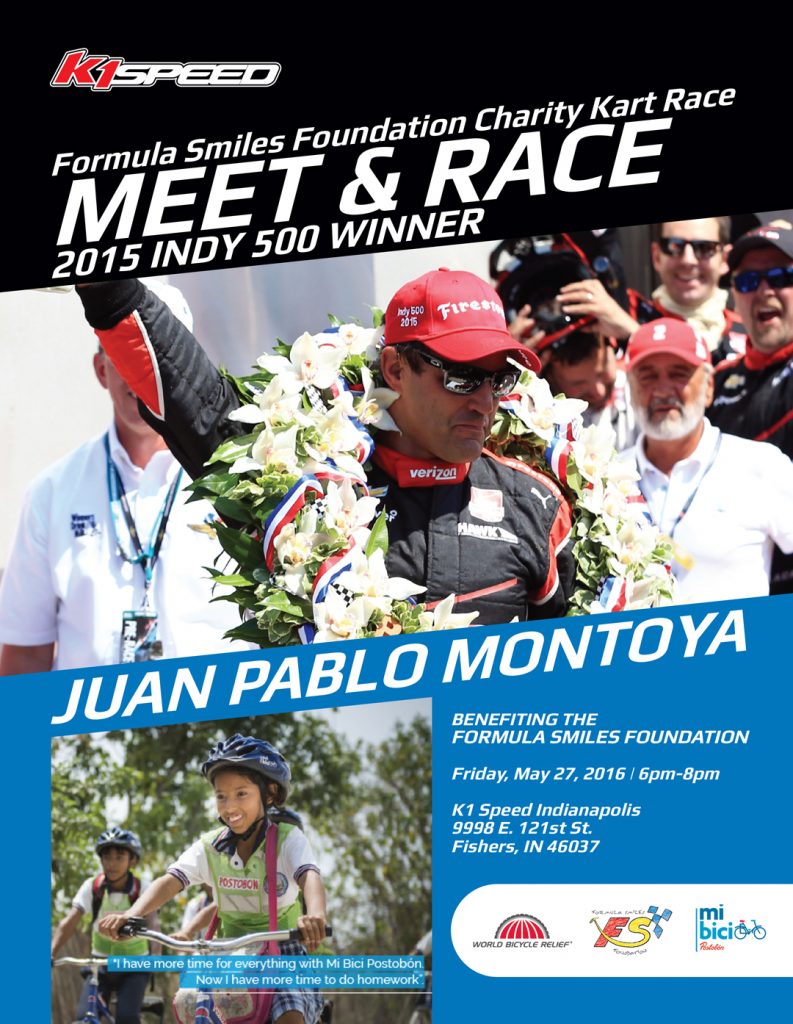 Mark you calendars to join us on Friday, May 27, 2016 for the "Formula Smiles Foundation Charity Kart Race" at K1 Speed Indianapolis (Fishers, IN)! What better way to kick-off the Indy 500 race weekend!
Race fans will have the opportunity to meet and race with Team Penske IndyCar driver & 2-time Indy 500 winner Juan Pablo Montoya (JPM)! This is a unique experience that helps develop high impact projects that directly effect the quality of life of the most needy Colombian children and their surroundings, offering them an integral education, a healthier lifestyle and socially sustainable development.
Tickets will be available on-site to race with JPM including photo opportunity. There are a limited amount of spots available so get to the center early. The FINAL race will include the fastest (9) nine racers vs JPM with the winner receiving a credential that will allow them to access the Indy 500 pre-race festivities from pit lane! This is a unique experience for any motorsports fan.
ABOUT:
The 'Fórmula Sonrisas' (Formula Smiles) Foundation is a non-profit organization founded in 2003 by Colombian racecar driver Juan Pablo Montoya and his wife Connie Freydell. Formula Smiles is legally incorporated in the United States under the 501 c3 status. Its goal is to improve the lives of thousands of children burdened by poverty and violence in their daily life, teaching them how they can dream about being better persons and having a more promising future through sports, highlighting commonalities and bridging cultural or ethnic divides.