Corporate Events
Birthday Parties
Arrive & Drive

Fun for the
Whole Family!

BOOK NOW
WE MAKE IT EASY TO PLAN
YOUR PARTY AND CELEBRATE
WITH FRIENDS!
Birthday Fun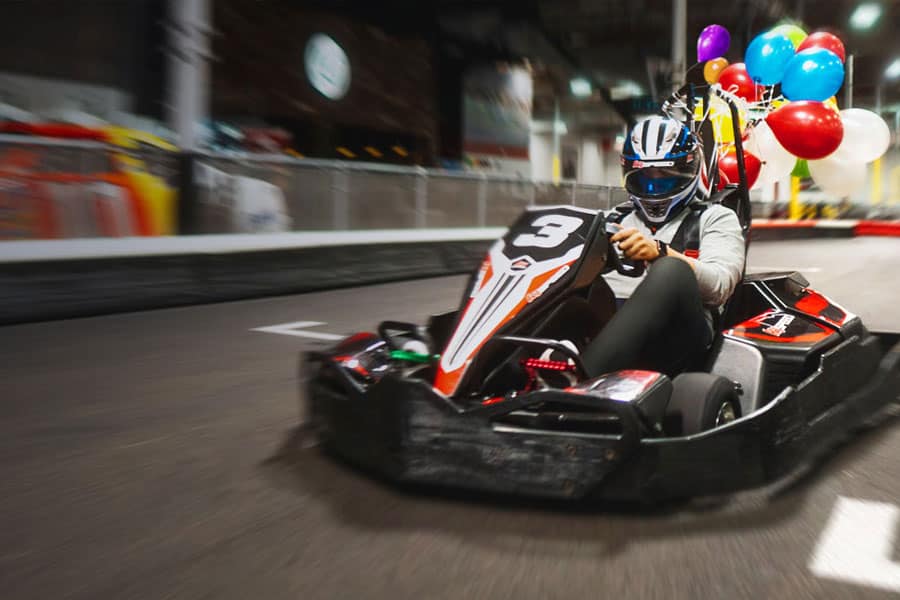 BOOK NOW
WE MAKE IT EASY TO PLAN
YOUR PARTY AND CELEBRATE
WITH FRIENDS!
Birthday
Fun!

NOW ACCEPTING PRIVATE GROUP RESERVATIONS
Indoor Karting Indianapolis
Indoor Go Kart Racing Indianapolis
Indianapolis – home to the Indianapolis Motor Speedway and "The Greatest Spectacle in Racing", and now home to K1 Speed!
We would've been crazy not to have a location within a 30-mile radius to IMS for the Indy 500 and Brickyard 400. Our Indianapolis track features one of our longest straights that open to superb overtaking opportunities, with plenty of twists and turns to challenge the most seasoned go-karting driver. Our two meeting rooms provide a perfect environment for parties and business meetings, while our arcade games and air hockey table keep you entertained in-between your racing sessions and Birthday Parties. Our Paddock Lounge restaurant serves delicious food and beverages for all ages that will keep you fueled up.
A fun thing to do in the Greater Indianapolis Area including Mile Square, Broad Ripple, Geist, Fishers, Carmel, Noblesville, and Luxhaven, our K1 Speed, Indianapolis location is perfect for hosting special occasions such as Kids birthday parties and holiday celebrations, or for your next company function or corporate event.
Experience the K1 Speed Difference
So what makes K1 Speed different from other karting venues? Well, where do we start? The differences are many, and believe us when we say that they truly do, well, make a difference!
All-electric Go-karts – Unlike our competitors, who use gas-powered karts, we exclusively use electric karts at K1 Speed. Our electric karts are faster, quieter, and easier to drive than their gas-powered rivals, and non-polluting as well. They don't emit any noxious fumes into the air so if the smell of gasoline makes you sick, you have no need to worry! K1 Speed Indianapolis is a fume-free zone!
World-class Entertainment Center – At K1 Speed, there are no worn-down picnic tables, old tire barriers, broken plastic chairs, dilapidated karts sitting in the corner, or broken Coke machines that have been left unplugged. Our lounges are filled with authentic racing memorabilia, including race cars and racing suits, black leather couches, plasma screen televisions, and club-like lighting. Put simply, our locations are unlike any go-kart track you've ever been to for Family Friends Gathering.
Authentic Racing Environment – Our karts are high-performance machines, and racing them at speed is an adrenaline-fueled experience. You can rest assured that even if you're an experienced driver, you will find wheeling our all-electric karts around our professionally-designed indoor go-kart track to be a thrill. We pride ourselves on providing novice and veteran enthusiasts alike with the best go-kart racing experience available. Visit the ultimate entertainment center in Indianapolis Indiana today and experience the thrill!
What are you waiting for? If you want to experience indoor karting yourself, our Indianapolis location is a quick drive away!
Our Indoor Go-Kart Racing Options
We have a wide variety of racing options from which to choose. One of our most popular is our Arrive and Drive option. Just as described, our Arrive and Drive racing package allows anyone who meets our height requirements* to come in, day or night, without a reservation and hit our track for a spirited sprint against the clock! Race against friends, family, and even complete strangers in a heat.
Unlike most races, in which the winner is determined by the first person over the finish line, we have structured our Arrive & Drive races so that the winner is determined by lap time! After all, with everyone in equal karts, that's the ultimate measuring stick for talent and skill! Do you have what it takes? Visit our Indianapolis indoor go-kart racing location to find out!
Special Events and Corporate Packages
At K1 Speed, we are happy to accommodate your needs should you be interested in arranging a party or special event. We work with small and large businesses, mothers and fathers, and spouses and friends to help them plan parties that will hit it out of the park – we have the experience to help you too! At K1 Speed Indianapolis, our indoor karting packages include:
And to make your party truly special, we also offer private room rentals. Available in a variety of sizes for parties from small to large, our Private room rentals have Wi-Fi connectivity, projection screens, televisions, and available catering. To learn more about these packages, you are encouraged to call K1 Speed Indianapolis today.
First time ever do doing this and had a blast. I felt like I was in the Indy 500

Gballin 0.
07:42 25 Sep 23
We enjoyed K1 Speed from the moment we arrived until we left. The staff were friendly, polite and patient with us and our questions since it was our first time visiting. Our grandson's loved it. We promptly bought gift cards for our next visit.

Great Karting experience, excellent management and supervision, my son put up a top 10 time of the week. He also had a great birthday party.

races were fun but prices were a bit high

This was our team outing, we all had an amazing day!!

Jeananne K.
20:25 09 Sep 23
Absolutely love this place. Been here a few times. Always love coming here. Employees are very friendly and competitive lol. Last time I was here I set a fast lap time then our group got off the track, the next time we were on track I noticed a few workers pointing and then one of them got in a kart and ended up beating my time that round. I will be back.

So much fun! These carts are FAST! you will use upper body strength too, not your average go carts.

We enjoyed ourselves!!! Super nice staff! I promise you won't be disappointed

Kristina R.
16:01 03 Sep 23
Great experience all around!

Staff was very helpful helping my 8 year old daughter! It was a great place to dive into racing for the first time !

Dougie Fresh "Dougie F.
17:04 29 Aug 23
Everyone was SUPPER POLITE and KNOWLEDGEABLE as well as PATIENT from the front door to the end of the session

We came with a group of seven of us, and we had a really good time overall. One frustrating piece was that we only got to run one of our three races together. The staff was very friendly but I don't understand why racing together was such an issue. We were told it was something to do with their computer system. Prior to one of our races, we asked multiple times about being put together, and we were basically told it just wasn't really possible because of how busy they were, and there computer system wouldn't allow it, yet the very next race the rest of our group ran. It seems like it should have been pretty simple just to swap groups because the same number of cars were on the track in both races. We even agreed to wait longer if that would help. Next time we go, we will most likely go back to Speedway indoor karting, which is where we would have gone if it weren't for all the races that day at the big race track. I do like the K1 waiting area much better than Speedway as there are many more areas to sit and a better selection of refreshments, as well as some other things to pass the time. Speedway and recording, however, seems to be much more organized and have a much better system to ensure you stay with your group.

Indianapolis Newsletter Sign Up
Be the first to know about special events and promotions.