Randstad USA/Williams Martini Racing at K1 Speed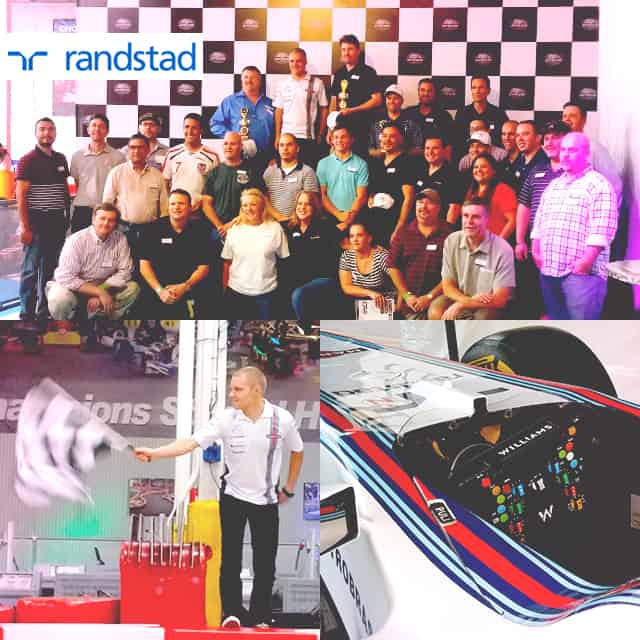 Last night we saw Randstad USA take over K1 Speed Austin for a special event. With Williams Martini F1 team driver, Valterri Bottas, making a special appearance. Everyone had a great time meeting and receiving coaching tips from Bottas on our track. Bottas waived the checkered flag and took photos with fans. Thanks to Randstad USA for this unique experience.
Bottas finished on the podium at Sochi and is looking for another strong result heading into the USGP at the Circuit of the Americas. The team is looking to pull further away from Ferrari for the third place in the Constructors Championship.
"Austin is a really cool track, one of the best on the calendar," stated Bottas. "The city is nice, the fans and atmosphere are great, so it's one of the best places of the season to go to. I have good memories from there as I got my first points in Formula 1 in Austin last season.

"We are definitely targeting to be on the podium again and extend the advantage we have on Ferrari in the Constructors' points. Everyone is feeling positive about Texas, so it should be fun."
About
Randstad is the official partner of the Williams Martini Racing Team, and has been since 2006. Success in Formula One requires the commitment of a talented team performing at the best of their ability. The expertise, spirit of excellence in service and the trust on which we base our relationships across the Randstad network are illustrated every day within the Williams Martini Racing team. Williams combines expert knowledge, high quality service and respect for one another to create a winning team.
Randstad sponsoring the Williams Martini Racing Team makes sense as we share a core value: striving for perfection. Randstad's ability to attract, coach and retain the best people for its global client base is testament to the fact that we live by this core value. In both the racing world and the HR business, one has to be proactive as well as have quick reflexes to make the best of a situation under all circumstances. Like Randstad, the Williams Martini Racing team is an innovative team with a solid track record and a remarkable workforce.
The Williams Mercedes FW36 is one of the most technologically advanced Formula One cars produced by Williams. It is the culmination of more than two years research and development by the team's technical departments in Grove, UK, and it incorporates the power unit from the team's new partner, Mercedes-Benz. Have a look at the Formula One schedule for 2014 here. Felipe Massa and Valtteri Bottas will be the Williams team's race drivers for this year's season.