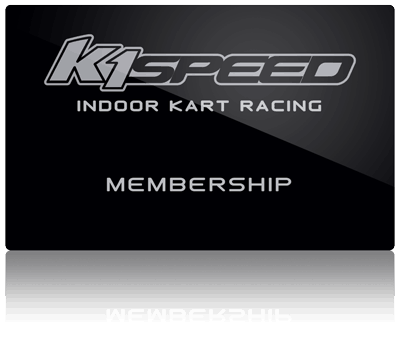 K1 Speed Annual Membership
(Required to Race)
$5 Membership benefits include the following:
FREE RACE on your birthday! (ID required)
FREE use of our helmets
One FREE reusable headsock (additional headsocks available for purchase)
Access to your racing score online
Storing of your racing history in our database
Monthly newsletter with special offers
Note: There is a $3 charge to replace any lost/missing membership cards.
All racers need to have a signed waiver on file in their account. Waivers are available to sign in-store when you arrive. Minors (under 18 years of age) will need to have their waiver signed by a parent or legal guardian.
Height Requirements
Junior minimum height requirement is 48″ (121.9 cm). Adult minimum height requirement is 58″ (147.3 cm). No mixed Adult and Junior races.
IMPORTANT: Meeting the height requirement is not a guarantee you'll be able to race our karts. Drivers will be measured at the location and must be able to safely operate all elements of the kart. Final approval will be at management's discretion.
Discounts are available at the location for active-duty military, police, fire and EMS personnel with valid ID.
Qualified personnel will receive $5 off a regularly priced one-race package.
Each PACKAGE is for a SINGLE racer and cannot be shared. Example given: You are shopping for two racers and want to buy them one race each. You will need to buy (2) one-race packages, NOT (1) two-race package with the intention to share. Plus applicable taxes. Membership is required to race.