Corporate Events
Birthday Parties
Arrive & Drive

Fun for the
Whole Family!

BOOK NOW
WE MAKE IT EASY TO PLAN
YOUR PARTY AND CELEBRATE
WITH FRIENDS!
Birthday Fun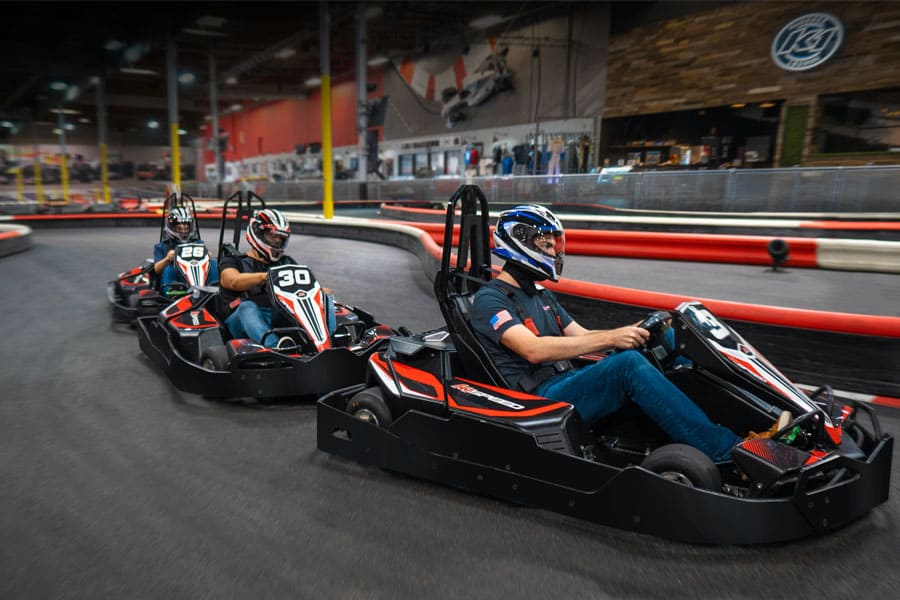 Corporate Events
Birthday Parties
Arrive & Drive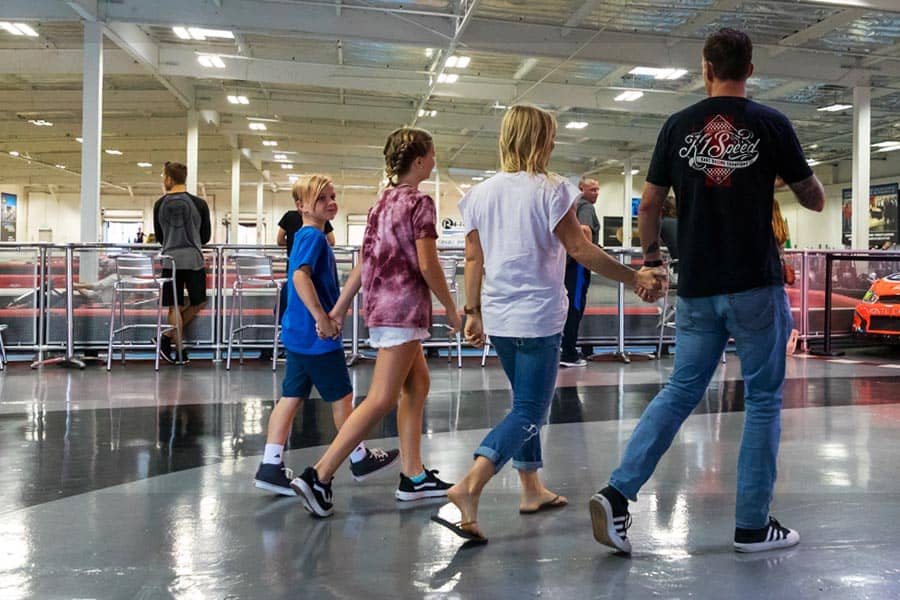 Fun for the
Whole Family!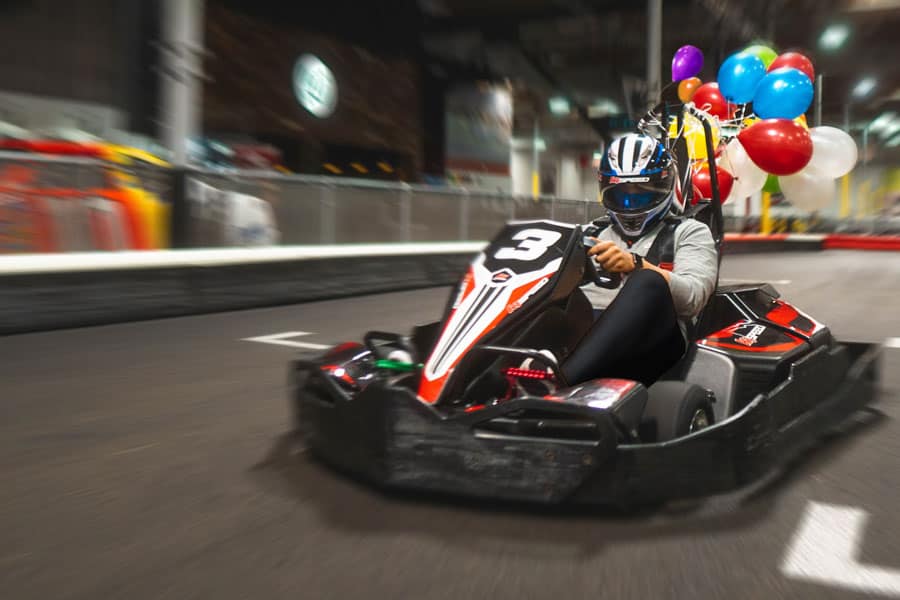 BOOK NOW
WE MAKE IT EASY
TO PLAN YOUR PARTY
AND CELEBRATE
WITH FRIENDS!
Birthday Fun

NOW ACCEPTING PRIVATE GROUP RESERVATIONS
All-Electric Indoor Go-Kart Racing In Concord!
If you want to experience the thrill of indoor go-kart racing, look no further! At K1 Speed Concord, our all-electric karts provide a driving experience like no other, and our professionally designed indoor track will challenge even veteran racers. Whether you want to race against friends and family, test your mettle against the clock, or enjoy a night out with co-workers, our Concord indoor go-kart racing location is for you! Located a short driving distance from Charlotte's City Center and Uptown district and Concord Mills mall, and other racing-related destinations such as Charlotte Motor Speedway, NASCAR Hall of Fame, Roush Fenway, Joe Gibbs Racing, and Hendrick Motorsports.
Looking for the Best Karting in the Tar Heel State?
Karting has come a long way since your parents' childhood. If your idea of a go-kart is a cobbled-together steel chassis with an old lawn mower engine attached to it, you're in for a surprise. At K1 Speed, we pride ourselves on building world-class entertainment venues – not simply go-kart tracks. It is this commitment to excellence that has allowed K1 Speed to become the largest karting company in the United States, with locations nationwide. We have a ton to offer, including:
What separates K1 Speed from so many other karting locations is our go-karts. All-electric, professionally designed in Europe (the worldwide epicenter of karting), and incredibly easy to drive, our karts offer a unique, pleasurable, and memorable driving experience. Unlike traditional gas-powered karts, which are noisy and tend to bog in slower corners, our karts accelerate effortlessly out of even tight hairpins with almost no sound. You may hear a slight whir from the electric motor, but other than that, what will strike you is the lack of sound! Of course, our karts also emit no exhaust fumes of any kind, which makes for an inviting atmosphere inside our locations.
At K1 Speed Concord, our indoor go-kart racing experience will redefine what you come to expect from karting. And much of this comes down to the location itself, specifically our professionally designed race track. Our indoor tracks are smoothly graded, have high-grip surfaces that allow for maximum cornering speed, and utilize high-tech safety barriers for our competitors' safety and assurance. Furthermore, like all of our indoor go-kart tracks, the track at our Concord location features a challenging combination of turns and straight sections, which will give you (and your kart) a full workout! Of course, when you're not racing, you can relax in our leather couches, check out our authentic racing memorabilia, or get a bite to eat at our Pit Cafe.
Whether it's a lively Friday night or a lazy Sunday afternoon, the easiest way to experience indoor karting at our Concord location is our Arrive & Drive package. This option allows racers of all ages* to compete in heats for the fastest lap with up to 12 other competitors – no reservation required. Simply show up with your friends and family in tow! We provide the helmets and driving instruction needed to safely compete on our track.
For larger parties, we also offer a number of private race packages. Each includes multi-heat race formats, podium ceremonies for the winners, reserved race times, and exclusive access to our track. These packages are ideal for special events, business meetings, and more, such as:
If you do decide to host a special event at our Concord indoor go-kart racing location, we have private meeting rooms available as well. Each includes complimentary WiFi access, multimedia setups, ample seating, and a private space for you and your party to escape to during race heats. To book a race package for your event, contact K1 Speed today.
Located a stone's throw from Kannapolis and a short drive from Charlotte, K1 Speed Concord is the place to spend time with friends! Visit our indoor go-kart racing location today and see for yourself! We look forward to seeing you soon.
Always good fun and well organized except when birthday parties are involved

Lots of fun for the family!

Jessica L.
13:09 22 Nov 21
If you are delivering a load to one of the surrounding warehouses they have a big parking lot out back to park your truck and it stays quiet

Charm City T.
03:23 22 Nov 21
Super fun place to burn some time. I've been to the one in Houston TX and the one in Miami. I've loved it every time. This location is small and only has 1 track compared to the other two locations I went to that had 3 tracks. So be prepared to have a long wait if you haven't booked for an event. But if you are patient the thrill and adrenaline you will have an amazing time that is unrivaled by most go karting tracks.

Loved it. Fast karts and a wonderful facility.

The twins wanted to go plus is my first time i had fun

We had a small group and had a wonderful time. All the staff was friendly and very accommodating. That made sure everyone was comfortable and enjoyed their time. Great job everyone.

Staff was attentive to our group needs. I was a first timer with the race track and will do it again. Wonderful all around experience.

Darlene M H.
03:00 03 Oct 21

Had a great time even though I had a defective kart for one race. Nice place and staff.

Great Experience. We enjoyed the racing and will definitely be back. Great time for reasonable price.

Shannon H.
10:36 20 Sep 21
A very good day for inspiring young pre-licensed teen how to be responsible for the upcoming privilege of on road automobile driving/owning.

Concord Newsletter Sign Up
Be the first to know about special events and promotions.