Corporate Events
Birthday Parties
Arrive & Drive

Fun for the
Whole Family!

BOOK NOW
WE MAKE IT EASY TO PLAN
YOUR PARTY AND CELEBRATE
WITH FRIENDS!
Birthday Fun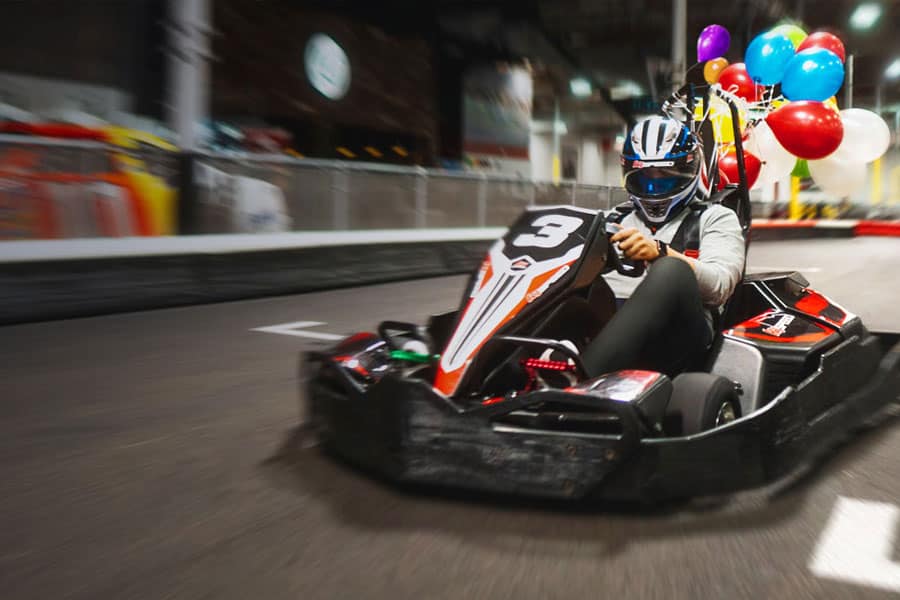 BOOK NOW
WE MAKE IT EASY TO PLAN
YOUR PARTY AND CELEBRATE
WITH FRIENDS!
Birthday
Fun!

NOW ACCEPTING PRIVATE GROUP RESERVATIONS
Get ready for some racing near the Colorado Rockies at K1 Speed, Denver! This 60,000-sq. ft. is fully air-conditioned and features a course professionally designed to challenge racers of all skill levels. A fun thing to do in Highlands Ranch near Littleton, Englewood, Lakewood, and Aurora, K1 Speed Denver is the ultimate destination for birthday parties, corporate events, company functions, and get-togethers with friends.
Put simply, we have built our indoor go-kart racing location in Denver to be a world-class entertainment venue, and we think that you'll agree the minute you walk through the front doors! If you're looking for things to do tonight with an adrenaline rush, look no further – after trying our high-performance electric karts, you won't be able to wipe the smile from your face. Visit today and see for yourself!
Karting in the 21st Century
What makes K1 Speed so unique? Well, it's the K1 Speed experience of course! Since our founding in 2003, we have reimagined what karting can and should be. Our indoor go-kart racing track in Denver is built to the same quality standards as the more than one dozen K1 Speed locations found nationwide, and it is this attention to detail that you'll notice first. There are no anemic karts or worn out tire barriers. At K1 Speed Denver, we've brought the sport of karting into the 21st century!
So how exactly does the K1 Speed experience differ from the typical karting experience? Well, it starts with our karts. At K1 Speed, we've ditched traditional gas-powered karts for high-performance, all-electric karts. Not only are these karts better for the environment, with their zero emission electric motors, they also offer superior performance (particularly in a city like Denver, where the altitude would make an already weak lawnmower engine practically useless). With 20hp on tap at any altitude, any speed, any time, our karts can accelerate to speeds approaching 45mph in mere seconds. In fact, don't be surprised if you find yourself pushed back into your seat under acceleration!
The differences don't stop there though. In addition to our all-electric karts, each and every K1 Speed location features:
Professionally designed and graded INDOOR racetrack for year-round racing
Spacious lounges with video games, flat-screen televisions, club-like lighting and black leather couches
Live telemetry for every single kart on track with a real-time display of lap times
A fully stocked snack bar with beverages and hot and cold snacks
A museum-quality collection of authentic racing memorabilia, including actual race cars
Plan Your Next Party at K1 Speed Denver
If you are in Littleton, Englewood, Lakewood, Aurora, Centennial, or maybe just visiting Breckenridge Brewery, The best way to experience the thrill of indoor go-kart racing at our Denver location is with our Arrive & Drive racing package. Simply show up, any time of day, every day of the week, and you and your friends can compete in a race for fastest lap time. No reservations required!
However, if you'd like to host a party, we can help! Among the types of parties we have hosted at K1 Speed include:
Additionally, we can also help you plan a corporate event in Denver or a team building exercise. Whatever your needs, our team will do everything that we can to accommodate you! Give us a call today or make a reservation online – it's quick and easy!
So fun for all! Fast carts cold beer.

Awesome place for the kids!! They had a blast

We had a blast! Thorough explanation prior to racing. While driving, I got a pretty solid hit from behind, and the guy running the race was quick to check to make sure I was ok using hand signals.We were told the wait would be about an hour and a half, so we ordered food and sat down to hang out. There was only one person working the counter to check people in and prepare food. We were told the wait for food would be 30 minutes. Within about 20 minutes, we heard our names being called as "last call" to race. We headed out to race then went to pick up our food. The gentleman who helped us with our racing gear said they'd have our food under the warmer. We got there to pick it up and it was just sitting on the counter cold. The timing estimates were way off and caused us to almost miss our turn and have cold food.

Over all it was a great experience for the party and lots of fun. The pizza left a little to be desired but the wings were good.

Margaret H.
18:05 30 Jan 23
We had a great time! Well run!

The staff were very friendly and attentive. Facilities and karts in great condition

Had a party here for my wife's birthday, we all had a blast! Racing the carts was awesome. The staff was great, they set us up in a party room after our racing and made sure our food was there shortly after we got in there. Definitely want to come back again sometime.

So much fun! Get your friends or co-workers and come race! Great for birthday parties as well. I've been here multiple times and the staff is friendly and knowledgeable. You will want to come back for more.

Lots of fun. Well worth the money.

Best place for your whole family!!All action lots of intense fun!!Put down the phone and gaming systems and do what is real fun!!!

These go carts are fast and extremely fun. Food was great too!

Crew was well informed and courteous, We had a blast.

Denver Newsletter Sign Up
Be the first to know about special events and promotions.