Corporate Events
Birthday Parties
Arrive & Drive

Fun for the
Whole Family!

BOOK NOW
WE MAKE IT EASY TO PLAN
YOUR PARTY AND CELEBRATE
WITH FRIENDS!
Birthday Fun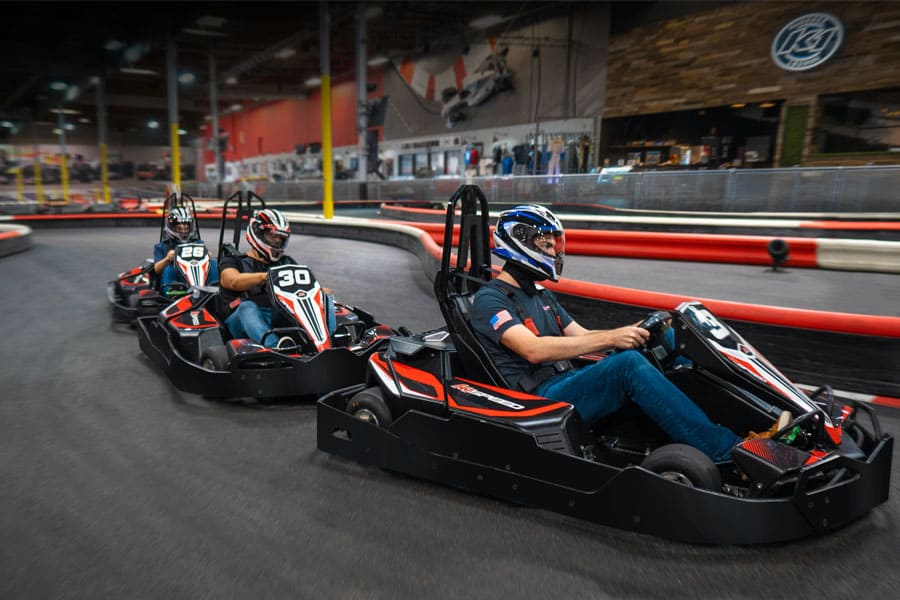 Corporate Events
Birthday Parties
Arrive & Drive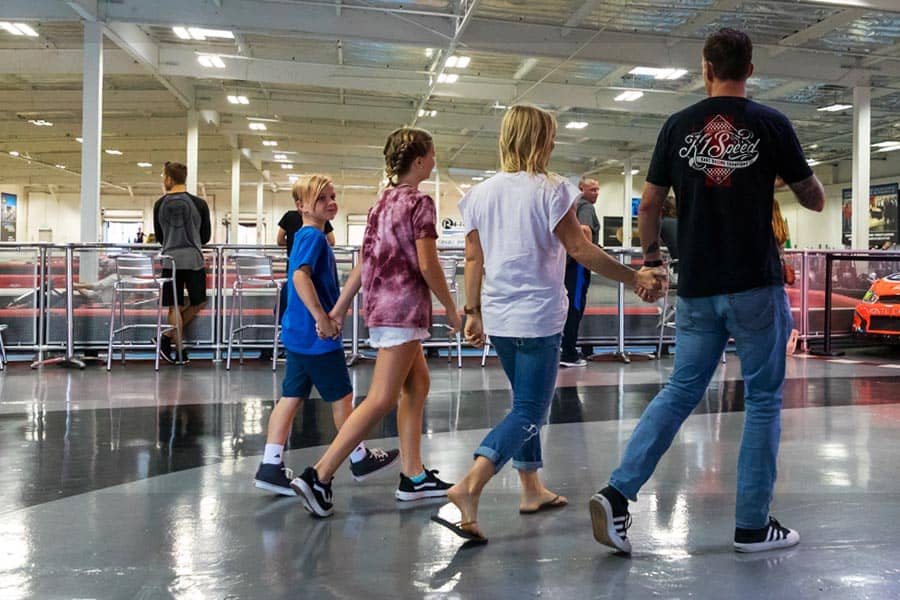 Fun for the
Whole Family!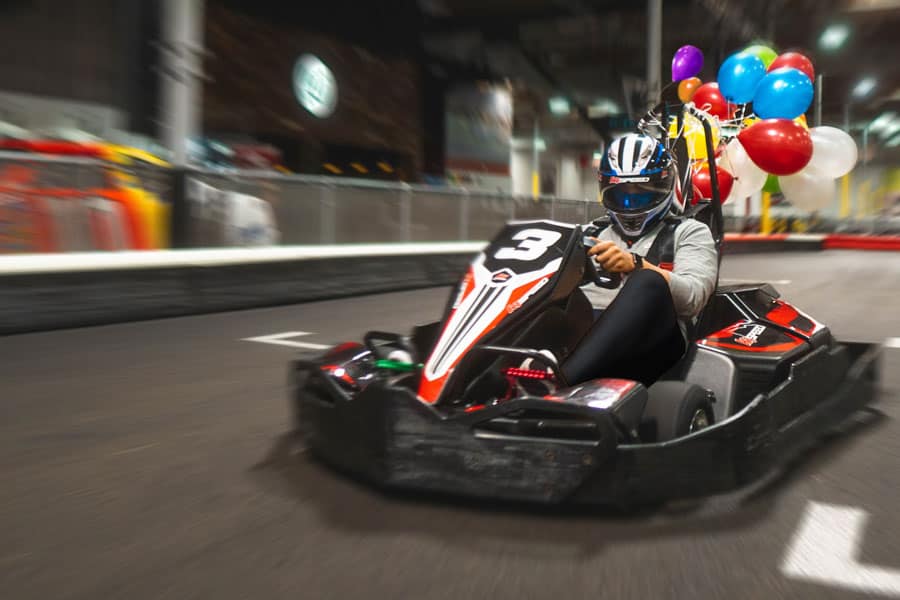 BOOK NOW
WE MAKE IT EASY
TO PLAN YOUR PARTY
AND CELEBRATE
WITH FRIENDS!
Birthday Fun

NOW ACCEPTING PRIVATE GROUP RESERVATIONS
Indoor Go Kart Racing Houston, Texas
The largest city in Texas, Houston is home to NASA, the Astros, the Rockets, and fittingly, America's largest indoor karting company – K1 Speed. Our nationwide entertainment venues offer world-class indoor go kart racing, and our Houston karting location is no different. To satiate the needs of motorsport fans of all kinds, from racing veterans to hobbyists and novices, our locations feature 20hp electric karts. if you looking for what to do tonight in Dallas with friends and family? Racing in these high-performance machines is an adrenaline pumping experience, and make a visit to K1 Speed unforgettable!
Befitting the great state of Texas, our indoor kart tracks are among the largest in the country. K1 Speed Houston features more than 50,000 sq.ft. of space, and is the first all-electric karting location in the city. Needless to say, K1 Speed Houston provides an experience that is truly unique. Individuals can experience authentic, wheel-to-wheel racing and speeds of nearly 45mph! When not racing, you can browse through our large collection of racing memorabilia, watch real time data from the on-track action or sporting events on our plasma screen televisions, and view our amazing art work celebrating the world of motorsport.
Conveniently located off US 290 in Northwest Houston, we're a fun thing to do near Willowbrook, Oak Forest / Garden Oaks and Jersey Village, making a prime destination for a special event or a hangout with friends. Visit K1 Speed, Houston today and experience what millions of members have experienced across the world!
Indoor Karting in Houston – K1 Speed is the Obvious Choice
K1 Speed Houston will change your entire perspective on go kart racing. To put it simply, our all-electric go karts are unlike any gas-powered go kart you've ever driven! With 20hp electric motors and nothing more than a seat and four wheels to move around the track, our karts are fast! On our indoor track, the karts can reach speeds that would make them right at home on the surface streets of Houston. Suffice to say, they are worlds' apart from the lawnmowers with seats at your local amusement park.
In addition to our European electric karts, K1 Speed Houston also features a professionally designed race track to ensure not only that customers get the most from their experience, but that they are able to race in a safe and controlled environment as well. K1 Speed Houston provides the best indoor go kart racing experience in Southern Texas. If you live in greater Houston, live out your racing fantasies at our track!
We offer a number of indoor go kart racing packages at our Houston location. Of the race packages that we offer at K1 Speed's nationwide locations, our Arrive and Drive racing package has historically been most popular. Our Arrive and Drive racing package essentially is an open track; individuals looking to race against friends, family, co-workers, or simply the clock, can come in at any time of day (excluding during private closures). Drivers are then put into a race with the winner being determined by the fastest lap time. Novice and experienced racers alike can enjoy heated competition and put the pedal to the metal!
Special Events and Corporate Packages
Though our Arrive and Drive racing package is extremely popular, we also offer reservations and even private closures for a wide range of events, including:
K1 Speed Houston has several meeting rooms on site with Wi-Fi connectivity, projection screens, and televisions, and catering can be arranged if you would like to include food with your reservation. To learn more about these packages, you are encouraged to call K1 Speed today.
We encourage you to see for yourself what indoor go kart racing is all about. K1 Speed Houston is conveniently located for city residents, and individuals from neighboring communities, will find that it's just a short drive away. Please contact K1 Speed today to schedule a reservation, get directions to our Houston indoor karting location, find out about private closures, or buy gift cards.
Great place for teen birthday partyPrivate room, spacious and clean

Always a blast when I go 🙂

Great and fun experience especially since it wasn't busy.

Super genial la verdad me gustó mucho . Muy bueno la pasé. Genial

Great place to come and race and feel some adrenaline driving those toys.Give it a try

Ivan Varela (.
06:58 01 Nov 22
Only us racing. Great time. Nice track.

Need new batteries but all was been good

Montgomery B.
03:37 07 Oct 22
Overall experience is awesome, wait times could be better handled.

Baldemar E.
20:55 03 Oct 22
Great place for birthday parties!

Alfredo U. Alberto C.
18:01 02 Oct 22
My family had a great time. We are celebrating my brothers birthday and did one of the party packages. The whole K1 team was friendly and accommodating. The a/c was out so we had a fan placed in our room, and that seemed to do the trick.

Nikki "Nikki" G
16:27 25 Sep 22
Oh, muy seguro, sobre todo con los niños. Gente muy amable y cordial.

Alejandro C.
17:15 20 Sep 22
Wife and I went there for her birthday and it was an overall fun experience. Wait times take a little longer than usual, but overall a good time. Definitely gotta make another trip here sooner than later.

Houston Newsletter Sign Up
Be the first to know about special events and promotions.